BWW Review: ON YOUR FEET Heats Up A Cold Winter's Night in Music City
Looking for the perfect way to ward off winter's chill on a particularly cold and damp Nashville night? Then take our word for it: There's no better way than by immersing oneself in On Your Feet: The Emilio & Gloria Estefan Broadway Musical, now onstage at Tennessee Performing Arts Center's Andrew Jackson Hall through Sunday, January 20.
Featuring the catalog of music produced and recorded by the gifted Estefans and their legendary Miami Sound Machine (together they've provided much of the soundtrack of our lives - and there is the added gift of several members of the famed ensemble performing the show's score onstage), performed with enough energy to power the downtown Music City skyline for years to come, On Your Feet stars Christie Prades and Eddie Noel as Gloria and Emilio, backed up by members of the aforementioned MSM and a cast of performers with talent, charisma and sex appeal to spare.
If you walk away from On Your Feet without a salsa rhythm powering your way out of the theater, we hope you'll heed our advice to get your ticker checked out. Otherwise, something may be amiss with your heart: On Your Feet is electrifying! And it's sure to set your heart racing with salsa-flavored Cuban rhythms.
Forget the derisive comments about "jukebox musicals" you may be familiar with and discard any artistic pretensions you might harbor. On Your Feet may not be high art - the well-written, authentic dialogue isn't Shakespearean, truth be told - but the production is enormously entertaining, at times moving and heartbreaking, with its inspiring tale of the struggles of two artists and their creative cohorts attempting to challenge to status quo and to make a name for themselves in American popular culture.
Directed with palpable energy by Jerry Mitchell with the high-spirited choreography of Sergio Trujillo, On Your Feet seems to be in perpetual motion from the very moment the curtain falls, and Kenneth Posner's exquisitely designed lights come up on David Rockwell's eye-popping sets brought to life by an equally eye-popping astonishingly talented cast clad in Emilio Sosa's beautifully designed, fashion-conscious and body-enhancing costumes.
As their stories are told - set in relief against the backgrounds of their upbringings in the Cuban expatriate communities of South Florida - the universality of their life experiences becomes obvious. When Noel, as Emilio, faces a recording executive (who is entrenched in his biases and the perceived rules of engagement in the entertainment industry) and tells him to "Look at me. I am the face of America!" his words are deafening, delivering a blow to the solar plexus with their impact. During these troubled political times, On Your Feet offers what is perhaps a surprising and unexpected indictment of Trumpian immigration policy by interpreting a story of immigrants seeking their share of the America dream. For that reason alone, On Your Feet may now make a bolder, more sweeping statement about the pursuit of excellence, than is has than at any other point in the show's evolution.
As a result of its impeccable timing, On Your Feet shares immeasurable gravitas, along with its magical storytelling, however it may be filled with glitzy, glittery musical theater tropes.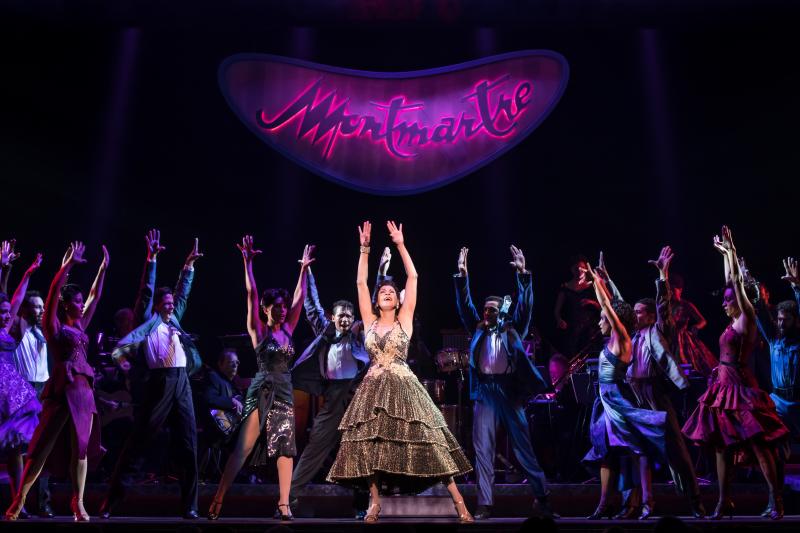 The show's ambitions might not be as lofty as one might hope, but that's all well and good, because On Your Feet delivers an impactful and emotional story. Comprised of equal parts inspirational and biographical stage play, On Your Feet is also a thrilling and uplifting musical concert and celebratory carnival. Clearly, that's the stuff of which show business dreams are made, how legends are created and is the kind of entertainment that lures audiences in from the cold.
Noel is forceful yet attracted, his onstage persona thoroughly magnetic, as the hardworking Emilio and his supple, powerful voice is beautiful. His chemistry with Prades as Gloria has an indefinable spark that drives their every scene and his interactions with Nancy Ticotin (who plays the elder Gloria Fajardo, the mother of the star) fairly sizzle with intensity, all leading up to the dramatic (if somewhat heavy-handed and manipulative) scenes in the aftermath of the 1990 bus crash that left Gloria Estefan near death, struggling to regain her ability to walk and to deliver the high-powered, multi-dimensional stage performances for which she is revered by her legions of fans worldwide. Through the particular perspective of that dramatic lens, therefore, the genuine life-and-death drama of Estefan's life is an integral part of who she is - who she and Emilio are to each other and to their followers - and any emotional manipulation is the product of such rabid devotion to detail in Alexander Dinelaris' book, which steadfastly refuses to sugarcoat any of the elements of the story.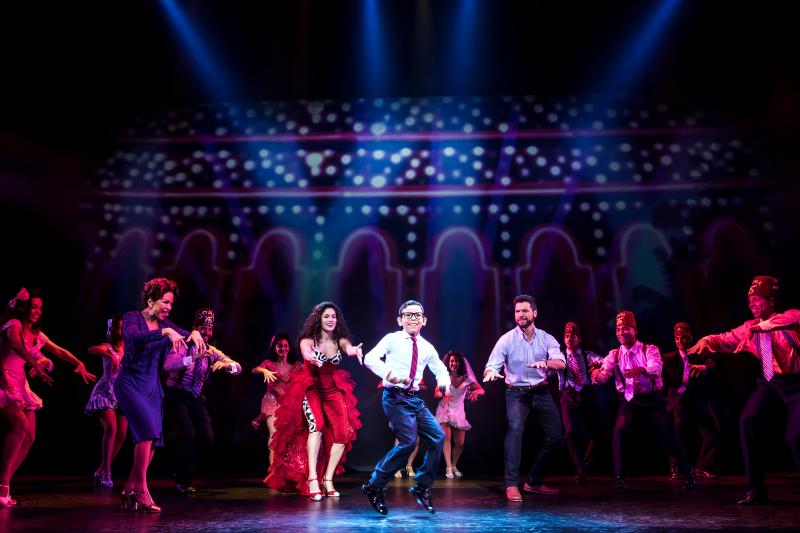 Clearly, Prades' tour-de-force performance as Gloria Estefan is nothing less than spellbinding. With her focused, committed portrayal, Prades somehow morphs into the living legend she portrays, effectively becoming Gloria for all intents and purposes, thus taking audiences from what amounts to one sold-out concert after another, embodying the spirit, drive and ambition of her inspiration with consummate skill and innate charm. Beautiful, confident and self-possessed, Prades seems the ideal living conduit to bring Gloria Estefan's mind-boggling story to her adoring fans, and as her character grows from young girl to experienced woman, she articulates that growth with genuine pathos. And she is always in motion, as if the heart of the woman she portrays is beating within her, giving her life onstage.
The aforementioned Ticotin is riveting as the over-protective mother and her Act Two duet with Noel is startlingly, movingly performed - it's certain to elicit a strong reaction from the audience - and she is given ample opportunity to show off her own musical theater bona fides in the process. Likewise, Alma Cuervo (as Conseula, Gloria Estefan's beloved grandmother), herself a television, film and stage star of estimable experience, provides her own star wattage and impressive stage presence to create a role that every audience member can appreciate. Anthony Alfaro is rock solid in the rather ethereal role of Gloria's father, while Ana-Sofia Rodriguez proves herself a star in the making in the role of Gloria as a young girl, and Jeanpaul Medina Solano very nearly steals the show with his fleet-footed performance as Nayib, Jeremy and young Emilio, proving that versatility comes in al shapes and pint-sized packages.
Mitchell's fit and attractive ensemble - it's hard to imagine a gathering of men more handsome or women more beautiful in Jackson Hall's storied history - take on numerous roles in this theatrical retelling of the Estefans' story and, especially when putting their stunning dance moves on display via Trujillo's heart-stopping choreography, have so much sex appeal that we're uncertain if we've ever encountered such sensuality from the orchestra seats at TPAC.
If not for a jam-packed schedule during the touring production's weeklong Nashville stand, we'd be delighted to spend every possible moment watching the story, listening to the music and reveling in the inspirational story of On Your Feet - and we suspect you'd feel much the same given the opportunity.
On Your Feet: The Emilio & Gloria Estefan Broadway Musical. Book by Alexander Dinelaris. Featuring music produced and recorded by Emilio & Gloria Estefan & Miami Sound Machine. Directed by Jerry Mitchell. Choregraphed by Sergio Trujillo. Musical direction by Clay Ostwald. Presented by Broadway at TPAC, Nashville. Through January 20. For tickets and other information, go to www.tpac.org. Running time: 2 hours, 30 minutes (with one 15-minute intermission).