Segal Centre The Story And Music Of Marlene Dietrich And Edith Piaf Comes To The Segal Centre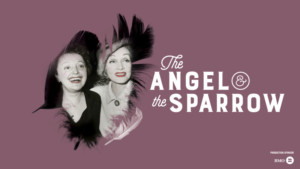 The Segal Centre is proud to bring the English-language world premiere of The Angel and the Sparrow to Montreal from April 15 to May 6, 2018. Based on the true story of Marlene Dietrich and Edith Piaf, two indomitable women of incomparable talent, this new musical drama is an intimate and entertaining portrait of the fascinating friendship between show business legends that began under the most unlikely of circumstances and lasted their entire lives.
A Timeless Drama Overflowing with Unforgettable Hits
Featuring 20 of their classic songs including "La vie en rose", "Non, je ne regrette rien", and "Where Have All the Flowers Gone", this European smash hit brings these two iconic performers to the stage with charm and wit to spare. Audiences will be enthralled by the untold story of the connection between these two larger-than-life characters, who, between them, had a friendship, a love, and a catalogue of incredible songs that has stood the test of time. Piaf was the original diva, before the term even existed, while the German Dietrich was a showbiz chameleon who reinvented herself countless times over an eight-decade-long career. Their complex relationship blazed with passion and soared to dizzying highs as well as crashed to desperate lows but always hit a thrilling dramatic note. Together, they found a common rhythm, common ground, and even a common love.
Following a successful premiere at the Burgtheater in Vienna in 2014, The Angel and the Sparrow by Daniel Große Boymann and Thomas Kahry enjoyed hit runs in Switzerland, throughout Germany, and the Czech Republic, and will be returning to Germany next season. This Segal Centre production has been conceived especially for our audience and marks the first time this production will be presented in English, thanks to the translation by Sam Madwar and the brand new adaptation by Montreal's own Erin Shields. Shields is best known for her play If We Were Birds, which won the Governor General's Award for English-language drama in 2011 Governor General's Awards and was a nominee for the 2010 Dora Mavor Moore Award for Outstanding New Play.
Two Legends Brought to Life by a World-Class Team of Artists
Taking on the roles of these two iconic women are a pair of acclaimed Canadian actresses who've dazzled audiences internationally on stage and screen. Louise Pitre will be returning to Montreal, where she grew up, to take on the role of Edith Piaf. Dubbed "Canada's first lady of musical theatre", she is no stranger to the role which she played in three previous production of the musical Piaf. She is best known for originating the role of Donna Sheridan in Mamma Mia! (Toronto, U.S. Tour, and Broadway) which earned her a Tony Award nomination, her turn as Fantine in Les Misérables (Toronto, Montreal, and Paris), and Mama Rose in Gypsy (Chicago Shakespeare Theatre). She is the winner of a National Broadway Touring Award, a New York Theatre World Award, a San Francisco Theatre Critics' Award, a Betsy Mitchell Award and four Dora Mavor Moore awards, all for best performance by a leading actress in a musical. Marlene Dietrich will be played by Carly Street, who was last seen in Montreal in the Centaur/Canadian Stage production of Venus in Fur, for which she won the Dora, Broadway World, and Theatre Critics' Circle Awards. She began her Broadway career with aplomb in the Tony Award-winning production of Clybourne Park and starred as the title character in the Segal Centre's production of Educating Rita.
They will be joined by the multi-talented Montreal actress Lucinda Davis (her numerous credits include Top Girls, Adventures of a Black Girl in Search of God, and Debbie Tucker Green's Random) and the gifted Joe Matheson (seen in the Canadian premieres of The Jazz Singer, Jersey Boys, and The Times, They Are A' Changin'). The pair will each take on multiple roles as the men and women in Dietrich and Piaf's lives.
The Segal Centre is thrilled to welcome Director Gordon Greenberg, whose recent work includes co-writing and directing last season's Broadway stage adaptation of Irving Berlin's Holiday Inn (Roundabout, Universal, PBS Great Performances) and directing the acclaimed West End revival of Guys and Dolls (Chichester) starring Rebel Wilson and nominated for six Olivier awards. He also directed and wrote additional material for the Drama Desk Award-winning revisal of Working (co-adapted with Stephen Schwartz & Lin-Manuel Miranda), and directed the acclaimed New York revival of Jacques Brel Is Alive and Well and Living in Paris, which garnered Drama Desk, Drama League, and Outer Critics Award nominations. His current projects include directing the world premiere of The Heart of Rock and Roll, the Huey Lewis musical at The Old Globe and co-writing and directing The Secret of My Success for Universal Pictures Stage Productions.
Joining Greenberg is an incredible local design team that includes Set Designer Martin Ferland, Costume Designer Louise Bourret, and Lighting Designer Claude Accolas, who will imbue the Segal theatre with a classic cabaret venue vibe.
A Touching and Empowering Story of Friendship
"While the incomparable Edith Piaf may be widely known in Quebec, not too many people know about her friendship with Marlene Dietrich and the significant role it played in her life. Montreal fans will get to see the human side of these legends, portrayed by two fiercely gifted Canadian actresses. The thrill of seeing these spectacular female performances, against the backdrop of such a memorable score is something we're very proud to adapt and premiere for North American audiences," said Segal Centre Artistic and Executive Director Lisa Rubin.
About Marlene Dietrich and Edith Piaf
Edith Piaf and Marlene Dietrich are two of 20th Century's greatest names in international show business. Piaf had a beautiful voice, a moving life story and modest appearance. Dietrich enchanted with her beauty and elegance, becoming one of the first Europeans to conquer Hollywood. In their personal lives, Piaf was a romantic who longed for love, while Dietrich moved quickly through partners and didn't bother to hide her cynicism about romance. One died tragically at the age of 47 and all of France grieved for her, while the other lived to 91 and was considered a traitor in her native Germany. Despite their differences, the pair managed to become intertwined and had a loving friendship based on mutual understanding, admiration, and respect.
Tickets are on sale now at 514.739.7944 or at www.segalcentre.org.
WHERE: 5170 chemin de la Côte-Sainte-Catherine, Montreal, H3W 1M7
THE WOMEN Lucinda Davis
THE MEN Joe Matheson
CREATIVE TEAM
WRITTEN BY Daniel Große Boymann and Thomas Kahry
ADAPTED BY Erin Shields
FROM THE TRANSLATION BY Sam Madwar
DIRECTOR Gordon Greenberg
MUSIC DIRECTOR / ADDITIONAL ORCHESTRATIONS Jonathan Monro
SET DESIGNER Martin Ferland
COSTUME DESIGNER Louise Bourret
LIGHTING DESIGNER Claude Accolas
STAGE MANAGER Elaine Normandeau
ASSISTANT STAGE MANAGER Isabel Faia
ASSISTANT DIRECTOR Trevor Barrette
BAND
BAND LEADER / PIANO Jonathan Monro
ACCORDION Sergiu Popa
VIOLIN Vanessa Marcoux
DRUMS Parker Bert
MUSIC PREPARATION Dan Pardo
TICKETS: $52 - $66
Group, Senior, Student, Under 30 discounts available. Subject to availability.
PERFORMANCES
April 15 to May 6, 2018
Previews:
Sunday, April 15 - 1:30 p.m.
Monday, April 16 - 8:00 p.m.
Tuesday, April 17 - 8:00 p.m.
Wednesday, April 18 - 8:00 p.m.
Regular Run:
Mondays - 7:00 p.m.
Tuesdays - Saturdays (closed Fridays) - 8:00 p.m.
Sundays - 7:00 p.m.
Matinées:
Wednesdays, April 25 and May 2 - 1:00 p.m.
Sundays, April 22, 29, and May 6 - 2:00 p.m.
BLUE METROPOLIS FESTIVAL PRESENTS SUNDAY @ THE SEGAL
An enriching pre-show lecture featuring the creators of The Angel and the Sparrow about the writing and adaptation process, and the challenges of telling a biographical tale.
Sunday, April 15 - 11:00 a.m.
Entrance is free.
MONDAY NIGHT TALKBACKS
A chance to interact with the creators and actors of the play after the curtain goes down.
Mondays, April 23 and 30
About the Segal Centre for Performing Arts
The Segal Centre for Performing Arts is a not-for-profit theatre company dedicated to creating, producing and presenting world-class English-language theatre and to showcasing the best professional artists from Montréal and beyond. A part of the community since 1967, the organization was reborn in 2007 as the Segal Centre and has expanded to become a nationally recognized venue for the performing arts with a focus on creation, innovation, diversity and cross-cultural collaborations. Driven by a belief in the power of the arts to strengthen and connect communities, the Segal's programming emphasizes original interpretations of popular classic and contemporary works, new Canadian musicals and engaging productions with universal appeal. www.segalcentre.org