Review: THE 39 STEPS at Centaur Theatre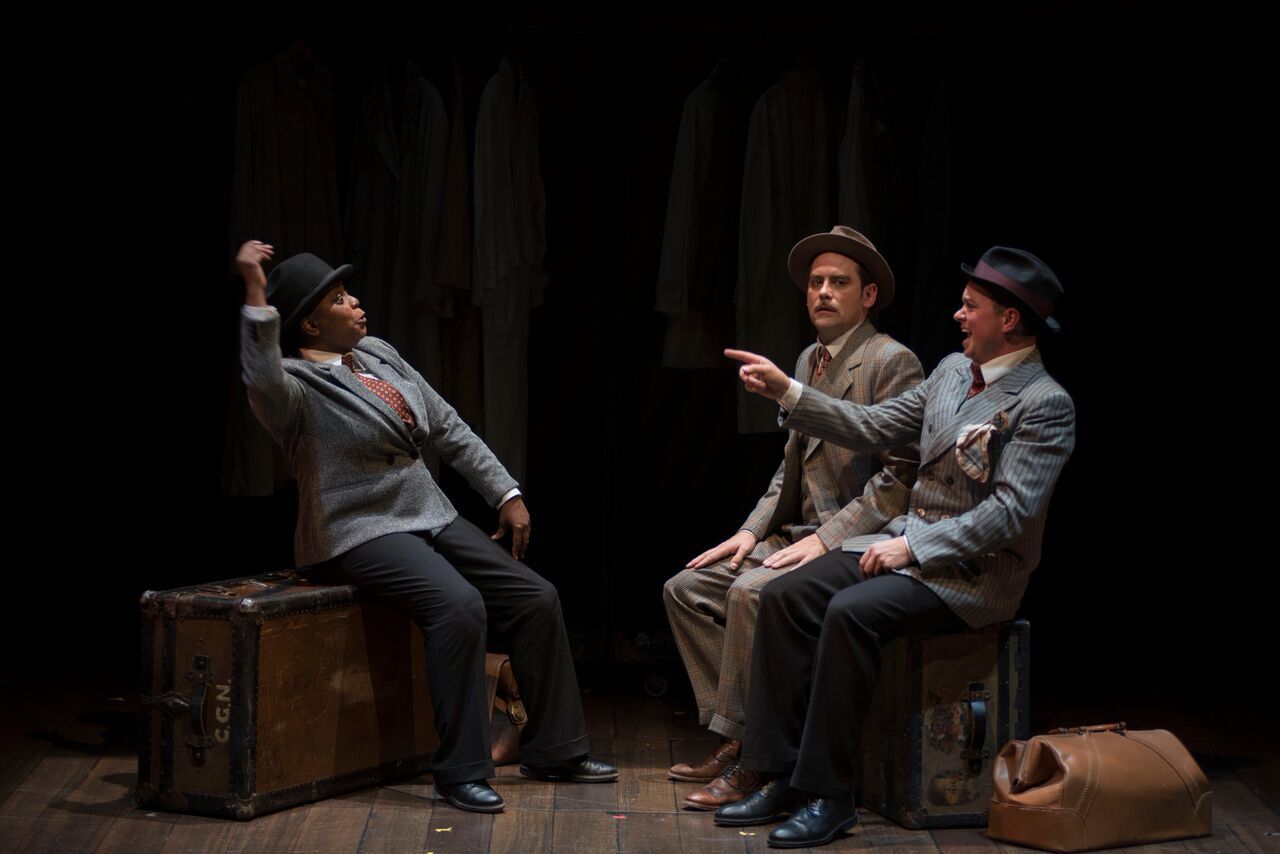 The Centaur Theatre's production of The 39 Steps makes for not only a great night of theatre, but a nostalgic reunion for fans of SideMart Theatrical Grocery - a terrific anglophone theatre company that operated in Montreal from 2006 to 2013.
Andrew Shaver and Trent Pardy, two of the founding members of SideMart, make up half of The 39 Steps quartet.
The play, based off the novel of the same name by John Buchanan then popularized through the 1935 Alfred Hitchcock movie, is an absolutely hilarious and, at times, raunchy romp.
It's a melodramatic parody play with an enormous plot involving spies, international adventure and intrigue and bevy of beautiful, mysterious women.
The central character of Richard Hannay, played by Shaver, stumbles into an espionage plot and is then comically tossed around by fate for the next two hours.
One of the most famous scenes from the play, which ran on Broadway from 2008 to 2010, involves three characters sharing a train compartment, with Hannay playing the straight man as the other two wear a number of different hats (literally) jumping from one character to the next with lightning speed and precision.
All of the other characters, 138 of them in total, are played by the remaining three actors who make up the tiny cast.
The two clowns, as they are formally called, are played by Lucinda Davis and Pardy.
These two are putting in 110 per cent from beginning to end, running from one end of the stage to the other and back.
Aside from their excellent performances (Pardy performs a truly memorable comedic strip tease) audiences could be moved to stand and cheer over the sheer speed of their costume changes alone.
The final member of the cast is Amelia Sargisson who plays both of Hannay's love interests with a wry wit and an incredible flexibility.
But as strong as these three are, it's hard to focus on them when Shaver is in the room. From the moment he steps onstage, he is captivating.
Shaver studied at the École Internationale de Théâtre Jacques Lecoq in Paris and his expert physicality shines through as Hannay fumbles, bumbles, trips, falls and flounders.
The production quality is immaculate, with great set and lighting designs that leave just enough to the imagination.
The script, adapted in 2005 by
Patrick Barlow
, is a difficult one in that it makes the already muddled plot even harder to follow. It would be unfair to call the writing weak because it is, at times, so riotously funny. But certainly there is a sense that in some instances coherence and clarity have been sacrificed in the name of comedy. Over all, the finished product is hilarious, charming and a little bit sexy. It's a bold choice for Centaur's new executive and artistic director Eda Holmes who makes her directorial debut with this mainstage production.
If this show is anything to go by, it's a sign of good things to come from Holmes and the Centaur Theatre under her leadership.
The 39 Steps runs at the Centaur Theatre until Dec. 10.