BWW Review: MIAMI CITY BALLET PRESENTS GEORGE BALANCHINE'S NUTCRACKER BALLET at Dorothy Chandler Pavilion
December 2, 2018
Miami City Ballet has continuously performed The Nutcracker for 28 years. This time around, they have new, exquisite costumes and elaborate sets and graphics, to go along with Tchaikovsky's diverse and timeless Nutcracker Suite score. This particular Nutcracker Ballet, using George Balanchine's choreography, is based upon E.T.A. Hoffman's "The Nutcracker and The Mouse King." Though the story and characters are similar to other versions seen, there are some differences in the plot and characters.
Most notably, instead of the lead character being named Clara, in this version she is called Marie.
The story begins on Christmas Eve at her parents' home in Nuremberg, Germany.
The sets, scenery, fantastic graphics and the elaborate costumes were a real holiday treat. Before the curtain even opened, the colorful scrim put the audience in a holiday mood. There was a little grey mouse racing around the rest of the graphics to add a smile to your face, and an angel flying over the town, preparing for Christmas Eve.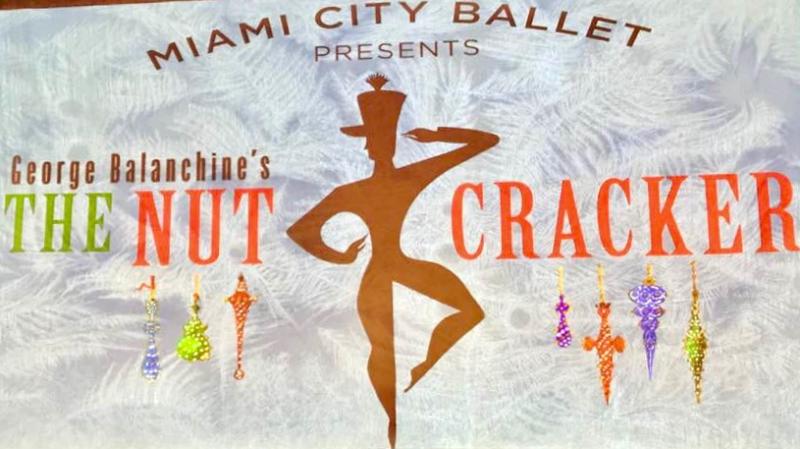 Marie (vibrantly performed by Mia Niebrugge) and her brother Fritz are peeking in to the living room, watching her parents put the finishing touches on their sparkly ornament-laden Christmas tree. There is much excitement as their friends and their parents arrive, and after much ado, they finally receive their long-awaited gifts. Dolls for the girls and musical instruments for the boys. The boys do a soldier's march using their drums and trumpets and the girls play with their dolls until they all take part in an organized minuet-type dance segment led by the elders, which is simply wonderful.
As they play, the big grandfather clock begins to chime, and a man in disguise enters, scaring the children, with his big black cape, top hat and a patch over one eye. He makes an extravagant entrance and the children are in awe. Marie realizes it is her godfather, a magician and inventor, who has brought all kinds of fun toys and gifts for the boys and girls, as well as his young nephew, to join in with the celebration. Soon there are three large gift boxes brought out that contain life-size dancing puppets, Harlequin and Columbine who dance a lively duet in their striped and colorful attire. The middle box pops open, and a marionette soldier appears, doing some intricate and difficult Russian dance moves, complete with an entrechat with flexed feet and a grand triple pirouette to finish.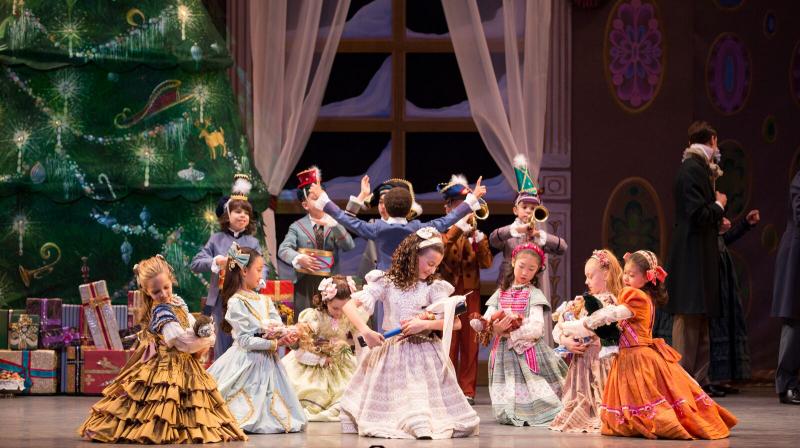 Marie's godfather, Herr Drosselmeier, (agily and extravagantly played by Didier Bramaz) presents her with a small watch he constructed and makes a point to synchronize it with the big grandfather clock, then gives her more gifts to play with: a hobby horse, and a special soldier who's legs are a nutcracker, which delights all the children, especially Marie, who has a lot of fun putting it to use. Her brother grabs it away, throws it to the floor and stomps on it; jealous of Marie. Herr Drosselmeier rescues it and tends to it's "wounds," by wrapping it in a handkerchief, and his nephew placing it in a special bed to rest in.
As the festivities end, it's off to bed for all, until after midnight, when Maria awakens and goes to check on her Nutcracker, takes him with her to the living room couch and falls asleep.
As she slumbers, Herr Drosselmeier appears in the living room, takes the Nutcracker, as Marie sleeps, seemingly performing magic, and puts him back, all better now. When she awakes, or does she really ? ... an attack of giant mice begins, and craziness breaks loose. Suddenly the Christmas tree enlarges, things begin to swirl, and the dream begins.
A giant-size Nutcracker appears along with the toy soldiers wielding a cannon and swords to fight off the army of mice that are chasing Marie. A bugler, a rabbit and a sentry are with them, as they try and fight off the mice, shooting cheese out of the cannon, which the mice are delighted with. The soldiers are then surrounded and carried away by the mice, all but the rabbit and the life-size Nutcracker.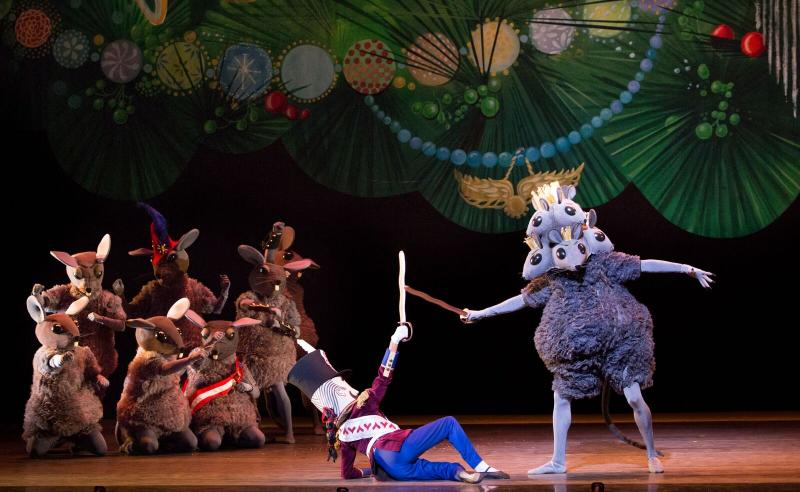 Suddenly, the Mouse King, a very scary fellow leaps towards Marie and the Nutcracker tries to fight him off. A sword fight between them ensues, with the rabbit coming to the rescue, diverting the Mouse King's attention, after which Marie throws her slipper at him, causing him to chase her again, which enables the Nutcracker to finally stab the Mouse King and kill him. He takes off the Mouse King's crown, in victory.
Marie has fainted on the now life-size bed the Nutcracker was laying in under the tree. The bed, with Marie sleeping in it, flies up into the air as the Nutcracker whisks her away to a splendid winter wonderland, as he transforms into a Prince and bestows the Mouse King's crown onto Marie.
As they journey, we are treated to the shimmering Dance of the Snowflakes. Beautiful ballerinas all in white bourree in, shimmering and gliding in and out of each other, executing jetes, pas de chats and piquet arabesques, emboites, battements and chaines in lovely patterns as Marie and the Prince (aka the Nutcracker) enter, in wonder of it all.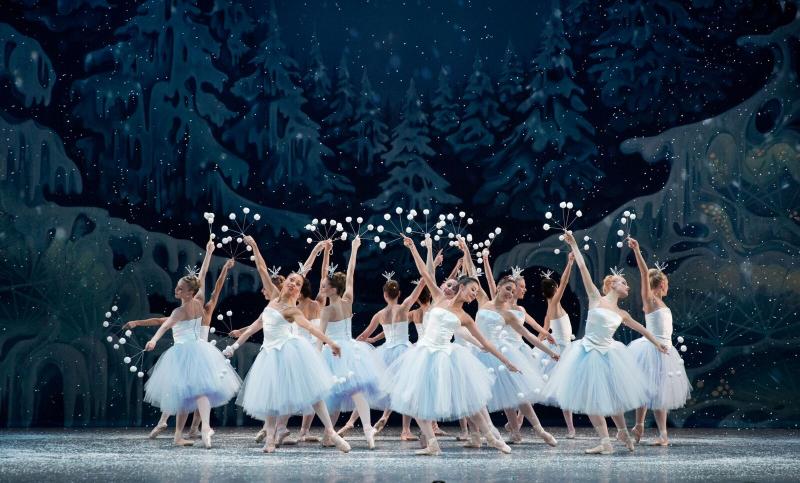 Now we notice that the Prince (adorably played by Alastair Page) is actually Herr Drosselmier's nephew! They are led, together, into the Land of the Sweets.
A group of tiny, precious angels enter, holding tiny Christmas trees, moving as if they are skating on ice, to announce the Sugarplum Fairy's (Nathalia Arja) arrival. She appears, performing an enchanting solo with aplomb, as she welcomes Maria and the Prince to sit on a throne, center stage, to watch the celebration in their honor.
Tasty treats dance before their eyes ~ first, Hot Chocolate dance a lively Spanish fandango, Arabian Coffee (Jordan-Elizabeth Long) performs a sumptuous MidEastern routine, then there is a trio of Chinese Tea dancers who tumble and gymnastically perform for their pleasure. Each section is meant to entice and please their royal guests. Candy Canes cavort proudly, Marzipan Shepherdesses and Mother Ginger and her Polichinelles put on a grand display of sweetness, followed by the corps de ballet entering all in pink.
The Prince comes forward and dances, enacting the battle with the mice and displays his bravery, after which everyone on stage leaves and a new beautiful set comes in containing a table full of sweets. Marie and the Prince again take their seats at the table to watch more intricate performances by all.
Some of the highlights (with all wearing even more elaborate, unique costumes) were another solo by the Sugarplum Fairy, an intricate section done by Arabian Coffee,
using angular port de bras while clinging cymbals, hopping backwards while in back attitude, and a slow side split to the ground, touching her back leg to her head, then crawling forward ending in a lovely pose on the floor. The Chinese Tea Trio's Shimon Ito excelled with nine jump splits in a row during their routine, and Mother Ginger's curtain-like skirt added much merriment as her little ones pop out from under it and dance in pairs. Kleber Rebello's Peppermint Stick wows the audience by jumping through a rapidly moving hoop, sometimes whirling it twice around before he lands back down!
The lovely corps de ballet dances the gorgeous Waltz of the Flowers, featuring Dew Drop (Jennifer Lauren) into the last section where the Sugarplum Fairy performs perfect fouettes (some double) down the line of ballerinas, then they form two giant pinwheels as the Sugarplum Fairy dances in and out of them. It is such a feminine piece of choreography, very in sync and so lovely to watch. The pas de chat section across the floor in lines was exquisite, as the tempo then increases to end the number.
There is another duet done (costumed in all white) to a ¾ time romantic violin section, then the Sugarplum Fairy re-enters in a magnificent sea-green tutu, partnered by her Cavalier (Rainer Krenstetter) doing a technically dazzling adagio, where he assists her in a front attitude, pirouetting, ending in a developpe arabesque back, lifts her above him in a split carrying her across stage, then as she does an arabesque, he pulls her, en pointe while holding the arabesque, finishing by letting go of her as the arabesque still holds, finishing with the classic fish lift. Next are their individual solos. He begins with grand jetes in a circle, she counters with a pas de chat-pique combination; he does an a la seconde and pirouette turn combination. Group after group re-enter and dazzle with tricks as this finale comes to a close. It is a smorgasbord of dance proficiency!
Marie and her Prince are jubilant, holding hands, happily being led to a magic balloon that will take them back, knowing visions of Sugarplums will forever dance in their heads, as Christmas Day begins.
This rendition of the Nutcracker has a cast of 100, with Principal dancers and the Corps from the Miami City Ballet, joined by a very large number of dance students from the Los Angeles area, namely The Gabriella Foundation and The Colburn School. It was a very professional, entertaining production, and all of the young students should be very proud. Kudos to the entire Miami City Ballet Company and Artistic Director Lourdes Lopez for combining with local talent during this performance, and much gratitude to The Glorya Kaufman Dance Foundation, Center Dance Arts, The Dorothy Buffum Chandler Program Fund, Elisabeth Katte Harris, The Music Center Foundation and The Music Center Annual Fund.
Photos Courtesy of Alexander Iziliaev

Related Articles View More Miami

Stories

Shows