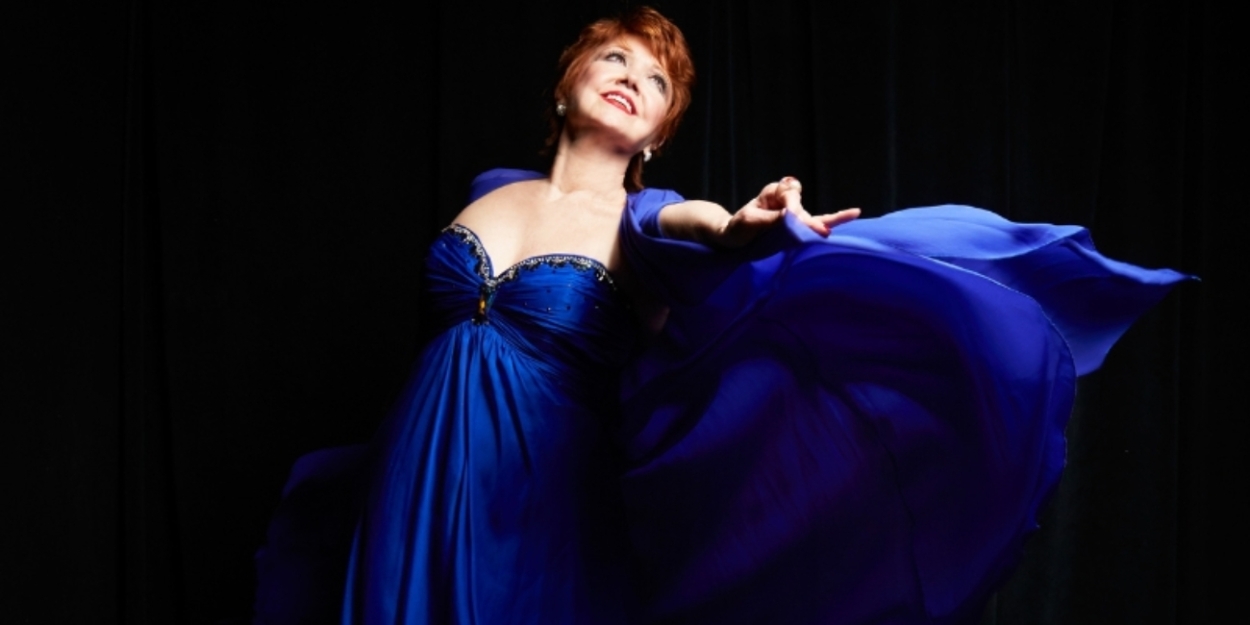 Review: Donna McKechnie in TAKE ME TO THE WORLD: THE SONGS OF STEPHEN SONDHEIM at Catalina Jazz Club
Presenting her Savory Salute to Stephen Sondheim, Donna Mckechnie makes appearances in Los Angeles, Palm Springs and San Francisco. CA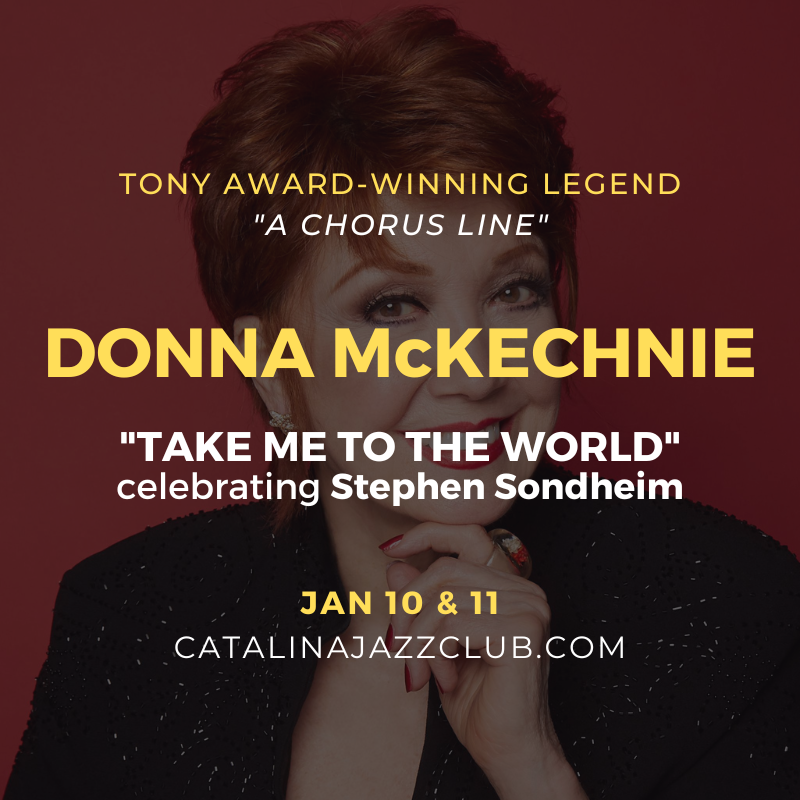 ​A Broadway icon. A true triple threat. She's lovely, warm, sincere, both bubbly and intense while impeccably commandeering her way through some of the most masterful Sondheim musical creations with flair and ease. Her essence and composure as soon as she steps upon the stage is ever present, like the true Broadway performer she is.

Donna Mckechnie's Savory, Superb Salute to Stephen Sondheim. Appearing at the popular and inviting Catalina Bar & Grill for two performances only, January 10th and 11th, 2023.
Donna presents a rare look into her professional and personal association with the great Stephen Sondheim. It is a spectacular evening. Opening for her on January 10 was James Snyder, a Broadway leading man, and on January 11, the show I saw...

Opening for Ms. Mckechnie, James Olivas, last seen in "Kinky Boots" at the Hollywood
Bowl, and upcoming in "Secret Garden" at The Ahmanson, along with his interactive accompanist Jade Ashley Cook, began by telling us a little about himself as a lead-in to his first song "What Mama Says to Me." Hailing from Houston, he explains how his very caring mother always had "suggestions" for him as to whom he should date, what to sing and how to dress, among other experienced advice. It's an entertaining, clever ditty and he sings with a strong, clear voice, well-trained in singing from the diaphragm, at a volume that filled the room completely, enabling the audience to hear every word and note; bantering back and forth with his pianist intermittently, very lightheartedly.

The second song was more of a ballad, which he also sang with aplomb, entitled "Go the Distance," again with a strong delivery, utilizing quite wonderful breath control and an enjoyable and endearing personality. He caps off the song near the end with a little falsetto an octave above the rest of the song. A perfect opener to lead into the main attraction.
Introduced as "Tony Award winner, Donna Mckechnie," she gracefully glides onto the stage to the stirring overture from "Take Me to the World," performed by Donna's sensational accompanist, arranger and musical director, Ian Herman. It's a grand fanfare, enticing us to want to hear more of what's to come. Her royal blue full-length gown, with a sheer dramatic cape, is flashy and elegant; and so very classy. With her Irish red hair and heartwarming demeanor, she's glowingly stunning. You just can't help loving her right from the beginning.

One of the most difficult composer/lyricists' score to tackle is any created by the prolific Stephen Sondheim, of which there are almost countless many. A level of expertise is crucial for a performer to fully hit each unexpected upcoming note and to be succinctly understood vocally, because of the intricacy of the ever-changing melody and rhythms involved, and the clever magical words strung together. To accomplish that takes a knowledge of musical structure and composition, near-perfect pitch, and a studied understanding of the plot and intention of the book, the crux of the meaning behind the words.
With this precise presentation, Donna is among the select few who possess these qualities, and gives us such a treat, relating some of her personal stories interacting with Mr. Sondheim, working with and performing his works, and singing, dancing and acting out some of his most revered musical treasures.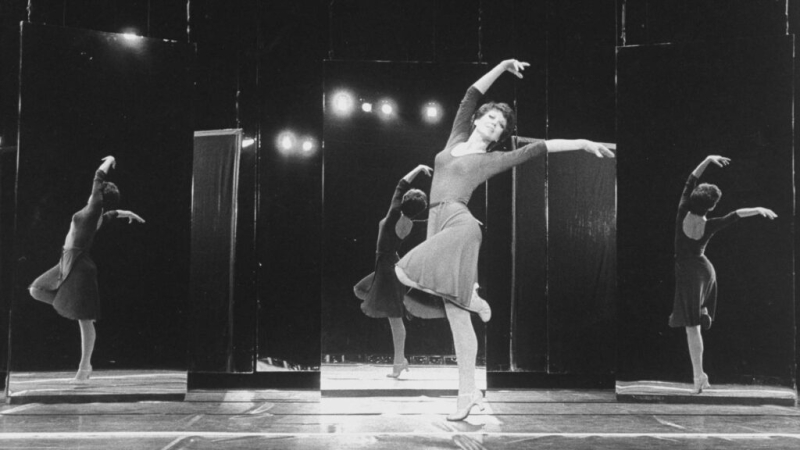 Known the world over for her original portrayal of "Cassie" in "A Chorus Line" and the Director/Choreographer Michael Bennett's muse on that project, she is highly regarded in the global dance and Broadway communities as the quintessential idea of a performer. Her dancing skills are legendary, and singing and acting are right up there, especially with her vast experience working with Sondheim. She backs that up with her latest offering, and wow, does she deliver❣️

First singing "I've Got You to Lean On," from "Anyone Can Whistle," setting up a rapport with the audience, she then paints a picture of the year 1973 when she had been hired to choreograph a musical tribute to Sondheim. It was his first time being honored for his innumerable contributions. At the very first rehearsal, with the likes of stars Len Cariou, Jack Cassidy, Nancy Walker, Angela Lansbury, Chita Rivera, Alexis Smith, Larry Kert, etc., she began demonstrating what each star was going to do on stage. With the help of two incredible Broadway veterans of dance, Harvey Evans and Tony Stevens, she laid out the choreography to the song Angela Lansbury was to sing. After the piece was shown, there was a pause, and the response from Ms. Lansbury..." I think I'll just stand there and sing." Donna, ever-evolving, took this as a learning tool... when sometimes it is better to just plant yourself on the ground and sing the hell out of it, for maximum impact. The song was from "Anyone Can Whistle," which Donna then performed with gusto.

The next song, from "Anyone Can Whistle" that was cut from the original show, entitled "There Won't Be Trumpets," was up next. True to Sondheim, the trumpets ruled the arrangement with many seemingly dissonant notes that always seem to magically resolve in glorious harmoniousness. That is part of the magic of Sondheim, and Donna sang it beautifully.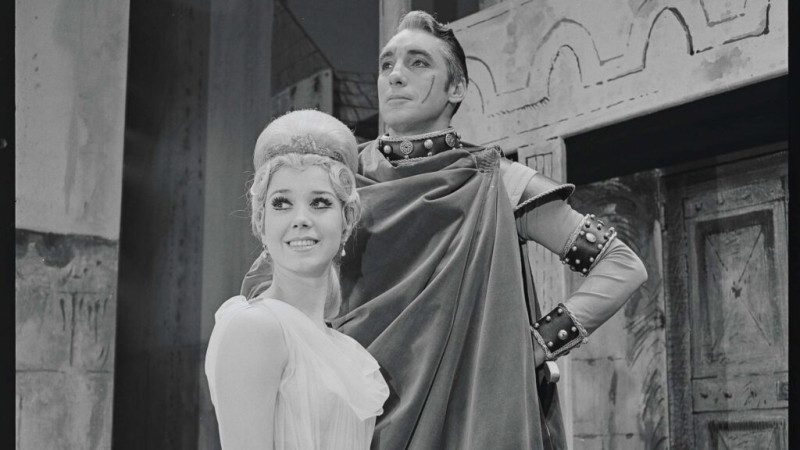 "Funny Thing Happened on the Way to the Forum," her first show associated with Stephen Sondheim's massive talent, was directed by the legendary George Abbott and choreographed by equally legendary Jack Cole, with uncredited staging and choreography by Jerome Robbins. Hal Prince, the producer, was instrumental in casting her. Her audition, (she did get the job) was a bit unconventional, leaving Mr. Abbott laughing so hard, he fell off of his chair. The song was "I'm Lovely," and lovely it was to hear her recount it.

We then switch to one of several favorite Sondheim creations, the musical "Company." It is now a well-established Sondheim favorite for the ages, and she's got a tale for every one of the Sondheim musicals she has been a part of. Along with George Furth, Sondheim created the first "concept" musical; namely sans a plot, with much success. Just recently it was "reimagined" on Broadway, with a modern twist to the plot, starring the brilliant Patti Lupone.

Donna's version of " You Could Drive a Person Crazy," from "Company" is a delight. She sells it like nobody's business! It was originally done as a female trio, but her exuberance, her mastery of the arrangement and the movements, makes it a perfect solo turn.
It's what ties the evening together. Her association and closeness to the characters, the material and the arc of the stories being told; by way of living the roles, delving into and becoming those characters through performing it with a team of other legendary performers is what makes Donna so adept at it all. As a consummate performer, every performance is 100%, and with the goal of making each performance better, every single time.

At this point, Donna graciously acknowledges another former "Company" cast mate in the audience, the wonderful Eileen Barnett. To audiences familiar with her extensive accomplishments in television, on Broadway and notably as part of The Musical Theatre Guild here in L. A., she is another treasured veteran they adore watching.
Donna's "Bobby" in "Company," was Dean Jones, whom she spoke of fondly, mentioning he was her first "stage kiss," which disappointingly got cut from the show before they opened on Broadway. Twenty years later, they appeared together again in "Company," this time at the Long Beach Civic Light Opera which was a wonderful reunion for them.
Many of Sondheim's songs are are all about loving somebody, and the musical arrangement for "Being Alive," also from "Company," and originally sung by Dean Jones as "Bobby" is a glorious representation of framing Sondheim lyrics at their best, and is the deserving closing number of the show. Donna's rendition is filled with emotion, showing, verse by verse, the inner turmoil and dilemma the character of Bobby is feeling. There are quiet, subtle moments, and there are explosions of wrenching reality as his struggle within tries to reach a conclusion. A rich, dynamic version, sung with heartfelt passion, and about a strong a finish as you'll ever hear.

Another of Sondheim's love songs, "So Many People," from "Saturday Night," is next, sung with clarity and class. She takes you through what the lyrics say honestly and thoughtfully, with her "usual flair."

On to "Follies," another Sondheim fave among Broadwayites. She reminisces about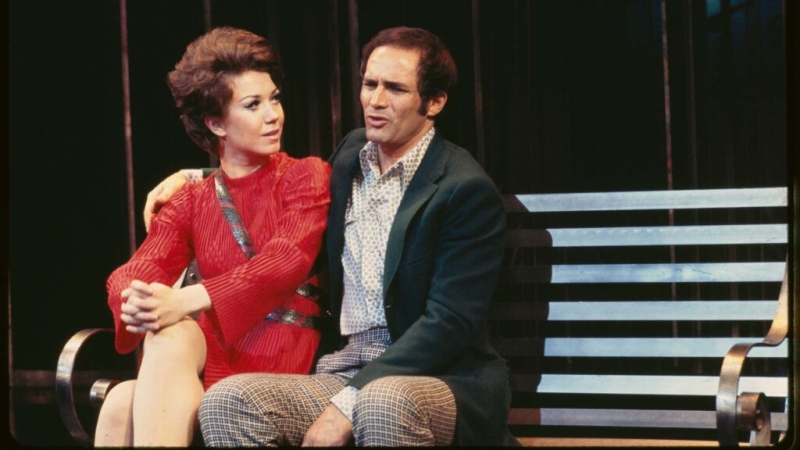 auditioning, rehearsing and putting together the show with Stephen, the staging of the entrance ascending down a staircase to "Beautiful Girls, " hoping not to fall on the way down, wanting to be cast as "Phyllis," but ending up, per Stephen's wishes, playing the role of "Sally."

Beginning with "Don't Look at Me" and "Pleasant Little Kingdom," she sings a medley of songs from "Follies." Each song is met with gregarious applause from the audience, including the moving "Too Many Mornings", and "Night Waltz."

Singing "Too Many Mornings," as the character "Sally," to "Ben," she talks/sings to him, as they miss being with each other; of the time wasted being apart. It is a very difficult song to sing, and she masters it beautifully, adding specific movements to the lyrics... so lovely.
A definite for-all-time favorite Sondheim composition, "Send in the Clowns," Donna next performs, reliving her role as "Desiree" in " A Little Night Music," as Desiree has proposed and is rejected. Her gorgeous flowing dance to the piano intro, filled with airy port de bras and line-filled poses, sets up the characters' musings in sadness to a love lost. So poignant, with just enough movement to make it uniquely hers. The subtle volume, rhythms and tempo of the arrangement add to the effectiveness of this beloved song.

She speaks caringly and with much respect about another mentor/collaborator of hers, the inimitable Michael Bennett. "Promises, Promises" was her first time working with the Director/Choreographer/Dancer Michael Bennett, and certainly not the last. Her origin of the role of "Cassie" in the also-Tony-Winning Musical ACL is uniquely cemented in Broadway history.

"Live Alone and Like It," from the movie "Dick Tracy," has a fabulous jazz arrangement to complement the clever lyrics; "The Road You Didn't Take" again from "Follies" is a musing on the past that gives food for thought.

The crowning number, "Losing My Mind," sung by the character "Sally," her dream role in "Follies," begins with lush piano phrasing, with Donna blending in the melody perfectly, gradually building in volume and emotion. It is considered one of Sondheim's masterpieces, and Ms. Mckechnie feels every note and lyric passionately.
" Take Me to the World," from "Evening Primrose," is a gorgeous, hopeful and joyful song, and, as she sang the rest of the evening, giving her own interpretation of these lyrics, she showered us with the musical prowess of the one and only Stephen Sondheim.
After a standing ovation by the excited and thrilled crowd, she reprised one of the opening songs," I've Got You to Lean On."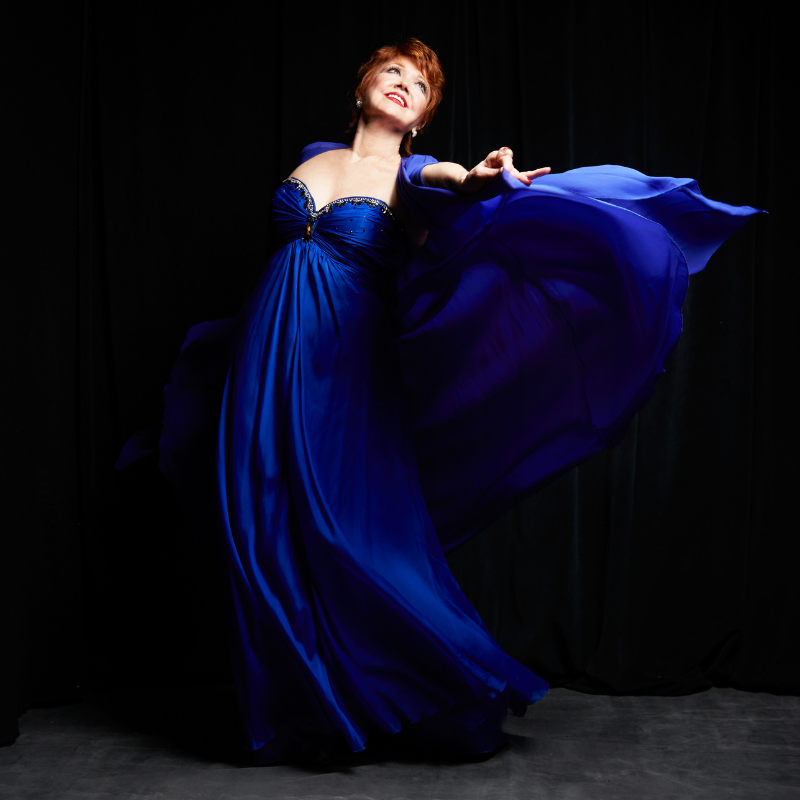 Donna is a treasure within the legends of theatre performers that leave such a huge mark on the fascinating and treasured history of American Musical Theatre. The heart, soul and energizing spirit of a Dancer at heart, Ms. Mckechnie has applied all of this to her latest exhilarating performances.

Producer Chris Isaacson has made sure all of the elements that make up this extraordinary evening go like clockwork and has a hand in everything from lighting, venues and choosing the most elite performers to present.

Urging you to witness this glorious ode to Sondheim!

Tonight, one more night, January 20, 2023 to see her Cabaret performance, at Feinstein's at The Nikko Hotel, in San Francisco, CA.
And in March, Donna will be bringing the show back to New York, at 54 below.

Check out her website for future appearances: https://www.donnamckechnie.com
Photos Courtesy of Chris Isaacson Presents
Publicity by Ken Werther
​