BWW Review: KILLER JOE at TheatreWorks
KILLER JOE opened this past weekend at TheatreWorks, under the direction of James Kevin Cochran. Written by Tracy Letts in 1993, this production from New Moon Theatre is raucous fun, and expertly presented. If you're looking for an evening of raw yet captivating entertainment, go check out Killer Joe before it closes on May 28.
The play opens in a gritty, charming little trailer (set design by Chris Sterling), which is home to the hapless Ansel (Daniel Pound), his new wife Sharla (Annie Freres), and his grown son Chris (Luke Conner) who may be more hapless than his father. A daughter, Dottie (Mersadies Burch) lives there too. She's grown up but not quite right - she has the mind of a teen . . . 13 maybe? She spends her days reminiscing about a love affair from elementary school. Her brother Chris wants to protect Dottie, but he can hardly take care of himself.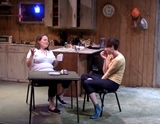 One gets the impression these rather charming losers would stay here until the end of time, smoking weed and watching TV, but Chris gets into trouble. He worked a dope deal that went bad, and needs six grand, fast, or somebody is going to kill him. So he asks his father for the money. Ansel, who's probably never seen six hundred all at once let alone six grand, laughs out loud. He tells his son he better get out of town.
But Chris has a plan, that he pitches to his father. His mother (Ansel's Ex), is known to have a nice, fat life insurance policy, with Chris and Dottie as the beneficiaries. And since they all hate their Mom, why not kill her and take the pay-out? Ansel waffles, but finallyagrees. They'll kill Mom and split the loot.
But this dysfunctional (& drunk/stoned) family can't do this by themselves. (They can barely get off the couch.) So they hire a hit man: Enter Killer Joe (Don McCarrens), who brings a hard reality to their sordid little scheme. Joe makes it clear this is murder they're talking about. And if they're going to do it, they'll play by Joe's rules, or else. This darker energy nourishes the conflict in the narrative, and keeps the show moving. But the characters are the main attraction here, as they scheme, plot, chicken out, love, fight, drink, then love and fight and drink some more. Then Killer Joe takes a shine to Dottie.
What could go wrong, right?
Fortunately, the cast never forgets it's all just entertainment. The energetic performances are all fully realized and on target. Mersadies Burch, the confused Dottie, shines in perhaps the most challenging role.
If you're looking for a little Southern Gothic served up with a smile, Texas-style, go see Killer Joe, one of the better little gems of live theater in Memphis this year.