BWW Review: SANTALAND DIARIES Proves a Perennial Favorite at TAM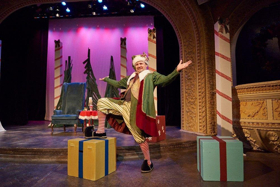 David Sedaris' Santaland Diaries has become a staple of the "alternative Christmas experience" - a funny, sardonic, wickedly funny look at the traditions and trappings of Christmas. As such, it provides a welcome escape for - as the publicity maintains - "mature elves" - with its laser-sharp wit, insightful character observation, and turn-on-a-dime humor. The brilliantly written monologue for Crumpet the Elf, adapted for the stage by Joe Mantello, has become a Christmas season favorite of its own. As such, it now plays on the stage of Theater at Monmouth's Cumston Hall with veteran actor Mike Anthony, giving a credible performance that is sure to delight the many viewers suffering from Hallmark or Macy's Santaland fatigue.
The Sedaris material is sure-fire, and as many times as this critic has seen this show, it never fails to produce the requisite - and unexpected - laughs. Its magic lies in its politically incorrect "bitchiness," its outspoken declamation of hidden thoughts, this anti-Hallmark ethos, and - depending on the central protagonist - its winning appeal in this quirky, but embraceable man-turned-elf.
Dawn McAndrews directs in a somewhat prosaic manner, and surely she is hampered by the proscenium and size of the space - for this monologue plays best in a black box with fewer seats where the actor can engage the audience. All the choices are, no doubt, chosen with Cumston Hall in mind, but to some degree they encumber the production. The minimal scenery by Jim Alexander is certainly attractive, but the lighting design which includes fade outs in a show which should move with the quixotic lighting of the dialogue is cumbersome, as is the well-meaning sound design of Christmas carols ironically placed by Rew Tippin. Michelle Handley's costumes are less extreme than in some productions and consequently less funny.
Mike Anthony carries the one-man show with panache. His is an older, mellower, less flamboyant, sadder elf than many I have seen, though he knows how to draw the big laughs from the right moments. And interestingly, he (and McAndrews) make more of the elf's late -play epiphany about the true season values. The sequence where Crumpet waxes eloquent about how family, generosity, and caring that should lie at the heart of Christmas takes on an added weight, that makes the Sedaris shrug - the witty, cynical end of the play- seems less harsh than in some productions.
If you have never seen SANTALAND DIARIES, by all means, hurry to TAM! If you have, go again, because it is a piece well worth keeping in the season's canon.
Photograph courtesy of TAM
SANTALAND DIARIES runs from Nov. 23-Dec. 3, 2017 at the Theater at Monmouth, 796 Main ST. Monmouth ME 207-933-9999