BWW Review: MISERY at Penobscot Theatre - Bangor, ME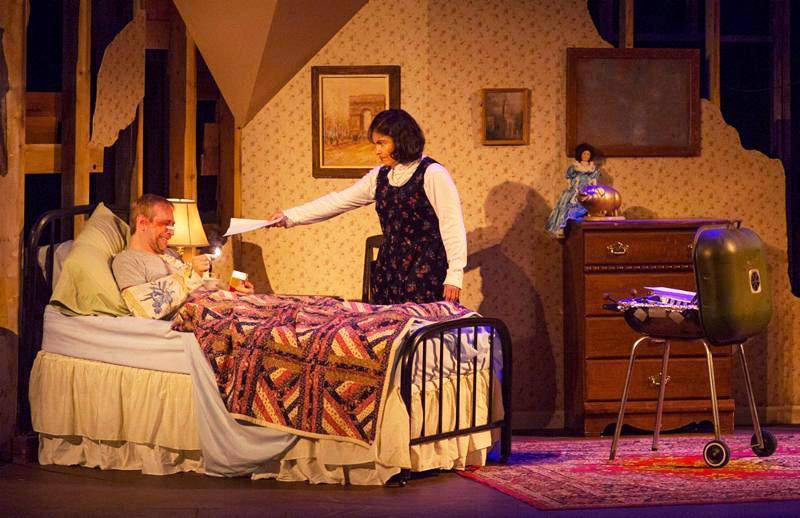 For a small town, Bangor, Maine has quite the claim to fame as the hometown of author Stephen King. Especially with the recent releases of the film "IT" and the new novel "Sleeping Beauties." The Penobscot Theatre Company continued to celebrate the Bangor's most famous resident with their performances of "Misery" based on King's novel of the same name. The novel was also adapted into a film version in 1990. The play attracted a full house during its opening weekend, making this Friday the 13th anything but unlucky for the theatre.
This thriller is currently running from October 12th - November 5th. Just in time for Halloween, audience members have the opportunity for a special treat. Three autographed, first edition copies of the novel will be auctioned off at three different performances by local bookseller, Gerald Winters.
The play follows author Paul Sheldon (James Konicek) who has been stranded in a snowstorm in the small, fictional town of Silver Creek, Colorado. He gets into a car accident and is rescued by his number one fan, Annie Wilkes (A.J. Mooney). His fortune quickly turns into misfortune as Wilkes traps Sheldon in a bedroom in her home and forces him to write novels that fit her ideas of how his previous stories should have gone. His disappearance does not go unnoticed as Wilkes must deflect the attention of Sheriff Buster (Ben Layman) who comes by to search for Sheldon.
The set, designed by Tricia Hobbs, rotated to follow the action around the various rooms of Wilkes' home with the focus mostly being in Sheldon's bedroom. Fans of the novel will notice that the play does well in following the basic storyline with some scenes being modified for the stage. This, however, is not a disappointment as there is plenty of suspense to keep audience members on the edge of their seats. One could argue that the author in the novel and play is really an adaptation of King himself. The truth is that the inspiration for "Misery" came to him in a dream.
On his official website, King said, "The inspiration for Misery was a short story by Evelyn Waugh... It came to me as I dozed off while on a New York-to-London Concorde flight. Waugh's short story was about a man in South America held prisoner by a chief who falls in love with the stories of Charles Dickens and makes the man read them to him. I wondered what it would be like if Dickens himself was held captive."
As is typical with Stephen King's work, there are scenes that some audience members could find violent and disturbing. Considering the show's mature content, I would recommend it to adult audiences only. For more information or to purchase tickets to "Misery," you may contact the Penobscot Theatre Company by visiting their website at penobscottheatre.org or calling them at 207-942-3333.

Related Articles View More Maine

Stories

Shows
Mika Lindsay Ouellette is a 2014 graduate of the Master of Education program at the University of Maine. She currently works as a bilingual customer (read more...)