BWW Review: As Time Goes By: THE ALL NIGHT STRUT Revives Music and Memories
The memories are in the music, and Maine State Music Theatre and Portland Stage's latest co-production struts, sizzles smiles, and sparkles with energy and latent emotion. Classy, funny, lively, touching, vocally and instrumentally beautiful, this tightly constructed revue, The All Night Strut, offers a journey to an era where the world was in turmoil, time moved more slowly, hearts were worn on sleeves, and swing was the thing. Performed in a stylish production with a quartet of stunning soloists and a trio of fine musicians, this soundtrack of the 1930s, 40s, and 50s tells its story in song and dance and offers theatre-goers a wholly satisfying and warmly memorable experience.
Originally conceived and directed off-Broadway in 1979 by Fran Charnas, the revue contains some twenty-eight beloved songs of these three decades by iconic songwriters such as Hoagy Carmichael, Frank Loesser, Duke Ellington, Johnny Mercer, Cab Calloway, Jerome Kern and the Gershwins, as well as selections by lesser-known, but equally remarkable composers and lyricists. Arranged in thematic groupings with a careful eye and ear for contrast and flow, these musical vignettes employ drama, whimsy, dance, exquisite vocals and instrumentals to conjure up the romance of the famous nightclubs of the period, where one could hear everything from jazz, to blues, to bebop, to ballads, and standards from the Great American songbook.
Directed and choreographed by Buddy Reeder (who makes his Portland debut) and based on the original staging by Marc Robin, this production - with its tight four-part harmonies and synchronized musical movement - becomes the quintessential ensemble vehicle requiring perfect timing and finely calibrated interaction among the four cast members. Reeder paces the ninety-minute revue with a deft hand, giving the piece a rhythmic cohesiveness that relies on smooth, clever narrative transitions, carefully constructed musical bridges, and fluid musical staging and choreography to create a through line of story and song. A well-known dancer himself, Reeder makes the most of several choreographic sequences, and demonstrates a fine sensitivity to the shifting moods and colors of the piece.
Music Director Edward Reichert displays a lovely idiomatic flair for the various period styles, while his own (virtually non-stop) playing on the baby grand piano, as he leads the instrumental trio, showcases his limpid fingering and elegant sense of melodic and rhythmic line. Using the original arrangements by Tom Fitt, Gil Lieb, and Dick Schermesser with additional orchestrations by Corey Allen, Reichert, Kinnon Church on bass, and Jake Smith on drums create harmonics and melodies that are often embracingly familiar, but sometimes distinctly different - always one hundred percent noteworthy.
The physical production is attractive with a burgundy-hued unit set by Anita Stewart (props Ivy Thomas) suggesting a New York nightclub that opens up in the second act to reveal a drop of the Chrysler building and New York skyline. Gregg Carville's astute lighting aids the dramatic and musical flow. Travis Joseph Wright balances the sound design which utilizes lavalieres, hand microphones and standing Shur mikes to reproduce the era's ambiance of warm, live sounding amplification combined with a more intimate acoustic feeling that suits the smaller Portland Theatre. Kathleen P. Brown's costume design settles on coral and turquoise colors for the mirror-image matched suits and fluid midi dresses of the first act, and then in the second act, switches to champagne colored chiffon evening dresses and tails for the gentlemen. Stage Manager Shane Van Vliet keeps the action skillfully on track.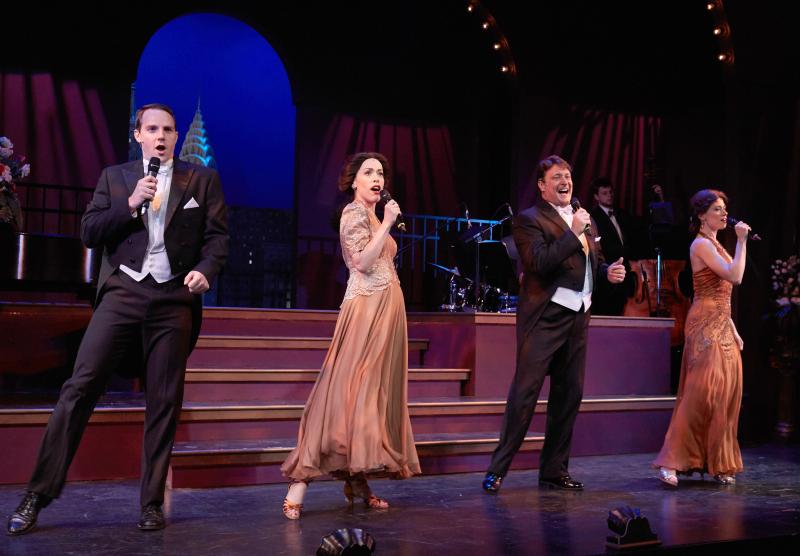 Because of the breadth of its repertory, The All Night Strut requires versatile singer-dancers, who can style a song idiomatically, tap, waltz, jitterbug, jive, and charm an audience. All four principals (and understudies Ali Sarnacchiaro and Eric Berry-Sandelin) possess these qualities in abundance. Missy Dowse contributes a crystalline, silky soprano throbbing with emotion to numbers like "Dream," and "I'll Be Seeing You," at the same time that she displays her comedic talents in "A Fine Romance" or "Ain't Misbehavin'" Alto Esther Stilwell is responsible for some of the more rousing moments in the show from her unique "Minnie the Moocher" to her part in "Rosie the Riveter" to her melancholy cover of "The White Cliffs of Dover."
Baritone Bryant Martin possesses a smooth, well-schooled voice, and he proves himself a dramatic stylist, turning a classic like "Brother Can You Spare a Dime?" into an arresting moment of musical theatre. Curt Dale Clark gets to shine in the tenor solos as well as the show's ensembles. A now five-time, award-winning veteran of this show, he demonstrates all the charm, charisma, and panache needed to carry many of the beloved classics in the score. Not only does he bring down the house with his solo dance sequences in "In the Mood and "Crazy Rhythm" or bemuse the audience with his characterization of a disconcerted lover in "A Fine Romance", but he uses his elegant, velvety timbre to deliver heartthrob, technically lovely renditions of the two big romantic ballads, "A Nightingale Sang in Berkeley Square" and "As Time Goes By" with melting musicality and soaring lyricism. Classics that these are, one still has the sense in Clark's instinctive sense of style, savvy vocal choices, and complete identification that one is hearing them sung for the first time.
As Clark sings "a kiss is just a kiss, a sigh is just a sigh," you can hear the audience collectively sigh with him and the music; you can feel the nostalgia and the yearning. And then as the ensemble launches into the spirited finale trio - "Crazy Rhythm", "Hit That Jive, Jack," and It Don't mean A Thing If It Ain't Got That Swing," you experience the surge of optimism that defied some of the darkest years of the 20th century, and you sense the magic that defined the world of popular and musical theatre in those mid-century decades. For a delightful, memorable, moving hour -and-a half, time seems not to go by, but instead to stand still as the music is the moment and the memory.
Photos courtesy of MSMT & Portland stage, Aaron Flacke, photographer
The All Night Strut continues the highly popular and successful annual collaboration between these two premier Maine theatres. It runs at Portland Stage, 25 Forest Ave., Portland, ME from August 15-September 10, 2017. www.Msmt.org www.portlandstage.org 207-774-0465
Related Articles View More Maine

Stories

Shows