BWW Feature: SOME THEATRE COMPANY, ORONO, UNLEASHES A JAM PACKED SEASON OF SHOWS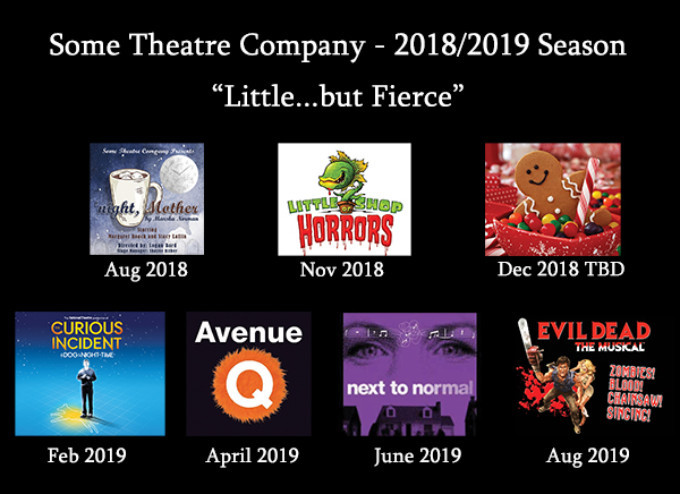 Hold on to your hats folks, Some Theatre Company is a-comin."
Not one to hold back from taking on any challenge, this small community theatre in Orono has filled their season with a plethora of big name shows.
Established November 2015, Some Theatre Company has produced 15 shows in just over 2 1/2 years, each one getting bigger, bolder, and much more tech heavy. Using a non-traditional theatre space you can guarantee when you walk into one of their shows, nothing will look the same as it did the time before, including the times they have flipped the space completely backwards. Using a shared space can have its challenges, such as only getting 4 days to load in, build, hang lights and tech a show - however they make it look effortless. Building monster sets, using projections, movies, TV's and 64 lights comprised of LED, traditional and movers this small company is growing leaps and bounds.
As additions to their upcoming season they have brought back 2 of their very first musicals: Evil Dead and Next to Normal. Having run a Facebook poll asking which shows their fans are sad they missed, it ended as a very tight race, so, STC decided to keep all their fans happy and bring back both. Evil Dead and Next to Normal were wildly successful the first time STC produced them, but with more tech equipment in their arsenal and a bigger array of moving head lights, you can guarantee they will not disappoint with the 2 planned revivals. To keep up to date on when tickets go on sale, audition information and much more you can go to Some Theatre Company's website:
www.stcmaine.org
or like them on Facebook
www.facebook.com/sometheatrecompany