BWW Feature: ICEBOUD at Sandy River Players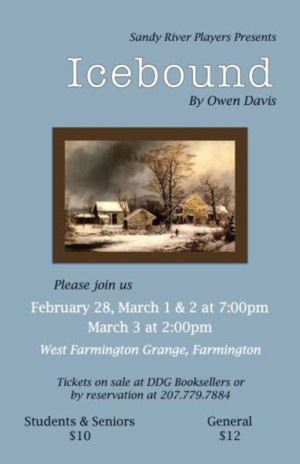 The Sandy River Players of Farmington are offering an opportunity to celebrate the arrival of spring after a long harsh Maine winter by presenting a play about such a winter and the family that endures it. The play "Icebound" is a Maine play in every aspect, sure to be appreciated by those who want to revisit a moment in the history of this great state and its people.
"Icebound" was written in 1923 by Bangor native Owen Davis who set the play in the nearby small town of Veazie. Surprisingly, few people know about this play which went to Broadway and won the Pulitzer Prize for Drama during its six-month run in New York. It then returned to be performed at the Lakewood Theatre in Skowhegan, and it was made into a silent movie. The three-act play tells the mostly sad story of a rural farming family who are as cold as the winters they manage to endure.
Performance dates are February 28 and March 1, 2, and 3. Curtain is at 7:00 for the 28th, 1st and 2nd, and 2:00 for the 3rd. The venue is the West Farmington Grange Hall, and prices are $12 general admission and $10 for seniors and students. Advanced sales are available at DDG Booksellers of Farmington or online at 207.779.7884.
The cast of 12 is made up of a talented group of locals who bring authenticity to their roles: Richard Morton, Brianna Rush, and Shanee Stepakoff from Farmington; Laura Church, Tim Davis, and Dan Huettner from Vienna; Didi and Jon Rollins from Kingfield; Michaela Carney, a senior at UMF from Richmond; Austin Frederick from Norridgewock; Caitlin Zamboni, a Mt. Blue High senior from East Wilton; and Evan Phillips, a New Sharon 8th grader at Mt. Blue Middle School.
For co-directors Robin Lisherness and Karen West, this is the second Maine play they have directed, having previously presented John Cariani's "Almost, Maine" with SRP. "The plays are similar in that they were both written by Maine authors about Maine people, but that's where the similarity ends," says Lisherness. "Cariani's play is just as funny as it can be, but Davis's play is a dramatic story with very serious characters."
"But," adds West, "Audiences are going to find humor in "Icebound," too. There are moments when you just have to laugh because you can identify with the language and the actions of these Mainers. Your grandmother may have used those very same words to describe a family dispute!
(Press release - Robin Lisherness)

For more info you can visit - https://sandyriverplayers.org/