YOGANANDANCE Returns This Weekend
YOGANANDANCE goal is to unite the local businesses and local communities weekly for a Sunday gathering to sing, pray, eat, and get together in the spirit of peace.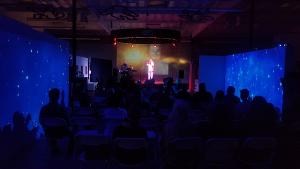 YOGANANDANCE - The immersive show is to revitalize the heart of Los Angeles in the Arts District. YOGANANDANCE goal is to unite the local businesses and local communities weekly for a Sunday gathering to sing, pray, eat, and get together in the spirit of peace. The event will also strive to help the local underprivileged with the support of local businesses, Hi Bakery, Hanks, AMP Lofts, and many others.
There will be two shows in February 5 & 12 at the Art Beyond Survival gallery in the Arts District, Los Angeles. The show begins at 5pm.
YOGANANDANCE is the first immersive musical at Art Beyond Survival and will have food, tea, and prayers. This experience will become THE spectacular spiritual gathering of the heart of LA. The audience will be surrounded by 360 degree projections (walls, roof, floor) and surround sound 5.1
Following a successful and sold-out world premiere, internationally-acclaimed spiritual and meditation teacher, composer, and singer Michel Pascal's brand new show, Yoganandance The Musical, will now present the immersive version.
The show will start with a 360 degree contemplative immersive meditation, followed by a social moment around special herbal tea, before the spectacular Immersive Yoganandance.
Inspired by the pioneering Indian spiritual guru, Paramahansa Yogananda, the show will feature a spectacular immersive version of the musical with multi-projections, 5.1 Surround Sound, and a solo performance by the creator, Michel Pascal. The narration will be by Yogini Jaima and based on the true story of a homeless person in downtown Los Angeles that is saved by the Indian Master Yogananda.
"This show is an experience unlike anything anybody has seen or felt before," says Pascal, who conceived and wrote the music to the show. "There are many books and documentaries about Yogananda, but our show is something quite special and unique. Yoganandance is a musical celebration of the spirit of Yogananda to engage people to get back to love."
To his millions of followers across the globe, Paramahansa Yogananda is considered one of the most important spiritual teachers and gurus of all time. He was the first major Indian teacher to settle in the United States. "His influence cannot be overstated," says Pascal. "Yogananda brought meditation and Kriya Yoga to this country. The Los Angeles Times referred to him as 'the first superstar guru.'"
Pascal emphasizes that Yogananda's message is more important than ever today. "Calm the mind," he says. "If you are stressed, you appreciate nothing. Your relationships don't work. You're tired and sick all the time. You aren't present in your life. Yogananda's teachings resonate during these times, especially after Covid."
Over the years, Pascal has seen his shows performed throughout the world. His musical, Saint Therese, about Thérèse of Lisieux (also known as Saint Therese of the Child Jesus and the Holy Face) has been performed over 1,000 times internationally. Along with world-renowned musical director and keyboard player for Earth, Wind & Fire, Myron McKinley, he's performed concerts at New York's famous Carnegie Hall five times since 2016.
Pascal promises a show that will rouse spirits. The goal is to immerse each spectator in the soul of Yogananda, to feel His presence. "People will feel their tensions release, and it will boost their energy," he says. "It's a spiritual experience to calm the mind and given.
The musical will be narrated by Yogini Jaima, sung by Michel Pascal, and introduced by Alx Uttermann, as Master of Ceremony.
5:00 pm Pre-show, Immersive Contemplation of Yogananda and his Lineage.
5:30 pm Break, with special herbal teas
5:45 pm Yoganandance Immersive Musical
Location: Art Beyond Survival gallery, 684 Mateo St., Los Angeles, CA 90021
Residence continuing next Sunday, February 12 at 5 pm.