The UCLA School Of Theater, Film And Television's Department Of Theater Presents CHURCH & STATE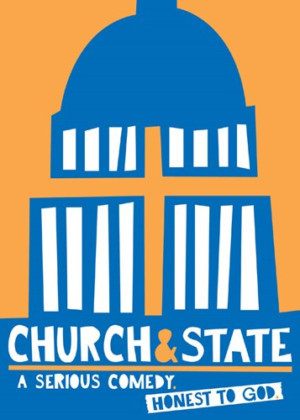 To commemorate the one-year anniversary of the Parkland, Florida shooting at Marjory Stoneman Douglas High School, the Department of Theater at the UCLA School of Theater, Film and Television (UCLA TFT) and NewYorkRep will present one of a nationwide series of staged readings of the award-winning, Off-Broadway play Church & State this Thursday, Feb. 14 at 5:30 p.m. at UCLA TFT's 1330 Macgowan Hall. Written by Jason Odell Williams,
Church & State tells the story of a gun-loving senator running for re-election. He examines his position on the Second Amendment following a shooting at his children's school. The play explores how religion, guns and social media influence our political system.
Tickets are complimentary and will be available at the venue prior to the reading.
UCLA TFT student Anna Mader directs student cast members Carl Ballantine, Mary Alex Daniels, Beatrice Brown and Jacob Cherry. The creative team includes sound design by Yasmine El-Tayeb and dramaturgy by Danielle Jensen, a graduate of Marjory Stoneman Douglas High School. Produced by UCLA TFT students Olivia Robertson and Emma Wenkert.
NewYorkRep is partnering with The Brady Center to Prevent Gun Violence, which is providing speakers to lead talk-backs following performances at some locations, including UCLA TFT.
NewYorkRep Artistic Director Markus Potternoted, "I was proud to direct the off-Broadway production of Church & State, and now honored to partner with the Brady Campaign to Prevent Gun Violence to use the message of the play to stand in solidarity with the Parkland community, to deliver a unified message to the country that we reject blood-soaked apathy and demand common sense gun safety legislation."
"Having helped produce this important play in New York and then watch continued gun massacres occur, it seemed important to take it off the shelf and carry the message across the country," said NewYorkRep Executive Director Gayle Waxenberg.
"Church & State starts a much-needed dialogue about gun violence prevention," said Kyleanne Hunter, Vice President of Programs, Brady Center to Prevent Gun Violence. "Using humor, we can dive into a tough topic and have meaningful conversations. With a gun-violence prevention Congress now in the House, it is exciting that we can move from thoughts and prayers to action. We're excited to help facilitate this dialogue."
Other university theaters that will also present the reading on Feb. 14 include: Indiana's Butler University; The University of Kansas; Tulane University; Pittsburgh's Point Park University; Miami's New World School of the Arts; and North Carolina's Elon University.
Church & State had its New York premiere, presented by lead producer Charlotte Cohen, Off-Broadway at New World Stages in 2017.
Related Articles View More Los Angeles

Stories

Shows
More Hot Stories For You