The Lisa Smith Wengler Center for the Arts at Pepperdine University Presents Adam Sadberry, Flute in March
The recital is on Sunday, March 5, 2023, 2 p.m.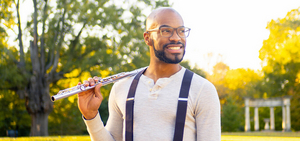 Flutist and educator Adam W. Sadberry will make his Malibu recital debut Sunday, March 5, 2023, at 2 p.m. at Raitt Recital Hall on the campus of Pepperdine University.
Tickets, starting at $28 for adults and $10 for full-time Pepperdine students, are available now by calling (310) 506-4522 or visiting arts.pepperdine.edu.
Named an artist to watch in The Washington Post's list of 23 classical music and performers to watch this year. Adam Sadberry is paving a distinctive career with his citizenry, creativity, and vibrancy both on and off stage. As a winner of Concert Artists Guild's 2021 Victor Elmaleh Competition, he is making his debuts with Chamber Music Detroit, Newport Classical, Scottsdale Performing Arts, Macon Concert Series, Strings Music Festival, Pro Musica: San Miguel de Allende, Northeast Kingdom Classical, Glema Mahr, Dumbarton Concerts, and more. Adam is tremendously excited to make his debut at Merkin Hall in NYC during March 2023 where he will premiere a composition by Dameun Strange that is inspired by Adam's late grandfather and unsung hero of the Civil Rights Movement, L. Alex Wilson.
Adam's commitment to the citizenry is reflected through his collegiate work. He is on faculty at the University of Minnesota (Twin Cities) for the spring 2023 semester, and he has upcoming residencies at Lawrence University and Northern Michigan University, the latter of which includes a performance of Mozart's D Major Flute Concerto with the Marquette Symphony Orchestra. Adam also has engagements at Indiana University (Bloomington), Pepperdine University, and Georgia Southwestern State University, and has previously given masterclasses at Oakland University, University of Memphis, Rhodes College, and the Harmony Project (Los Angeles). Adam's work revolves around identity, his grandfather's legacy, and mindfulness that is informed by Alexander Technique. His most popular lectures are Using Your Identity to Create a Relevant Voice in Music and Musical Journalism: Continuing a Legacy Through the Flute.
Adam has a strong foundation in orchestral playing along with his solo and educational work. He has played principal flute with St. Louis and Detroit Symphony Orchestras, and his former positions include acting principal flute of the Memphis Symphony Orchestra and Cabrillo Festival of Contemporary Music, flute and piccolo with the Des Moines Metro Opera, and orchestra fellow with the Detroit Symphony Orchestra. He has also performed with the Minnesota Orchestra, Seattle Symphony Orchestra, Sphinx Symphony Orchestra, and the New World Symphony. Adam can be heard playing on the soundtrack of Disney's The Lion King (2019) and in the Hollywood Bowl's Juneteenth Celebration (2022) that included artists such as Chaka Khan, Ne-Yo, Billy Porter, Questlove, and Earth, Wind, and Fire.
Adam Sadberry will be joined on piano by Nathan Cheung. Dr. Nathan Cheung is known for his versatility as a soloist, collaborator, composer, and improviser. These roles are fueled by a life-long passion to discover artistry and accessibility-to understand the power of great music and tap into its potential to resonate with people from all walks of life. His education has aided him significantly in strengthening these endeavors, culminating in degrees from Stanford University (BA Music with honors, concentrations in Piano Performance and Composition) and the Eastman School of Music (DMA, MM, Piano Performance and Literature; MM, Accompanying and Chamber Music). His primary instructors during his studies were Natalya Antonova, Nelita True, Jean Barr, and Thomas Schultz. Dr. Cheung claimed the 1st prize in the 2019 Los Angeles International Piano Competition and has won top prizes in other international competitions including the Seattle International Piano Competition, Wideman International Piano Competition, Lewisville Lake Symphony International Competition, and Thousand Islands International Piano Competition. He is also a winner of the Aspen Concerto Competition, the American Prize concerto division, the Music Teachers Association of California Solo Competition, and the concerto competitions at both the Eastman School and Stanford University.
The repertoire for the March 5 recital includes Katherine Hoover's Winter Spirits (1997), Valerie Coleman's Wish (2015), William Grant Still's Mother and Child (1943), J.S. Bach's Partita in A minor, BWV 1013 (1723), César Franck's Sonata for piano and flute (1886), and William Grant Still's Summerland (1934).
"I chose this repertoire to share a wide range of humanity through music," said Adam Sadberry. "The two pieces by women composers Valerie Coleman and Katherine Hoover offer visions into the worlds of Africans who were fighting for their lives in the Middle Passage and the spirituality of American Indigenous people. William Grant Still's pieces Mother and Child and Summerland paint portraits of love between one of the most famous archetypical duos and of William Grant Still's concept of heaven. The Bach Partita features four movements of music based on dances from around the world, and Franck's sonata for piano and flute offers four movements of lush romanticism that seem to center the ups and downs of love. As a whole, the program reflects aspects of life that I find myself reflecting on more and more these days."
Tickets may be purchased by calling the Center for the Arts Box Office at (310) 506-4522 from noon to 5 p.m., Tuesday through Friday, and two hours prior to curtain time. Tickets to all events are also available online at: arts.pepperdine.edu/tickets/