Photos: Vox Femina & Contra Tiempo's NUESTRA VOCES
Two Los Angeles based institutions, Vox Femina Los Angeles and CONTRA-TIEMPO, joined forces on Saturday, March 19th with a production of NUESTRA VOCES at The Zipper Concert Hall. The Herbert Zipper Concert Hall at The Colburn School was completed in 1998, making it about 70 years younger than LACO's other regular concert venues.
It seats approximately 400 and has among the best acoustics of music performance venues in Los Angeles. The Colburn School's dedication to the youth influenced by the arts, made the venue the perfect location for Artistic Director's Dr. Iris Levine (Vox Femina Los Angeles) and Ana Maria Alvares (CONTRA-TIEMPO) for their collaborative efforts on NUESTRA VOCES.
Patrons trying to get last minute tickets on Friday, March 18th, found the engagement to sold out. However, that didn't stop hopeful audience members, who braved the ill weather and ventured to downtown Los Angeles in the hopes of grabbing las minute cancellations. The standing room only performance offered a syncopated, sensual and sumptuous program of music coupled with a unique Latin dance experience that had audience members literally up on their feet.
Among the evening's highlights was Vox Femina's "Duerme Negrito" (arr. By Emile Sole) with soloist Allie Fukushima and "Muie Rendera (Arr. C.A. Pinto Fonseca) as well as CONTRA-TIEMPO's "Las Mujeres/Patria" (Excerpts of "I Dream America") and "Talk Back: Cronicas of Power" (arr. C.A. Pinto Fonseca). However, when the two groups came together, accompanied by pianist Lisa Edward and Cristian Grases, Robert Fernandez and Jan Miller on percussion, with production numbers such as "Nuestras Voces" and "El Pambiche Lento" (arr. Juan-Tony Guzman), there was quite simply electricity in the air. The two established artistic groups successfully created a combined presentation of their works, which resulted in a shared exploration of one another's art forms by performers and audience alike. The concert contents included the music of Argentina, Venezuela, Dominican Republic, Peru, Brazil, Uruguay, Colombia and Latin dances such as Merengue, Tango, Joropo, Baiao as well as Vox favorites Duerme Negrito, Maquerule, Maximina and Te Quiero.
Photo Credit: PAUL KAWABORI


Dr. Iris Levine and Ana Maria Alvares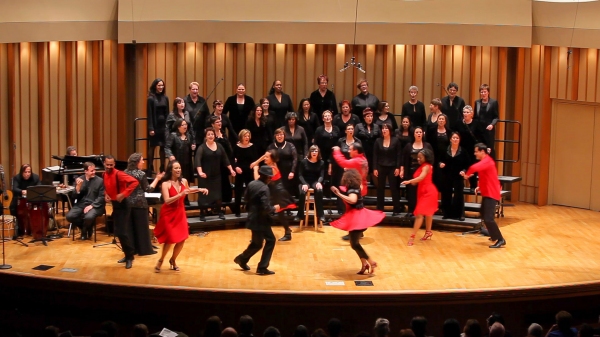 Vox Femina and CONTRA-TIEMPO

CONTRA-TIEMPO

Vox Femina and CONTRA-TIEMPO

CONTRA-TIEMPO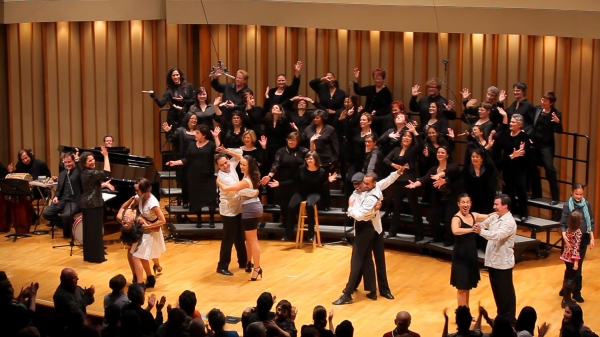 Vox Femina and CONTRA-TIEMPO

Vox Femina and CONTRA-TIEMPO