Photos: Heartwarming Irish Tale CHAPATTI Opens Tonight at Laguna Playhouse
Laguna Playhouse Artistic Director Ann E. Wareham is thrilled to announce the third show in the Laguna Playhouse 2016-2017 season, CHAPATTI, written by Christian O'Reilly and directed by David Ellenstein, based on the direction of Judith Ivey. "I just fell in love with this play and the beautiful and quirky love story at its center. I think our audiences are about to fall in love with it too," says Wareham. CHAPATTI will begin previews on Wednesday, January 11; will open on Sunday, January 15 at 5:30pm and will run through Sunday, January 29, 2016 at the Laguna Playhouse, 606 Laguna Canyon Road in Laguna Beach.
What do you get when you mix an Irish tale with 19 cats, one dog named after a pancake, and two eccentric animal lovers? Annabella Price and Mark Bramhall star in this humorous and heartwarming tale about two animal lovers in Dublin, and their unexpected spark as they re-discover the importance of human companionship. This second-chance comedy celebrates these unforgettable characters who still believe in love.
CHRISTIAN O'REILLY (Playwright) his plays include It Just Came Out (Druid Debut Series 2001), The Good Father (Druid - Galway Arts Festival 2002; national tour 2003; joint winner of the 2002 Stewart Parker Trust New Playwright Bursary), Is This About Sex? (Rough Magic-2007 Edinburgh Fringe Festival; 50th Dublin Theatre Festival; winner of Best Theatre Script at the 2008 Irish Writers' Guild Awards), Here We Are Again Still (Decadent/Galway City Council-2009 Nun's Island; Bealtaine Festival and national tour in 2011), and Sanctuary (Blue Teapot-2012 Galway Theatre Festival; 2013 Galway Arts Festival and Dublin Fringe Festival) His screen credits include episodes of BBC One dramas "Doctors," "Casualty," and "Holby City," as well as "Inside I'm Dancing" (2004), a feature film based on his original story, which was released in the U S as "Rory O'Shea Was Here " Christian lives in Galway in the west of Ireland with his wife Ailbhe and their son.
DAVID ELLENSTEIN (Director) Before joining North Coast Rep as its Artistic Director, he served as Artistic Director for the Los Angeles Repertory Company and the Arizona Jewish Theatre Company (AJTC). A veteran of over 250 theatrical productions, directorial favorites include: North Coast Rep -Way Downriver; William Faulkner's 'Old Man' (West Coast Premiere); Sherlock Holmes and the Adventure of the Great Nome Gold Rush (World Premiere), Side By Side By Sondheim, Chapter Two, Freud's Last Session (San Diego Premiere), Faded Glory (World Premiere), Mandate Memories (World Premiere), Becoming Cuba (World Premiere), Time Stands Still, Words by: Ira Gershwin and the Great American Songbook (World Premiere), Two by Pinter: The Lover and The Dumb Waiter, HENRY IV Part 1, Heroes, My Name is Asher Lev, The Drawer Boy, Becky's New Car, Ghosts, The Tempest, Talley's Folly, Over the Tavern, Old Wicked Songs, The Dresser, Jacques Brel is Alive and Well and Living in Paris, Madagascar, A Shayna Maidel, The Honky-Tonk Angels, Rashomon, A Moon for the Misbegotten; Tuesdays With Morrie; Collected Stories; Halpern and Johnson; Romeo and Juliet; Amy's View; Einstein Comes Through (also co-author); The Chosen; A Life in the Theatre; Story Theatre and Charley's Aunt.
Coconut Grove Playhouse - Sonia Flew starring Lucy Arnaz; Halpern and Johnson starring Hal Linden and Brian Murray. Papermill Playhouse - The Chosen starring Theodore Bikel and John Lloyd Young. Portland Stage - Halpern and Johnson. Renaissance Theatre - Long Day's Journey Into Night. Actor's Theatre of Phoenix - Rabbit Hole. Alabama Shakespeare Festival - Rocket City (World Premiere) and Honky-Tonk Angels. Laguna Playhouse - Alexandros (World Premiere). Southwest Shakespeare Company - Cyrano de Bergerac. AJTC - Awake and Sing. Meadow Brook Theatre - A Christmas Carol. Portland Rep - Conversations With My Father and Gaslamp Quarter Theatre - A Shayna Maidel. David has also been guest faculty for numerous universities including California State Northridge, Cal Arts, and Shakespeare workshops privately. David lives with his beautiful wife Denise and their amazing sons Jamie and Will.
Judith Ivey (Original Direction) is a four-time Tony nominee and the recipient of the Tony Award and the Drama Desk Award for her portrayals in Steaming and Hurlyburly, the Obie Award for her performance in The Moonshot Tape, and countless others for her stage and film work. She can be seen in the recently released film, "Big Stone Gap" written and directed by Adriana Trigiani. Judith has appeared in over 40 films and starred in four TV shows, most notably the last season of "Designing Women." Ms Ivey's stage directing credits include: Steel Magnolias and Carapace at the ALLIANCE THEATRE in Atlanta (nominated for a Bass Award), premiere of Darrah Cloud's Our Suburb, the musical, Vanities at the Pasadena Playhouse and Second Stage in NYC The Butcher Of Baraboo at the Second Stage Uptown Series, Fugue at the Cherry Lane Theatre, and Southern Comforts at Primary Stages in NYC. Judith directed Bad Dates both at the Northlight Theatre in Chicago, and the Laguna Playhouse, Steel Magnolias at the Alley Theatre, and More with Yeardley Smith at Union Square Theatre, and the Falcon Theatre in Los Angeles Other directing credits include Two For The Seesaw at the Westport Playhouse, The Go-For-It Guy at the Aspen Comedy Festival, and Soccer Moms at Fleetwood Stage and the Snapple Theatre in NYC Ms Ivey is married to Tim Braine, and is the proud mother of Maggie and Tom
The cast of CHAPATTI features: Mark Bramhall and Annabella Price.
Mark Bramhall (Dan) began acting professionally in 1966, in the original company of San Francisco's American Conservatory Theatre. He has performed off-Broadway, at regional theatres nationwide and dozens of SoCal venues, including thirty-four productions while a Resident Artist at A Noise Within. He is a member of LA's renowned Antaeus Theatre Company, and has recently starred at the Kirk Douglas Theatre, SacRed Fools Theatre, The Lillian Theatre, The Pico Playhouse and Actors Co-op. He won a 2012 Ovation Award covering three of the four principal roles in Center Theatre Group's Waiting For Godot at the Mark Taper Forum, and was nominated again for that Award in 2013, for Best Performance in a Leading Role, in 24th St Theatre's Walking The Tightrope. Other honors and nominations: LA Drama Critics Circle, Ovation, Garland, LA Weekly and Dramalogue awards; Audie nomination (2013) and twenty-nine AudioFile Magazine "Earphones" awards for excellence in audiobook narration.
Selected film and TV credits: "Star Trek" (2009), "Vanilla Sky," "Introducing Dorothy Dandridge," "Nip/ Tuck," "Weeds," "24," "ER," and "Alias"; also "Housecat" and "Emily Flutters," both in post-production. He voices principal roles in "Call Of Duty: Black Ops," Guild Wars 2," "The Amazing Spiderman" and "Steamboy" (with Alfred Molina) Education/Training: Harvard (AB cum laude, 1965); UC Berkeley; LAMDA (Fulbright Scholar); American Conservatory Theatre; Classical Theatre Lab; Steve Eastin Studio Mark is a proud lifelong member of AEA and SAG-AFTRA.
ANNABELLA PRICE (Betty) Stage, selected list: Steven Berkoff's Metamorphosis at Mark Taper Forum; Jane Martin's Talking With and Len Jenkins' The Five of Us at Taper Too; Stephen Metcalfe's Strange Snow, Old Globe San Diego; Beyond Therapy, Empty Space Seattle and South Coast Repertory; Eric Overmeyer's In Perpetuity Throughout the Universe, South Coast Repertory; Maria Irene Fornes' Fefu and Her Friends, Padua Hills Playwright Festival; Julie Johnson, Sundance Playwright Conference; Brian Friel's Translations, Doris Baizley's Mrs.California, LA Stage Company; and Hugh Leonard's A Life, Summer, Theatre 40. TV/Film, selected list: Series: "Christy" (director Michael Rhodes); "Gang of Four" (director Jan Egelson); Television Movies: "Good Night Sweet Wife" (director Jerrold Freedman); "Murder Ordained" (director Mike Robe); "Roe vs Wade" (director Gregory Hoblit); "Baby M" (director Jim Sadwith), and "Practical Magic" (director Griffin Dunne).
CHAPATTI has assembled the following design team. Scenic Design is by Marty Burnett. Lighting Design is by Matt Novotny. Sound Design is by Melanie Chen. Costume Design is by Elisa Benzoni. The Stage Manager is Cindy Rumley.
CHAPATTI will begin previews on Wednesday, January 11; will open on Sunday, January 15 at 5:30pm and will run through Sunday, January 29, 2017 at the Laguna Playhouse, 606 Laguna Canyon Road in Laguna Beach.
Performances will be Wednesdays through Saturdays at 7:30pm; Thursdays at 2pm; Saturdays at 2pm; Sundays at 1pm. There will be an additional performance on Sunday, January 22 at 5:30.
Tickets range from $40 - $65 and can be purchased online at www.lagunaplayhouse.com or by calling (949) 497-ARTS (2787). Group discounts are available by calling 949-497-2787 ext. 229. Prices subject to change.
The box office is open Mondays - Saturdays: 12p.m. to 5 p.m. (open until showtime on performance days); Sundays: 11a.m. - 4p.m. For more information on all shows and programming visit www.lagunaplayhouse.com. Laguna Playhouse is located at 606 Laguna Canyon Road in Laguna Beach.
Photo Credit: Aaron Rumley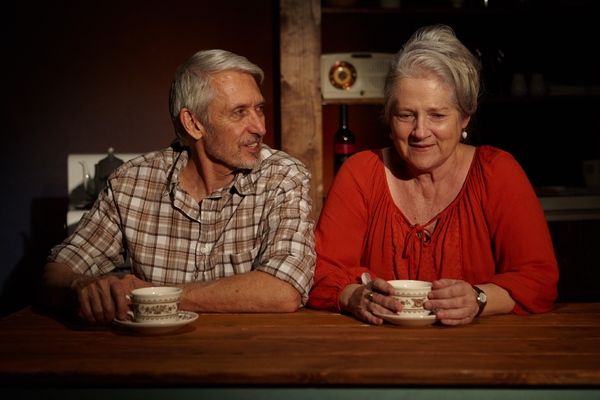 Mark Bramhall and Annabella Price

Annabella Price and Mark Bramhall

Annabella Price and Mark Bramhall