Ophelia's Jump Theatre Presents WELL-BEHAVED WOMEN Beginning This Week
Performances run February 11 through March 12, 2023.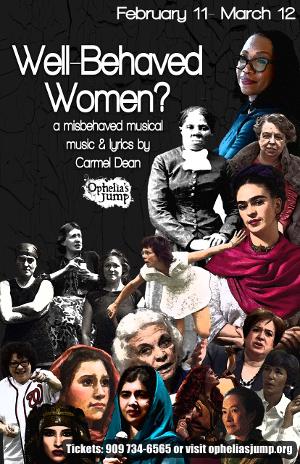 Ophelia's Jump Productions (OJP) is proud to launch their 10th Season with Carmel Dean's musical, Well-Behaved Women. The production will be performed at the Ophelia's Jump Studio Theater, located at 2009 Porterfield Way, Suite H, in Upland, from February 11 through March 12, 2023.
Directed by OJP Founding Artistic Director Beatrice Casagrán, Well-Behaved Women is Carmel Dean's exhilarating celebration of women who have made their mark on the world throughout history performed in a myriad of song styles from rock and jazz to country.
What would Ruth Bader Ginsburg, Harriet Tubman, Frida Kahlo, and Malala Yousafzai sound like if you heard them sing? Find out in Well- Behaved Women, a new collection of songs by Carmel Dean (Broadway musical director/arranger, and composer of the award-winning Off-Broadway musical Renascence). These women - and more - are brought to life by SoCal leading ladies, and through these powerful and often hilarious songs will celebrate the ways in which their bad-ass behavior helped them make history.
Well-Behaved Women made its New York premiere at Joe's Pub on January 25, 2020, featuring LaChanze, Liz Callaway, Barbara Walsh, Bonnie Milligan, Katie Thompson, Natascia Diaz, Kuhoo Verma and Melissa Rose Hirsch. On March 24, 2021, the musical revue premiered in Sydney, Australia at the Hayes Theatre.
"A wonderful battle cry of ballads about famous females from history to inspire modern generations to continue to break down the barriers... Through a range of musical styles from rock and jazz to country, [Carmel Dean] highlights that issues and behaviors that have been given modern names are not new... a must-see for any woman and more generally anyone that supports the women in their world." BroadwayWorld
Ticket prices: All seats $42, $32 for college students with ID and children under 10. Thursdays are "Pay What You Can/Pay It Forward" with a $20 minimum.