Odyssey Presents the U.S. Premiere of YAACOBI & LEIDENTAL Next Month
Performances take place March 11 through April 30.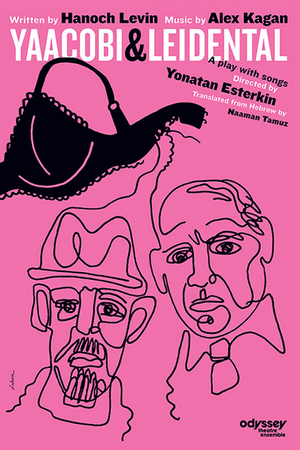 Odyssey Theatre Ensemble presents the U.S. premiere of Yaacobi & Leidental, a funny, provocative romp with music written by Israeli playwright Hanoch Levin and featuring songs by Alex Kagan. Tel Aviv-based director Yonatan Esterkin helms a new translation by Naaman Tamuz that was recently commissioned by the Levin estate, and Daniel Faltus is music director. Performances take place March 11 through April 30. There will be two public previews, on Wednesday, March 8 and Thursday, March 9, followed by one press preview (also open to the public) on Friday, March 10.

An absurdist tale about a love triangle gone wrong, Yaacobi & Leidental is a comic escapade through the failings of friendship and love. Even as we laugh at the antics of the brash Yaacobi (Ilia Volok), the insecure Leidental (Michael Redfield) and the not-as-sweet-as-she-looks Ruth Shahash (Sera Heywood-Rakhimova), we are reminded of our own shared human frailty in the face of desire and suffering. The cheerful songs, accompanied by Arunasalam on piano, stand in stark contrast to the cruelties visited on one another by these three friends.

"The Brechtian style and cabaret-like music are great fun and typical Odyssey fare," says artistic director Ron Sossi. "The Odyssey has always been internationally oriented, so this play is right up our alley. It's an exciting piece that's hard to typify, falling somewhere between Samuel Beckett and Woody Allen."

"The high 'sad clown' theatricality of the text hones in on our inability to find happiness, love and satisfaction - and just how funny that is," says Esterkin. "It's what's unique about Levin's writing. The play is very Jewish and Israeli in its outlook and humor, but the themes are universal."

Levin, who died of cancer in 1999 at the age of 56, remains one of Israel's most prolific and controversial playwrights. His artistic legacy includes 56 plays and political satires, two books of prose, two collections of sketches and songs, a book of poems, and two books for children. Yaacobi & Leidental premiered in 1972 as a co-production between Tel Aviv's Tzavta and Cameri Theatres, and was the first of Levin's plays that he directed himself. Since then, it has had several revivals in Israel and has been produced in Germany, France, Spain, England, Poland and Romania.

"It's as if a cast of Sholem Aleichem characters that didn't quite make the final cut ran off and joined the circus, only to settle in an apartment block somewhere in south Tel Aviv," wrote Tal Kra-Oz in a Tablet article about Levin's work.

The creative team for Yaacobi & Leidental includes scenic designer Pete Hickock, lighting designer Michael Blendermann and costume designer Denise Blasor. The stage manager is Christa Troester. Beth Hogan produces for Odyssey Theatre Ensemble.

A pioneer in the intimate theater movement, Odyssey Theatre Ensemble remains one of Los Angeles' most adventurous companies, offering world-class live theater experiences for over five decades. Whether it be an original new play, a bold re-envisioned classic, or something hot off the international theater circuit, the Odyssey strives to be provocative, mind-bending and emotionally potent. As an artist-run venture, this unique company is always multicultural in both intent and practice, serving the wonderfully diverse ethnic mix of the Los Angeles community.

Performances of Yaacobi & Leidental take place every Saturday at 8 p.m. and every Sunday at 2 p.m. from March 11 through April 30. In addition, there will be three performances on Wednesdays at 8 p.m., on March 29, April 12 and April 26; two performances on Fridays at 8 p.m., on March 24 and April 14; and three performances on Mondays at 8 p.m., on March 20, April 3 and April 10. Public previews take place on Wednesday, March 8 and Thursday, March 9 followed by a press preview (also open to the public) on Friday, March 10, with all previews beginning at 8 p.m.

Post-performance discussions with the artists are scheduled on Wednesday, March 29 and Wednesday, April 12 and are included in the ticket price. Friday, March 24 and Friday, April 14 are "Wine Nights": enjoy complimentary wine and snacks and mingle with the cast after the show.

Tickets to performances range from $25-$40, except Mondays, which are Pay-What-You-Will (reservations open online and at the door starting at 5:30 p.m.). Previews are priced at $20.