Musical Theatre West Debuts 9 TO 5 in Long Beach This Week
Performances run February 10 - 26.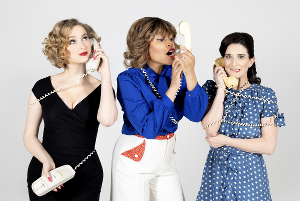 Join three unlikely friends as they take on their boss in a fight for office control! Long Beach's premier musical theater company, Click Here (MTW), will debut its production of 9 to 5, The Musical this February. The Tony Award-nominated musical will have audiences laughing and cheering along as leading ladies Violet, Judy, and Doralee sing, dance, and scheme to get even. MTW's production of 9 to 5, The Musical will run on select dates, February 10 - February 26, 2023 at the Carpenter Performing Arts Center on the CSU Long Beach campus. Get tickets to the groovy production to enjoy a hilarious, powerful performance of corporate sisterhood and workplace revenge! To purchase tickets and learn more, please visit Click Here.
Musical Theatre West's first production of 2023 empowers three women to take control of their lives and take on "the man." Based on the hit 1980's movie starring Dolly Parton, Jane Fonda, and Lily Tomlin, 9 to 5, The Musical is a musical comedy that originally debuted in Los Angeles fifteen years ago before taking on Broadway. Classic songs such as "Get Out And Stay Out" and the titular "9 to 5" from Grammy award-winning Dolly Parton, paired with the legendary Patricia Resnick's side-splitting script, makes this production an instant audience favorite. Enjoy thirteen high-spirited performances throughout February, including a preview show on February 10, the official Dollywood-inspired opening night on February 11, and a special ASL-interpreted performance on February 17. Pour yourself a "cup of ambition" and experience a fun-filled, Broadway-caliber performance right here in Long Beach with Musical Theatre West!