Lala Costa Awakens Your Inner Puerto Rican at Solofest 2018 with CALLING LALA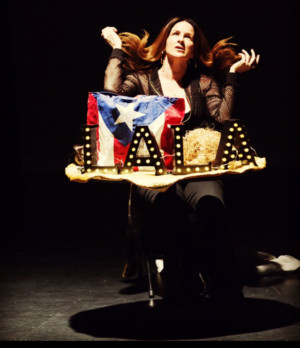 Actress/Playwright Lala Costa awakens your inner Puerto Ricanness returning to SoloFest 2018 with her celebrated live solo show, CALLING LALA. The special one-night only Encore Performance will be Friday, January 12, 2018 at the Whitefire Theater in Sherman Oaks, CA.
CALLING LALA will awaken your inner spirit as Costa transforms into a series of hysterically funny and flawed characters who seamlessly guide you through an unexpected journey of life, love and acceptance. With her big hoop earrings and even bigger dreams, the show begins with Costa's real-life account of moving from Puerto Rico to the States. Combining a healthy dose of Boricua flavor through a variety of characters along with live music from the award-winning DJ Sku, this upbeat interactive exploration will make you dance in your seat and have you calling your mother more often.
Costa adds, "The show started out as a funny love letter to my Mom and fellow Puerto Ricans. Now, in the aftermath of Hurricane Maria, it has emerged even more relevant, shining a much needed spotlight on the island and its people -- such as being recognized as American. I want to put the Rican in AmeRICAN."
CALLING LALA made its official premiere in 2016 as part of the world's largest solo festival, the United Solo Theatre Festival in New York. Costa was honored to debut the show Off-Broadway on Theatre Row at 42nd Street, which proved wildly successful with audiences. From there Costa hit the road, leaving crowds laughing and dancing in the aisles in Texas at Houston's DeLuxe Theatre, and in Los Angeles as part of the 2017 SoloFest at the Whitefire Theatre.
Costa is a Puerto Rican born actor/playwright and creator of Imagen Nominated, LalisimaTV, a sketch and web series channel. She trained with Yale School of Drama M.F.A. and Acting Faculty Member, Gregory Berger-Sobeck, at The Berg Studios. It was during this time, Costa was encouraged to write her own monologues which ultimately because her one woman show CALLING LALA. She is currently an active member of the Whitefire Theatre Company.
CALLING LALA - SOLOFEST 2018
Date: Friday, January 12, 2018 at 8:00pm
Location: Whitefire Theatre (13500 Ventura Blvd, Sherman Oaks, CA 91423)
Price: $20.00
Tickets + Information visit: www.lalisima.tv or www.brownpapertickets.com/event/3202527
*** Wine Reception immediately following the Performance
For more about Lala Costa and CALLING LALA visit: www.lalisima.tv