Interview: Shero Judith FLEX Helle Brings Her HEROES, SHEROES, AND EROS To The Wallis
Luminario Ballet of Los Angeles bring their first full-length program Heroes, Sheroes, and Eros to The Wallis February 17th & 18th
Luminario Ballet of Los Angeles bring their first full-length program Heroes, Sheroes, and Eros to The Wallis Annenberg Center for the Performing Arts for two performances February 17th & 18th.
Luminario founder and current artistic director Judith FLEX Helle parsed out some time from rehearsals to answer a few of my queries.
Thank you for taking the time for this interview, Judith!
What a clever and provocative title Heroes, Sheroes, and Eros. What was the inspiration behind this title?
I love wordsmithing.
Cadence, rhythm, and the feel of the words are part of making a dance title for me, making it kinetic, making a chant, like the dance.
The inspiration behind the title "Heroes, Sheroes, and Eros" has to do with emerging from the pandemic and into our chaotic messy world again - the damage done, who might be saving us (hint: it's US!), and who has always been there leading the way out of darkness. (hint: it's always been us!)
For artists, the darkness is a place for us to examine while we search for the light. Many of Luminario Ballet's choreographers, myself included, are consumed with bravely addressing inequity - misogyny against women, racial inequity, climate change, the deterioration of our environment; how to combat loneliness, financial instability, the struggle for security.
We are our own Heroes next to the heroes we're examining in our show: Peter Tosh of the Wailers, Jesus Christ, Captain America; we are our own Sheroes - witches, those burnt at the stake in the past or in today's work/homes; those who get pushed back yet push forward.
We are our own Eros - our over-arching desire is to share our ideas about love through dance, together with the audience - therefore, the demi-god of love.
Luminario Ballet's repertoire covers all types of dancing from current contemporary to proven ballet classics. How did you devise this program of dances for your Wallis debut?
This is our first full-length 90-minute show since 2019 pre-pandemic!
So, I put together a selection of our work that I felt would "bring us back" triumphantly; reach out to our old and new fans, their friends; and show our breadth.
For classical ballet fans, this concert contains a ferocious approach to contemporary ballet en pointe; for fans of contemporary, a calm examination of contemporary dance; for cirque fans, various kinds of aerial dance interspersed using aerial apparatuses common and uncommon, in familiar and unfamiliar ways.
AND as a special treat, our fantastic crowd-pleasing 90's grunge music dance theater piece "The Last Supper"; about when Jesus, Judas, and Mary M. went to the Coachella Music Festival in 2017 -- which contains ballet, contemporary, acro, aerial, and... magic. Take a trip with us!
What criteria of a dance piece do you look at for in consideration as a Luminario Ballet number?
Technical and emotional excellence.
Every piece has to reach into the audience's heart; stimulate their mind to thinking and feeling and talking about what we share with them.
You founded Luminario in 2009. Was one of the original purposes behind Luminario to combine your two talents: ballet and aerial dance?
Actually, I founded the company originally with a very different thought - to bring a Nederlans Dans Theater kind of company forth in Los Angeles. We did two successful workshops with one of NDT's former artistic directors, Nacho Duato with his Compania Nacional de Danza, Madrid prior to his moving over to Mikhailovsky Theatre of St. Petersburg; and were signed off to take on several of his pieces.
Before that came to pass, we scheduled a repertory show with program gaps and I filled in those gaps with three of my 2003 "LedZAerial " pieces re-worked for Luminario Ballet, containing aerial and dance; the response was so off the charts that I delved into this track, finding our niche as a company able to perform ballet, contemporary, and aerial in one piece, in any of our shows, beautifully.
Sometimes it's great to have a past body of work to show you the way forward.
How many members did you start with in 2009?
We had eight - but we had additional guest stars from the very beginning.
How many members comprise Lumnario today?
Luminario generally has 10-12 dancers in any show, and depending on what show it is, we might have 2-4 guest stars performing. The show at The Wallis has three: Dreya Weber, aerialist/storyteller/aerial choreographer of CHER, PINK, Madonna, Michael Jackson, etc.; Jamal Story, dancer/ aerialist/ choreographer of Complexions, Dance Theater of Harlem, CHER; and Bianca Sapetto, dancer, aerialist, choreographer, five-time National Rhythmic Gymnastics Champion and Olympian, Cirque du Soleil Quidam, Teatro ZinZanni.
Luminario has toured nationally and internationally. What does your company travel with? Specific flooring? Rigging? Safety net? Sound system?
Luminario brings our own circus rigger and aerial rigging. For theaters, we attach to the theater grid. We require our venues to provide an appropriate dance floor and sound system, among other things.
For site specific works, of which we've done many, we work out our needs with the presenter.
How does one become a company member of Luminario? Auditions? Or referrals from classes your company gives?
We audition all dancers and aerialists, sometimes in company classes, sometimes at another Luminario dancer's class, as they know what I'm looking for.
They have to have top professional technical proficiency, and a "look" that is compatible with the company.
In addition, Luminario has a very harmonious vibe, and that's really, really important to me, that we have an emotionally stable, kind, generous, beautiful inside and out company.
How does a dancing/aerialist newbie qualify for classes from Luminario?
All our dancers and aerialists have to be over 21 and professional level, so, no newbies, although we've had several where Luminario Ballet was their first company at 21! These dancers were easy to pick out at the audition, as all great dancers are. They were clearly the best, had the right look and power, and were ready to join us.
Our company classes are closed. This is because of the high potential of injury or accident for newbies.
What did you want to be growing up? An aerialist? Or a ballet dancer?
I was a dance student (ballet and modern) at age four, like so many girls, and wore out not one but two Swan Lake vinyl records by age seven.
But I loved climbing trees, going up on the roof, being up high anywhere, and when my grandparents took us to Ringling I was awed by the flyers. I didn't know one could join a circus - or for that matter, be a professional dancer. My family was very academic and business oriented. So, I wanted to be a visual artist, which seemed more acceptable to my family, but being a natural athlete possessed by ballet, I took as many dance classes as my family would allow.
You must maintain a solid core whether en pointe or on a trapeze. Would you compare training in these two disciplines? Same/different muscles used? Same/different posturing?
Aerial is all about tremendous upper body strength, and solid as steel hard muscles for stability. Ballet upper bodies are typically very weak... and their abs do not compare with aerialists'... but, ballet dancers are stronger nowadays due to Pilates. Cross training is optimal.
There is some overlap (stretch training, explosive muscle firing), but the different techniques have very different demands.
In the last 25 years, many dancers have transitioned to aerial as it is non-impact, requiring stretch, strength, and knowledge of choreography. Since it's not hard on the joints, it can prolong transitional artists' careers into their late 30's or even 40's.
Cirque du Soleil is the single largest employer of dancers in the world, and I know several dancers and gymnasts who transitioned to aerialists while in their shows; and we have several aerialists in the company who started their lives as professional dancers and transitioned into professional aerialists.
What pre-show stretching do you deem necessary for an aerial performance as opposed to a ballet piece?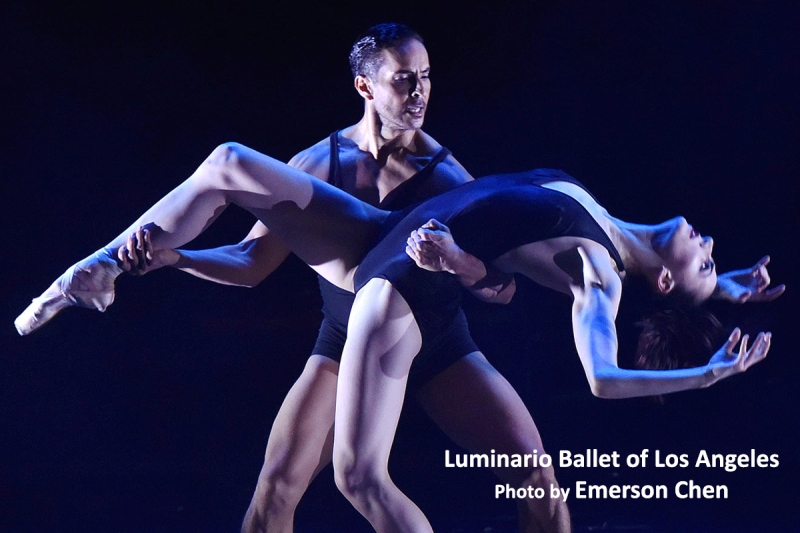 Stretching is stretching! These days an over-split is required in both dance and aerial; flexibility of the back in both is required.
What gives you greater gratification: Seeing the light bulb moment of someone you're coaching? Performing your own routine on stage? Watching your company nail your choreography?
I had the blessing of a 35-year performing career - I danced for 23 years, adding aerial in my 4th year as a pro - then managed to perform 12 years post-dance as an aerialist at the top of the heap 'til age 52.
I have been retired as a performer since 2009.
So, what floats my boat? I am incredibly thrilled with one or two of my former students who made it all the way, who had my same approach to work - take no prisoners, train every day, do your BEST at every single thing, EVERY single time.
Seeing those former students at their peak thrills me.
I get thrilling satisfaction seeing my work come together and shine on my beautiful company.
I loved being a performer and never felt better than on stage or "en l'air," but am glad to experience the joy of transferring my craft to the next generation.
What is the origin of 'FLEX,' what you named your first dance company in Berlin back in 1981?
I was touring Germany with my dance partner, who trained me in double trapeze to give us a salary bump. We were reviewed as the dance duo "FLEX," and people started calling us Mr. and Mrs. Flex! So, I adopted the stage name Judith Flex. Upon landing in Berln, Germany, I named my dance company "FLEX" after my stage name.
What can you tell us about Luminario launching dance NFTs this year?
I hoped to launch them last year!
I
'm working together with visual artists and composers to do multimedia art/music/dance NFTs. They will be in serial form, a "story," so people will want to collect them all.
What else is in the near future for Luminario?
Luminario loves to tour and do special projects with other artists. Ahead are collaborations with symphonic musicians from other parts of the U.S. and a show for a touring music act.
Thank you again, Judith! I look forward to experiencing your hybrid of ballet and aerials.
For tickets to the live performances of Heroes, Sheroes, and Eros February 17th or 18th, click on the button below: