Interview: Kristina Wong Brings Her SWEATSHOP OVERLORD to the Kirk Douglas Theatre
Kristina Wong's Pulitzer Prize finalist "Kristina Wong, Sweatshop Overlord" will open at The Kirk Douglas February 15th.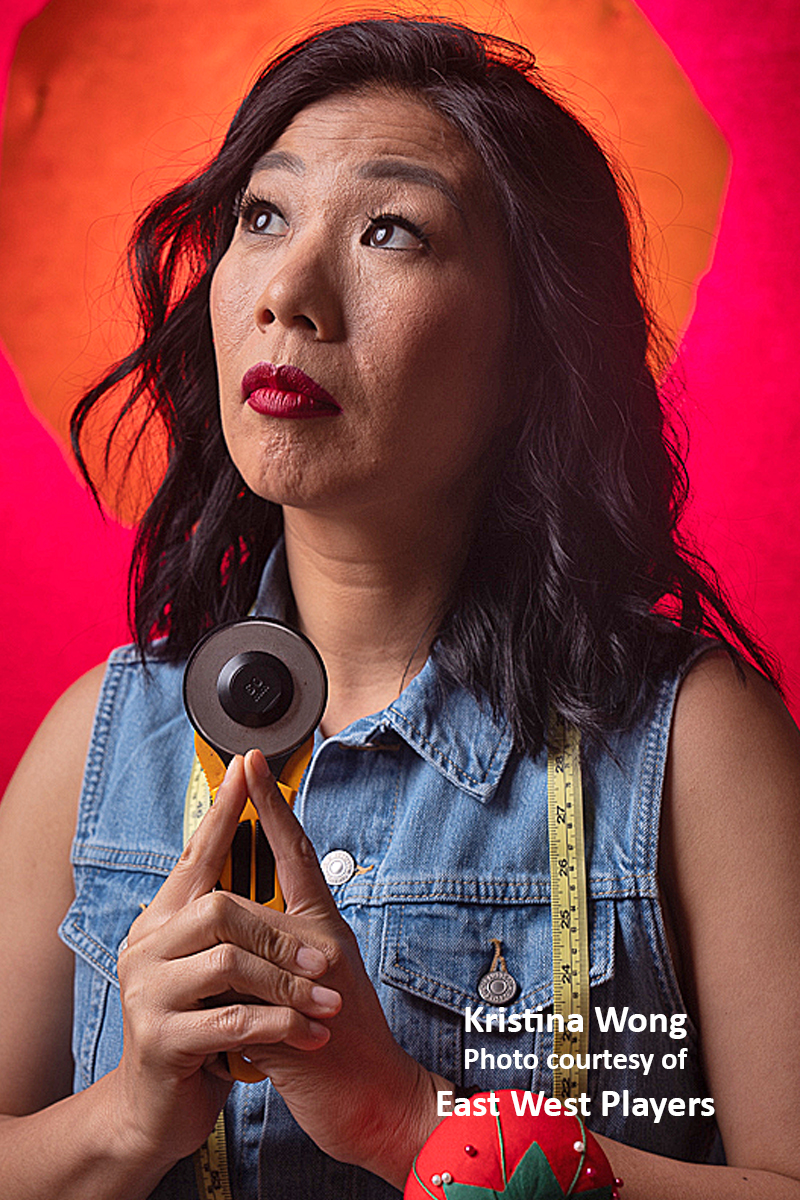 Kristina Wong's Pulitzer Prize finalist "Kristina Wong, Sweatshop Overlord" will open at The Kirk Douglas February 15, 2023 (with previews beginning February 12th). Chay Yew directs this coproduction of Center Theatre Group and East West Players, with additional support from the Skirball Cultural Center. I managed to catch the ever-in-motion Kristina in Tempe, Arizona where she is the ASU Gammage Artist-in-Residence for three years.
Thank you, Kristina, for taking the time for this, our third interview for BroadwayWorld!
Since writing and performing Kristina Wong, Sweatshop Overlord, it has won a boatload of awards and was named a Pulitzer Prize finalist last year. Have you tweaked your script at all for this current production at the Kirk Douglas? Or are your words set in stone now?
A bulk of the play takes place in the moments throughout the first 554 days of the pandemic. Not much needed to be re-written because they reflect what I was witnessing through those eyes at the time. There's certainly more irony with some of the moments now than there were before. For example, when Ruth Bader Ginsburg died in September 2020, I announced, "I'm going to start doing abortions in my kitchen." But in 2023, we're kind of in that reality.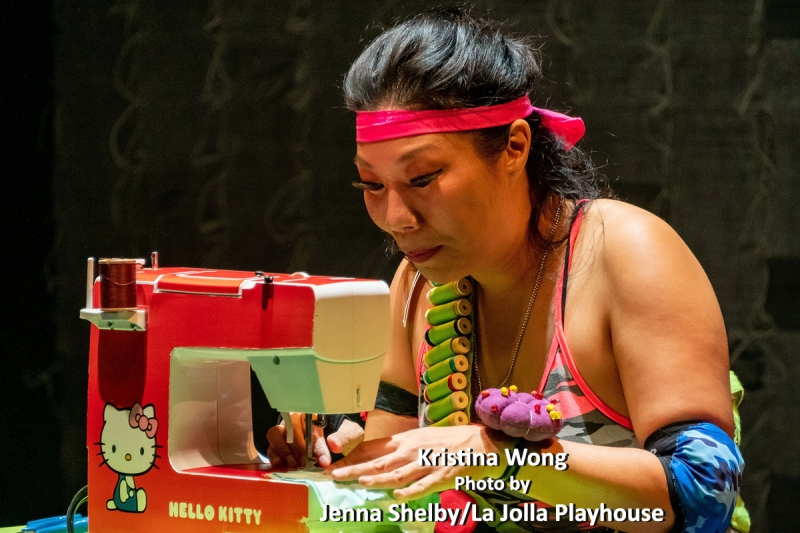 We have made slight tweaks as our memory is shifting around the pandemic. Even though it was less than three years ago, there are certain things that need a little more emphasis because we don't quite remember it as vividly as we lived it.
Kristina Wong, Sweatshop Overlord is based on a real-life 'Sweatshop,' the Auntie Sewing Squad, that you originated at the start of the COVID lockdown. What was the catalyst behind you taking old bed sheets and bra straps and fashioning them into masks?
Believe me, if face masks already existed at the top of the pandemic, I would have just gotten into baking sourdough bread. But if you remember in March 2020, mask wearing in a place that wasn't a hospital operating room was unheard of in America. But hospitals were running out of masks and begging for donations of them. This made clear that masks were effective in preventing the spread of the virus. And cloth masks were effective at that.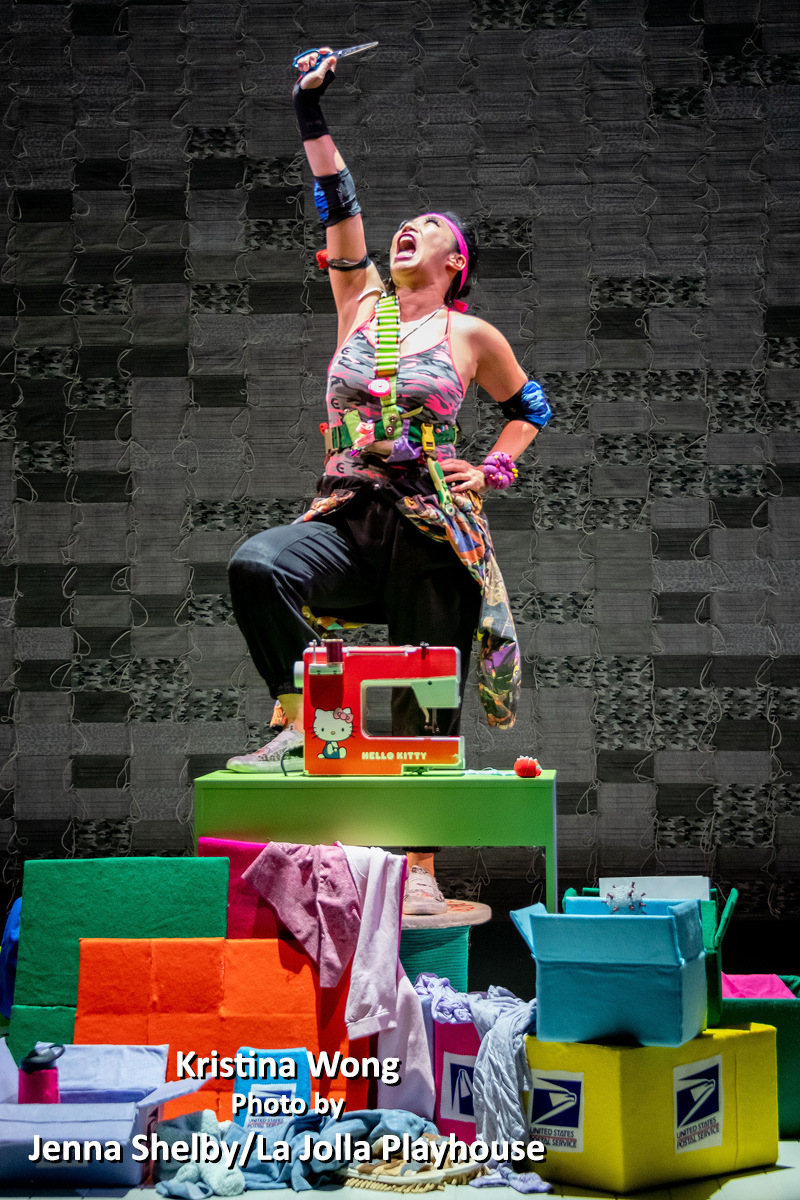 Our group was supposed to be a temporary stopgap to make the masks that weren't on the market. Getting factory-made masks from overseas would take too long since manufacturing and shipping was impacted by the pandemic and COVID infections were exponentially rising. What seemed to be the temporary solution was to manufacture the masks ourselves at home with what we could scavenge. Needless to say, this country wasn't ready for the pandemic and it wasn't ready for a homemade facemask movement either. Elastic was at a premium. And it's not like any of us knew how to make masks.
How did you come up with the group's name Auntie Sewing Squad?
I was in a panic trying to gather help because requests for masks were exponentially building by the hour and yet the capacities of my body were limited. In the days before I started the group, I was telling my neighbor Audrey at a social distance, "Isn't it so crazy that the people who know how to sew are the lifesavers now?" And they responded, "Yeah, whole armies of Aunties are being deployed to do this now." I guess the image of an Army of Aunties stuck. I was so rushed naming what was supposed to be a stopgap of a Facebook group that I didn't realize the acronym was ASS.
Our name was not something I put a ton of thought into, but including "Auntie" in our name became how we build this community. By referring to each other as Aunties versus "volunteers," it brought a sense of kinship and sweetness between us strangers.
How many Aunties did you initially start with?
I pulled a few friends who had sewing posts in their timelines into the groups. Some of them opted out because they couldn't commit to sewing. But it started at less than 25. The idea was that I was going to ask them to help me.
How many Aunties do you have now?
The group grew to about 800 Aunties who were active in different capacities. We are retired though some Aunties still sew other items of support for the communities we worked with in the pandemic. We still gather socially. You will likely meet one at the show in L.A.!
Auntie Sewing Squad's Core Values = Transparency + Passion + Humor + Kindness. What made you come up with these specific core values?
We were getting really annoying requests from groups/ people who assumed we were like an Etsy store that they could order "custom" work when in reality we were scrounging for materials. We also had requests from people who have become (Amazon) primed to think of sewing labor as easy, fast, and disposable work and would ask for a massive amount of masks to be turned around in an unreasonable amount of time. About a month into fielding these requests, we published a list of core values to make clever to the world benefiting from our labor what we were sacrificing to get masks made for vulnerable communities.
Now that the need for masking has lessened, what are the Aunties making?
One of core values was working towards our own obsolescence as we didn't want to be doing this kind of work in the first place of cleaning up after the Government's failed response to the pandemic.
We stopped making masks in August 2021. As explained in the show, we have A.N.A.L.-- "Aunties Not Abandoning Labor" who are a few Aunties who sew here and there. We have done two winter coat and heater drives to support our Lakota relatives. Some Aunties are making hats, blankets and other cold weather items that will be distributed by Team Brownsville to asylum seekers migrants who are arriving at the Southern Border. We also have Aunties sewing custom sized drawstring sling bags that will be filled with hygiene items and distributed by Solidarity Engineering before migrants arrive at the Southern border.
And of course, many Aunties are back at just making things for their own pleasure.
The Auntie Sewing Squad website notes 350,000 masks have been given away. How current is that figure?


It's around 350,000 with additional tens of thousands of masks made in factories that we've rerouted to our partner communities.
Your Aunties are not all Asian women. If someone wants to volunteer their services now, should they just go to your Auntie Sewing Squad Facebook page?
We are retired. We aren't accepting new Aunties. People can stay in touch at our fan page where we sometimes share information on places that are still accepting sewn items. There's also no shortage of other sewing groups they can volunteer their time with. Though I am totally biased when I say that we are the coolest one.
How's your book The Auntie Sewing Squad Guide to Mask Making, Radical Care, and Racial Justice doing?
Fantastic. It's being taught in classes and given as a gift. Unlike my show, it's another very different archive of our work together as it has contributions from dozens of other Aunties. I have brought copies to every city I do my show and sold out. Aunties love having other Aunties that they finally meet in person sign their book like a Yearbook.
Is there a lot of overlap of stories between your book and your play?
The book is collectively written by many of our Aunties who are reflecting on their lives and histories during the pandemic. I only wrote the introduction of the book. The play gives you more detailed stories as how I witnessed ASS as its Overlord.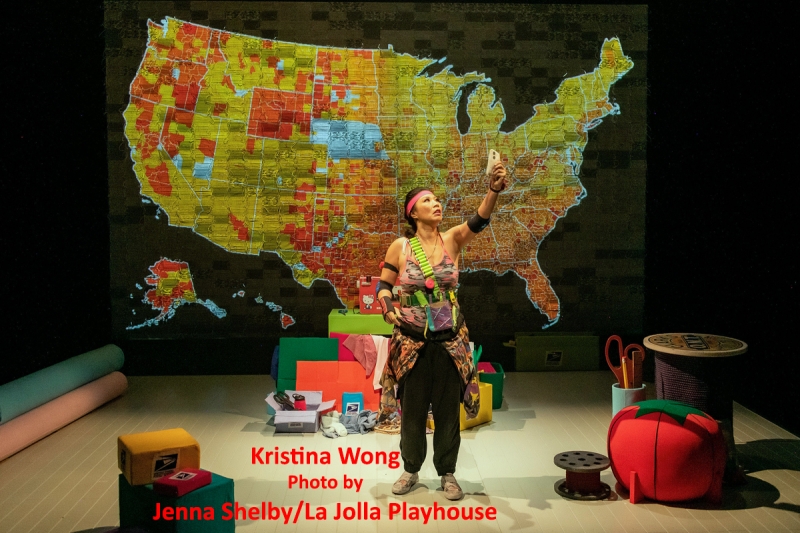 Chay Yew had directed the world premiere at New York Theater Workshop, the west coast premiere at La Jolla and now this Kirk Douglas production. What cosmic forces first brought you and Chay together?
The cosmic force is Jim Nicola... former Artistic Director of New York Theater Workshop who suggested him. I've known Chay for years though and was in awe of his work.
You also performed Kristina Wong, Sweatshop Overlord for Suffolk University Asian American Association via Zoom. What advantages and disadvantages did you find in Zooming your performance?
I developed this performance over quite a few Zoom performances, the final performance online was with New York Theater Workshop in May 2021. I loved the "low stakes" of making theater in the pandemic. I didn't have to memorize and yet could maintain eye contact by reading off a google doc. I was able to make my home a character in the story. And the Aunties who were sewing at their machines would tune in and chat up the audience with their take, then turn their cameras on for the Q&A.
The disadvantages of course were that I was never totally sure how much the audience was watching. And I couldn't look anyone in the eye and I wasn't working with any director, I was just sorta flailing and screaming all over my house.
Any plans for future productions of Kristina Wong, Sweatshop Overlord? Or are you already working on a new show?
Yes, a couple new cities will be announced soon. I am also working on a new show simultaneous to touring this one called "Kristina Wong: #FoodBankInfluencer" which will premiere at ASU Gammage in Spring 2025.
What else is on Kristina Wong's calendar for 2023?
Too much! I want to borrow from the sloth of my 20s to get through this year! But I wouldn't have it any other way.
I write to you now from Tempe, Arizona where I am the ASU Gammage Artist-in-Residence for three years. I am also concurrently the Social Practice Fellow at the Kennedy Center. There's a few things that can't be announced yet, but it's a pretty exciting year ahead!
Thank you again, Kristina! I look forward to checking out your Sweatshop.
For tickets to the live performances of Kristina Wong, Sweatshop Overlord through March 15, 2023; click on the button below: