BWW Review: UNEMPLOYED ELEPHANTS, a Predictable Romantic Adventure

Playwright Wendy Graf is best known for her uniquely dramatic works such as PLEASE DON'T ASK ABOUT BECKET, ALL AMERICAN GIRL, and NO WORD IN GUYANESE FOR ME. But, in her latest world premiere, UNEMPLOYED ELEPHANTS - A LOVE STORY, she takes a lighter - and more formulaic - approach to her subject.
The 90-minute one-act romantic comedy is patterned after the films that propelled Meg Ryan to stardom in the eighties and nineties, and even borrows some well-known phrases from When Harry Met Sally, modified slightly to fit the characters' current situation. "It's out there" and "you're the only person I knew in New York" (in this case, Myanmar) were most likely meant to sound cute but the humor falls flat in a play that is already dated before it begins.
Jane (Brea Bee), a jilted bride, decides to take her exotic honeymoon anyway and finds herself alone in a Thai airport during monsoon season. As she waits impatiently for her flight to Myanmar, along comes laid back Alex (Marshall McCabe) who appears to be a regular guy on assignment for Animal Planet, also headed for Myanmar.
Spouting trivia about the country's elephant unemployment crisis due to shrinking forests and a yearlong ban on teak logging, he seems harmless enough and even a bit charming, but she would rather not be bothered. It is the typical oil and water set-up we've seen many times before.
No, these two won't begin to dabble in romance until they've reached their hotel - of course, they are staying at the same hotel - and unpacked enough of each other's story to begin letting down their guard. Once they do, travel plans change and things turn intimate, as we know they will.
The play is set in 2015 but it reads like the '80s. At that time, it would have been plausible for a young woman to ditch her travel group and go to a new hotel with a man she just met in a foreign country, but that's a hard sell from our 2018 perspective. Their eventual falling out is expected and the ending is based on a contrived event that completes a romantic picture but doesn't make any sense.
The characters occupy predictably familiar territory, which is in itself maddening. Bee plays the neurotic, angry woman; McCabe is the likable, grounded man. What they see in each other is beyond me. Any complexity is derived from silly plot twists that only have footing until the next lie is revealed. Maria Gobetti's direction is serviceable but scene changes are handled by the actors and take so long to complete that it kills any forward momentum.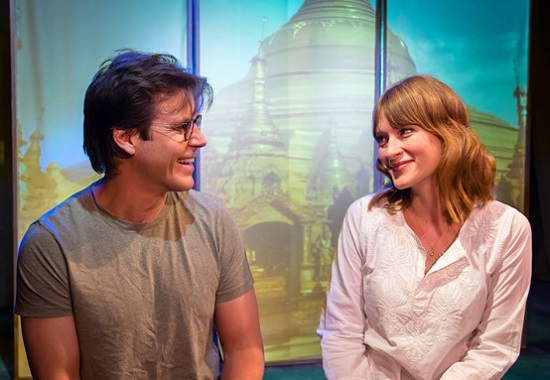 Some of the most effective and thoughtful touches can be found in Evan Bartoletti's spare but sleek scenic design and projection designer Nick Santiago's playful background slides that transform the intimate stage from airport to hotel to various sightseeing locations.
UNEMPLOYED ELEPHANTS
March 1 - April 15, 2018
The Little Victory Theatre
3324 W Victory Blvd, Burbank, CA 91505
Tickets and info: 818-841-5422 or www.thevictorytheatrecenter.org
Photo credit: Tim Sullens
Related Articles View More Los Angeles

Stories

Shows