BWW Review: To the Genius of Oscar Levant - FOR PIANO AND HARPO at Falcon Theatre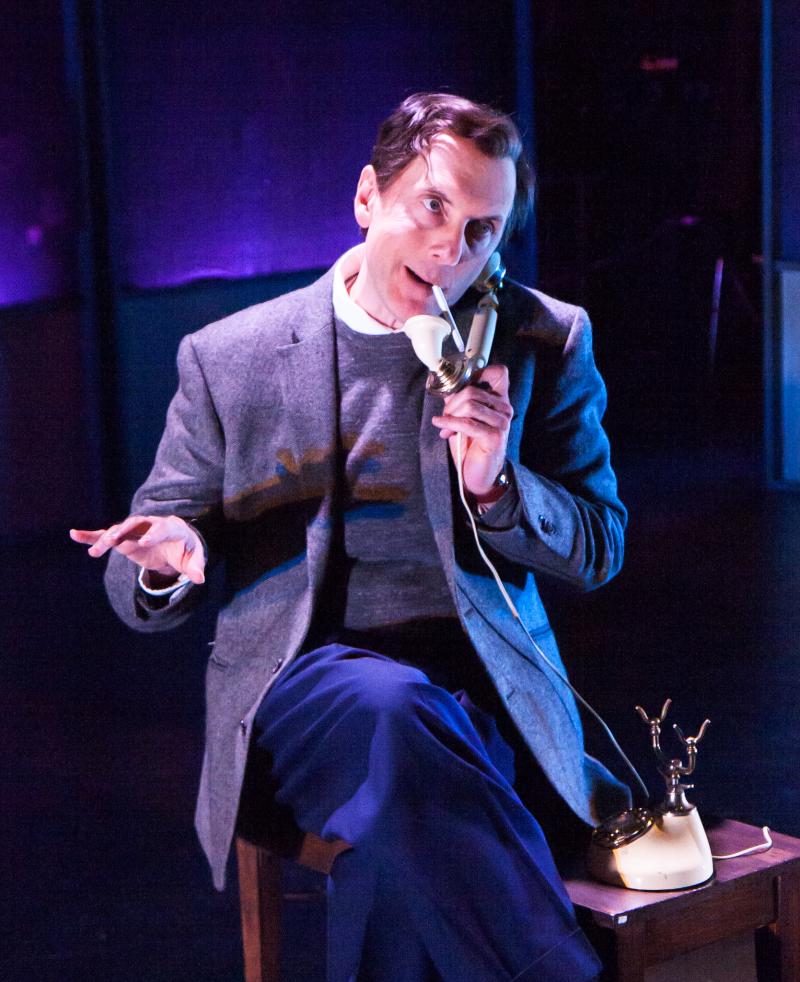 Pulling double duty as both playwright and star, Dan Castellaneta portrays Oscar Levant in his latest new work, FOR PIANO AND HARPO. Levant was a concert pianist, and contemporary of George Gershwin, whose genius gave him entrée into the glittering worlds of classical music, Broadway, and Hollywood but whose private demons ultimately undermined his career. The play explores Levant's addictions and mental health issues while committed to a Mt. Sinai psych ward in 1956, on an appearance on the Jack Paar Show in 1962, and during an extended stay at the home of his friend, Harpo Marx, in 1935.
One of the play's most intriguing aspects is that it is written as a kind of "textual concerto"...for Piano and Harpo. Its two main characters function independently of the supporting ensemble yet they all collectively work together to create the whole. The three movements of a classical concerto could be viewed as the three time periods in the play even though they do not play out consecutively. Each period has its own tempo, as in a concerto, and the typical exposition/development/recapitulation form fits the storyline as Castellaneta has written it.
Levant studied composition under Arnold Schoenberg, whose twelve-tone technique greatly influenced Levant's own musical exploration. Rather than being built on a tonal home, which is what makes much of the music we're used to sound pretty, it creates a more dissonant, or atonal, sound with a great deal of openness to it. Musical supervisor and pianist David O. uses this more Schoenberg-esque approach to the music to stitch together the various scenes and underscore pivotal moments in the play. It adds a haunted quality that perfectly expresses what might be happening in Levant's mind as it slowly unravels.
Details like these matter, especially since FOR PIANO AND HARPO is a wordy play. The fragmented construction requires that the actors' execution be impeccable or it ends up a confusing jumble. On opening night, there were times it succeeded but there were others that found the actors out of sync, tripping over their tongues, stumbling over each other's lines, and failing to deliver on important physical gags. Some bits simply didn't work; others were tedious in their repetition. In a play where timing is everything, and with a cast as seasoned as this one, it was surprising not to see it gel with greater ease. One assumes it will settle in as the run continues.

Part of the issue is that most of the actors play multiple characters, particularly in the psych ward sequences, which Stefan Novinski has directed at a slapstick pace. The pacing isn't the problem; it is the actors talking at each other rather than to each other that makes it feel disconnected. That may be a conscious choice but it imposes an underlying disjointedness that, when added to the atonal music and fragmented construction, makes it difficult for the audience to know what to make of it. Is it meant to be funny or sad, cynical or real? Judging from the nervous laughter from the audience, it isn't always clear. It also isn't always clear who each person is playing.
The surprising relationship that does connect on all levels is the one between Castellaneta's Levant and JD Cullum's psych patient, Charlie. Charlie doesn't speak but they have a disarming connection that, more than any of the other relationships (Harpo included), grounds the play and allows the audience to empathize with Levant instead of see him merely as unlikable.

Stephen Gifford's open set design frames the stage with three airy panels that lend a retro radio feel to the play. While Castellaneta and Cullum mime playing the piano and harp, respectively, pianist David O. and harpist Jillian Risigari-Gai do the real work in shadow behind the center section. (The miming isn't meant to be realistic but I have to admit it's distracting to watch piano work done at chest level with flat fingers.)
Jean-Yves Tessier transforms the spaciousness of the stage by using authentic vintage lighting instruments so make sure you look up. It can't have been easy to find them but, wow, does it make a difference. The warm amber glow flattens out to a stark white effect for the psych ward scenes and an infusion of color appears as various emotion takes over.
Drew Dalzell's subtle sound design hints at the voices in Levant's head and slowly increases in intensity as Act II turns ominous. Kate Bergh's understated costumes nicely evoke the periods but one choice had me puzzled. As Shirley, Gail Matthius is repeatedly reprimanded for trying to take off her sweater - and it is referred to as her sweater - but each time she is actually unbuttoning her blouse, not trying to take off her sweater. It's a small point but a blouse isn't a sweater.
For Oscar Levant, reconciling who he was with who he wanted to be often made life a complicated journey. In FOR PIANO AND HARPO, Dan Castellaneta works his way into the recesses of Levant's mind and presents a multifaceted portrait of the artist as genius, without shying away from his faults.
FOR PIANO AND HARPO
February 1 - March 5, 2017
Falcon Theatre
4252 Riverside Drive
Burbank, CA 91505
www.falcontheatre.com
Photo credit: Sasha A Venola
Related Articles View More Los Angeles

Stories

Shows