BWW Review: THE GALE - Dexterous Groundlings Comedy Delivered Gaily Forward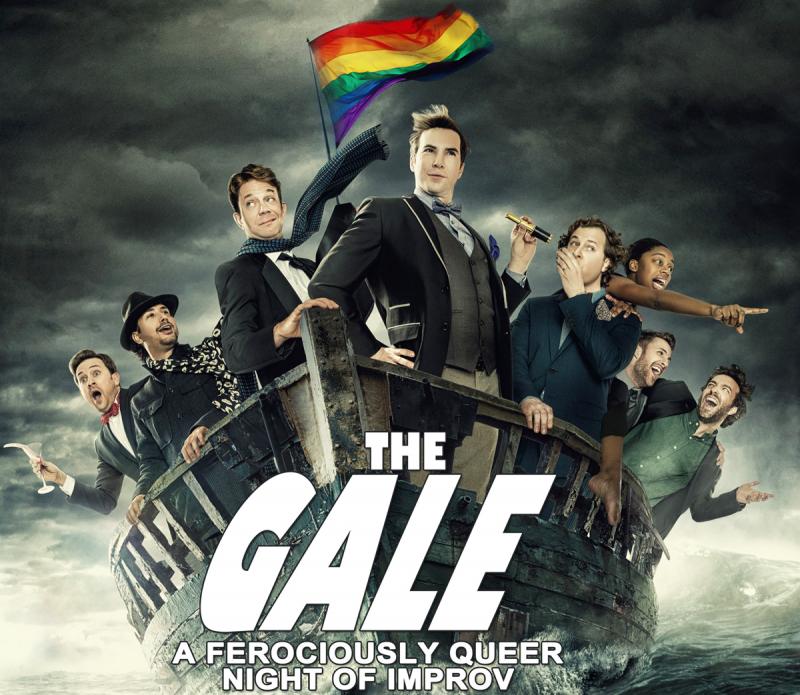 THE GALE/written by The Groundlings/directed by Karen Maruyama/Groundlings Theatre/only four more shows thru October 16, 2018
The Groundlings is bringing back THE GALE, their sold-out LGBTQ-focused improv from last year, scheduling at least five evenings of gay gaiety for 2018. THE GALE, 90-minute improvisations of much hilarity by the troupe The Gale, created by Chris Eckert, feature gay and lesbian Groundlings members, as well as, special funny guests from other improv communities. These choice comedians instantly mine the outrageous, off-the-cuff suggestions shouted out by the eager audience.
Director Karen Maruyama initiates the storyline for each sketch, asking for further skit embellishments from the audience, then sets the perimeters of each skit. She selects different groupings of performers to illustrate each situation trusting these quick-witted individuals to interact with each other, while many times referring to previous circumstances already established in preceding skits.
At the performance I had the pleasure to attend, improvised characters included lovers stranded in a laundromat by the severe Nor'easter storm, male strippers turned doctors at a leather luau bar, self-important members of the Gay & Lesbian Educators (G.A.L.E.), un-burly dockworkers, past TV actresses (Tanya Roberts, Farrah Fawcett), political females (Karen Pence, Michelle Obama, Hillary) - and that was just the first act! Capping the hilarity off before intermission The Gale performed a series of tag team scenes. When one Galer clapped their hands, the current scene ended and a different scene started by one simply pointing at the performer he/she wanted to partner with - until the next Galer clapped their hands. Very cool, this organized chaos! Some brilliant bits just flew at you, with realized laughter sometimes time-delayed. And always a hoot to see Groundlings/Galers break up fellow Groundlings/Galers.
This evening's impro pros included: THE GALE creator Eckert, Brian Jordan Alvarez, Michael Churven, Navaris Darson, Drew Droege, Liz Feldman, Lucas Hazlett, Sam Pancake, Stephanie Ritter, Jason Michael Snow and Pete Zias.
In the second act, the most engaging troupe improv-ed a full-length piece (christened by Maruyama) Guardians of the Gay-laxy. The royalty of the planet Salminin and their subjects manage to confront over-fertility issues in various hysterical ways. A priceless bit of physical comedy had three guys crawling out of Ritter's legs to mimic the woman giving birth to three babies within minutes of each other. Another winning bit had Alvarez and Snow kneeling on either side of Darson as his Left Testicle and Right Testicle. Very fun!
Effective background mood music and totally appropriate sound effects were nimbly provided by musical director Dan Ring and sound engineer Scott Bogle.
Book in advance for the next performance of THE GALE May 14, 2018. Their shows oh-so-frequently sell out.