Review: See GLORIA, She's Unforgettable
GLORIA/by Branden Jacobs-Jenkins/directed by Chris Fields/Atwater Village Theatre/thru October 21, 2018
The Echo Theater Company's west coast premiere of playwright Branden Jacobs-Jenkins' Pulitzer Prize-finalist GLORIA receives a sturdy mounting with a very capable cast handling the witty, words-heavy monologues. Plot centers on a group of lower-level publishing employees stuck (for various reasons) in their respective, non-upwardly mobile positions. GLORIA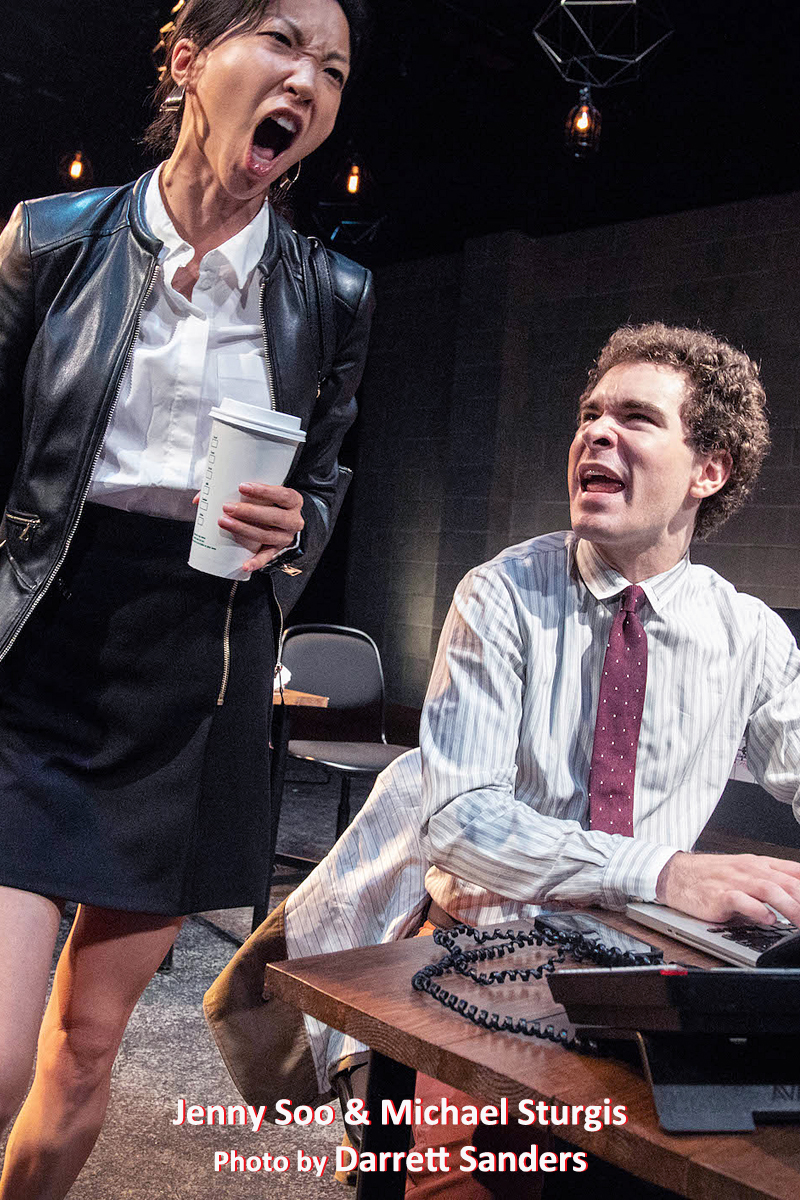 illustrates the various common office behaviors, such as back-stabbing, condescension, "Mean Girl" insulting, and stressing out. Kudos to Jenny Soo for her smooth, machine-gun delivery of her minutes-long diatribes as Kendra, an assistant with her own personal tasks to take care of, instead of her boss's. The two others more than up to the challenge of long monologues - scene stealers Michael Sturgis and Steven Strobel. Whenever either of these two participate in a scene, the energy's crackling electric. Strugis as Dean, effectively fires off razor-sharp disses and truthful observations, all while exposing Dean's vulnerability and flaws. Strobel, as Lorin, the annoyed worker down the hall, executes one of the most believable, yet hysterical breakdown scenes ev-er! Solid, complementarily low-key support from Alana Dietze as co-worker Ani (and others) and Jessica Goldapple (as Gloria and Nan), with Devere Rogers making his mark as the eager, not-yet-jaded intern Miles (and others).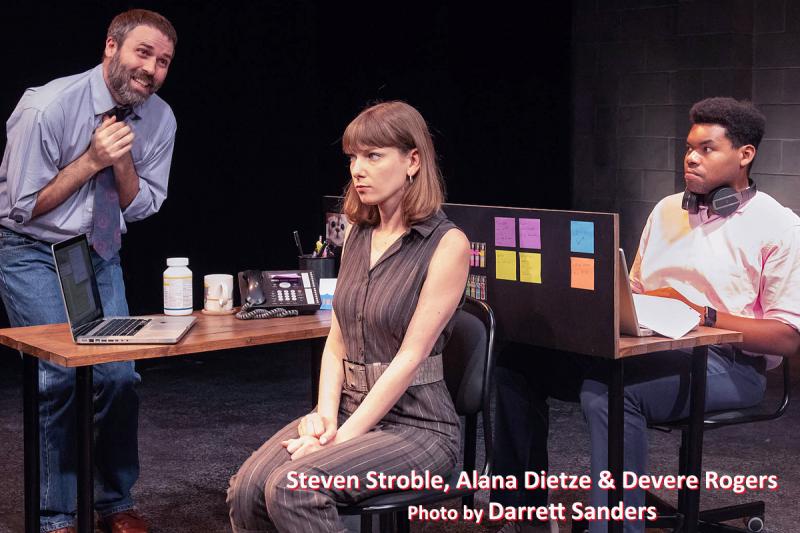 Can't say much more of the plot without giving away possible twists, except to say, the at-first puzzling, pre-show Gregorian chant instrumental makes sense with its reprise at the end of Act One. Chris Fields ably directs at a brisk pace when the words are flying.
Set designer Amanda Knehans has successfully created a simple, functional workspace set with a couple of screens with frosted window panels separating the unseen executive offices. Wheeled set pieces make for simple, quick set changes between office, Starbucks and back to office again.