Review: SUGAR PLUM FAIRY Offers a New Take on Christmas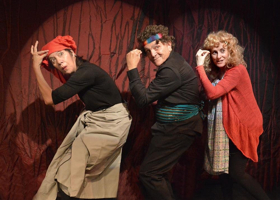 Sugar Plum Fairy/by Sandra Tsing Loh/directed by Bart DeLorenzo/Skylight Theatre, Hollywood/through December 23 only
Whether you are familiar with The Nutcracker ballet or not, you will definitely find huge laughs and great holiday mirth with Sandra Tsing Loh and her Sugar Plum Fairy, This, however, is definitely a show for adults or mature teens, preferably those into the performing arts. Young teens in school theatre understand aspirations, jealousy and failures, but it would not be easy for them to distinguish certain humor. Now onstage at the Skylight on Vermont in Hollywood, Sugar Plum Fairy is best described as "the magic in putting on a show".
Sandra and her friends Ruthie (Shannon Holt) and Cam (Tony Abatemarco) want desperately to perform and try out for a production of The Nutcracker in middle school. When Sandra realizes she has lost the role of Sugar Plum Fairy and ends up as a dancer in the Waltz of the Flowers, she is disheartened as it is the lowest of low; you have to blink to catch that performance. Holt also plays Sandra's sister who has always been the winner of the two daughters, as Sandra has consistently had to put up with the "mother loves you least" syndrome. Mother, also played by Abatemarco, needles her to 'focus'. Not a good idea to give away too much of Loh's delightfully witty script! I must admit I was over.the.moon with the three actors who play all the roles with Loh serving as narrator of her memory play.
Holt and Abatemarco, he so wonderful in drag, play two Russian female ballet stars who come to view the school auditions. These are standoffish prudes who put Sandra and all the kids through a grueling, hellish practice. Their perspective on how every role must be danced is hilariously over.the.top. Loh herself gives an ebullient performance, never letting down on her furiuosly fast pace and delivery. She and the cast are magnetic to watch from beginning to end of the 75 minute show. Bart De Lorenzo's sharp direction in just perfect for this deliciously satirical Nutcracker story.
One anecdote practically reached out and struck me in the face. I laughed out loud when Sandra's mother belittles her for being 'heavy'. Sandra is shown next overeating a humongous bag of Fritos, and dropping them all over the stage. I was obese as a child - still am - and will always remember the bullying associated with it. As to Sandra's writing, she makes fun of herself in an attempt to face life more optimistically.
Keith Mitchell has designed a clutter-laden set of old and cheap Chrismas decorations heaped on top of each other on both sides of the stage with a glittery black backdrop curtain between the two piles.
With concessions being sold on the stage before the show begins, you know from the start you are in for a unique and off-center treat, kind of like a circus of sorts. Kudos as well to Angela Calin for her outrageous costumes, to John Ballinger for sparkling sound design and to Jared A.Sayeg for interpreting just the right mood in his lighting design.
Speaking of off-center, Christmas has its ups and downs. Some find it joyous; others find it a horror story. Loh makes us look at both sides of the coin. You find your hope wherever, and there is nothing wrong with remembering failed desires. You lived them and learned something along the way. Go, go, go to Sugar Plum Fairy through December 23!
(photo credit: Ed Krieger)
www.skylighttheatre.org