BWW Review: SATYAGRAHA at Dorothy Chandler Pavilion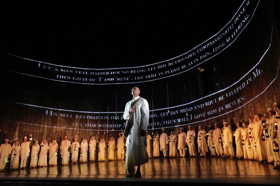 On October 20, 2018, Los Angeles Opera presented Philip Glass's SATYAGRAHA which tells of Mahatma Gandhi's early years in South Africa. SATYAGRAHA means truth, the real, the good combined with force or insistence. It is most often associated with Gandhi's nonviolent protests and resistance to racist laws. What he achieved by passive means was amazing at the time and remains a wonder today when racism is once again knocking on our doors.
Phelim McDermott's production is co-owned by English National Opera and the Metropolitan Opera, which has presented it live and in high definition at movie theaters around the world. The Dorothy Chandler Pavilion was ostensibly full and few patrons left during the show's running time of three and one-half hours.
McDermott provided a rich visual spectacle with help from Associate Director and Scenic Designer Julian Crouch, Lighting Designer Paule Constable, Projection Designer 59 Productions and their associates. Each act had a guiding spirit. Leo Tolstoy, whom Gandhi admired immensely and with whom he would later correspond, was the spirit for Act One. Gandhi's friend, the Indian poet Rabindranath Tagore, guided Act Two. Martin Luther King, who found inspiration in Gandhi's activism, guided the final act.
The audience could see each act's guide in an opening high up on the curved wall that formed Crouch's basic set. Part of the visual glory of this production had to do with puppet images of various world leaders. Other characters supplied by the Skills Ensemble walked on long stilts or flew high above the stage on wires so as to add to the scenic eye candy. Kevin Pollard's costumes, warm for some scenes and neutral for others, completed the visual interest.
Premiered in 1979, SATYAGRAHA is sung in Sanscrit. The opera's composer and co-librettists supplied a bare minimum of titles so as to retain the opera's meditative qualities. This opera is easily understood without literal translation. Its lyrics are drawn from the Bhagavad Gita (The Song of the Lord), a two thousand year old work that inspired Gandhi. Human nature and its foibles are the same now as they were millenniums ago.
The artists' movements were gradual and graceful. All the steps and gestures by soloists and members of the chorus were choreographed and polished until they merged into each other with total fluency. The chorus moved as a group, so did the soloists at various times. It would seem that McDermott wanted the opera to be a unified cohesive work where one motion led to the next just as the musical decorations repeated and expanded on each other.
The only break in this cohesiveness occurred when the South African government reneged on its promises to the Indian community. At that point in the story, each Indian character, soloist or chorister, abruptly stepped out to the center of the stage and tossed his or her registration card on the pile that Gandhi then burned. The contract was broken and McDermott changed the style of his direction from graceful to realistic for that scene.
Only Sean Panikkar as Gandhi was a totally separate entity on the stage. His lyrical tones were easily heard over the moderately sized orchestra. His singing spoke directly to the heart and emotions, especially in Act Three when he sang his repeated prayer. Starting upstage he intoned the prayer softly, increasing the volume slightly with every step downstage. This American tenor of Sri Lankan heritage made the great leader human and understandable to modern generations of Angelinos. Much of Gandhi's philosophy was transmitted by Panikkar's vocal colors shining through Glass's music without a need for titles.
As Miss Schlesen, So Young Park often sang above the staff. Although her tones were often blended with other singers, they were always audible. Young Artist Program member Erica Petrocelli sang Mrs Naidoo with a warm sound. The role of Kasturbai, Gandhi's wife, gave J'Nai Bridges the chance to shine both vocally in sonic splendor and visually in a lovely sari.
Theo Hoffman was an impressive Mr. Kallenbach with a strong baritonal mid range, while charismatic bass Morris Robinson as Parsi Rustomji offered prodigious low notes. Patrick Blackwell was a stalwart Lord Krishna while Young Artist Program members Niru Liu and Michael J. Hawk showed their mettle as Mrs. Alexander and Prince Arjuna.
SATYAGRAHA is a well written choral work that demands a first rate vocal ensemble like the L A Opera Chorus. Conductor Grant Gershon, their regular director, led them while also leading the orchestra. Glass's orchestration involves the usual compliment of string instruments, some woodwinds, and an organ, but no brass. Maestro Gershon conducted with great precision as he brought out myriad colors from this group of instruments. At the end of the evening Sean Panikkar brought Gershon onstage to an enormous round of applause. L A Opera will perform SATYAGRAHA on October 27, as well as on November 1, 4, 6, and 11.
Photos by Cory Weaver for Los Angeles Opera