Review: Rutanya Alda's MOMMIE DEAREST DIARY a Delicious and Honest Behind the Scenes Look at the 1981 Film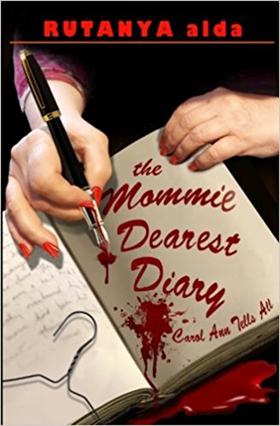 Remember the 1981 film of Christina Crawford's book Mommie Dearest? Do you remember the actress who played Crawford's invaluable and devoted assistant Carol Ann? It was Rutanya Alda, and she's written a day by day diary of the filming of this cult classic. How delicious! All the gossipy dirt about Faye Dunaway and everyone else connected to the movie like Diana Scarwid, Mara Hobel, Steve Forrest, Howard Da Silva and director Frank Perry.
Alda is honest and tells it like it was. If Dunaway was pleasant, she says so; if she was in a bitchy mood, she paints that as well.
In my background reading I learned that Dunaway hated the movie; she thought it exploited Joan Crawford and ruined her supposedly good reputation. When she realized how brutal she had to become and how it all came off as grande camp, she was furious. This actress respected Crawford's name; after all, it was Crawford herself who said that Dunaway was the only contemporary actress - in the 70s - who could join the ranks of the class-act stars. Her glamour and her powerhouse acting style were much like those of Claudette Colbert, Olivia DeHavilland, Bette Davis and ... yes, Joan Crawford.
But we can't help but laugh at the wire hanger scene or the one where she chopped down the little tree (As Alda relates, it was really Frank Perry who did the chopping for it was too difficult for Dunaway). As ferocious as Dunaway became in the role, she was acting her heart out. She was damn good. Yet, it's so much fun to watch, and so, I could not wait to read Alda's book.
Just a few words about Alda the actress. She was in "Deer Hunter" and "Amityville II: The Possession" and other dramatic, attention-getting films of the 70s/80s but somehow never became a household name. She deserved it, as she was a wonderful character actress. I love her humor, her intelligence and her truthfulness on film and in this book.
Let's show a few examples of what you may expect in The Mommie Dearest Diary entries. When she talks about auditioning in New York in December 1980 for director Frank Perry, Rutanya describes him as gracious and really took to him. They hooked into Carol Ann's loyalty and Alda created an imaginary situation to illustrate it. Perry insisted that they save it, not rehearse it, so it would be completely fresh for the camera. She describes running across town to meet her hsband for lunch and then contracting a terrible flu which put her in bed with a temperature of 104. She was deathly sick on Christmas Day when she got the call from Perry telling her she had the part. Of course, she was thrilled, but was so sick and could only think about getting herself well to be able to fly to LA at the beginning of January to begin shooting the film. She was to stay at the Chateau Marmont, a posh hotel and like a little girl, she got excited because, like most of us, she had never been able to financially afford to stay there.There is no better sense of real excitement and honesty than Alda's relating this story.
When she saw Crawford's star on Hollywood Boulevard, she bent down and put her hands in the prints and got a chill. She knew it was an omen of fascinating things to come. Yet no one on the set had anything nice to say about Dunaway. Irene Sharaff, costumer, told Rutanya that Faye was a drug addict and had the temperament of a two year old, always throwing around her sense of entitlement. Other crew people put Dunaway in a class with Liza Minnelli, Lauren Bacall and Barbra Streisand and said she was the worst to work with. The first day on the set, Dunaway rushed past everyone including Alda, and when she finally did meet her, their meeting was cordial if little else. She really tells it like it was....
Like Dunaway never stood-in to help with close-up reactions of the other actors. On the final day of shooting Rutanya, good soul that she was, went up to Dunaway, hugged her and told her that she would miss her, feeling full well that this was a lie. She describes the whole process for the reader as bullshit. She was kind to Dunaway but obviously disappointed at Faye's lack of sincere kindness in return.
I could go on and on, but I don't want to ruin any more stories for you. Buy this wonderfully delightful book! It's a real page turner. I couldn't put it down.
Go to FB and connect with Rutanya Alda. Find out how to get a copy of this little treasure that is reasonably priced. The book is wonderfully entertaining and enriching and... the lady is a genuine human being, a fine actress and a great writer!