Review: IT IS DONE and There Will be Hell to Pay
A mysterious traveler, a horny barkeep, and a sensuous woman are trapped in a dive bar with an abundant supply of bourbon, yet all three are strangers in a place hundreds of miles from anywhere else during a windstorm that keeps them trapped together in the only shelter. Sure, anything could happen, especially when the mystery of who they are begins to unravel and it becomes apparent one of them is after someone else there. But who is it and what do they really want? And what does a recurring nightmare have to do with it? Whatever happens, one thing is certain: There will be hell to pay.
IT IS DONE, a mystery written by Alex Goldberg, is directed by Jeff G. Rack with great skill and devotion to bone-chilling tales at Theatre 40 in Beverly Hills through February 19, produced by David Hunt Stafford. Jeff G. Rack is probably best known to Los Angeles theater patrons for his award-winning set designs, having designed and built over 300 productions from Santa Barbara to Edinburgh, Scotland. He is a multiple Ovation Award winner, Theatre 40's resident set designer, and a Co-Founder of Unbound Productions for whom he adapted and/or directed numerous productions for the site-specific, Halloween-themed Wicked Lit. Rack also directs STORIES FROM THE TWILIGHT ZONE running in rep with IT IS DONE, making brilliant use of his set originally designed for Theatre 40's production of BUS STOP.
Blessed with a talented cast, IT IS DONE takes place in Hank's Bar, a roadside joint on a desolate highway in the middle of nowhere,
which you walk into as you enter the theater. Soon a phone rings, but goes unanswered as no one is there. But on this windy night, Hank's soon has one customer: Jonas (George Villas), a drifter in a suit and trenchcoat who stumbles in looking for a drink. Soon he is joined by Hank the barkeep (Kurtis Bedford), a man who enjoys passing the time when he has no customers by perusing a porn mag while pleasuring himself anywhere he pleases. Hank loves his lack of patrons and isolated location as it keeps him able to pursue his favorite pastime while staying away from his ex-wife and kids. Naturally the phone call was from her, pleading with him to send his monthly child support payment.
But Jonas just wants to drink, not chat.
But who are these two loners, and is there a reason they have been thrown together in the middle of nowhere? Just as you are trying to figure that out, in blows Ruby (Kate Whitney), a pretty blonde who asks to use the phone to call AAA about her broken-down car. But what is she doing out in the middle of nowhere, travelling on her own? Has Hank's dream girl walked into his bar or is she meant to get Jonas to finally open up about what has been driving him to keep moving from place to place?
Bedford and Whitney are especially engaging in their character portrayals, keeping Hank and Ruby in the moment and real,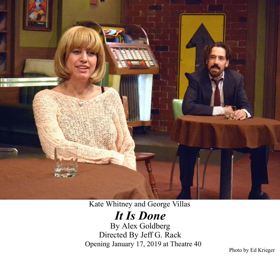 while Villas keeps Jonas so aloof it seems difficult to gauge his personality as anything other than superficial until he finally imbibes enough bourbon to open up and start sharing. But as the three interact, it soon becomes apparent someone is not telling the truth as to why he or she is there - but just what is going on will not be revealed in this review.
All I will tell you is that as time passes, alliances are challenged and changed, nightmares and truths are revealed, and one of these lonely folks is on a mission to fulfill a bargain made with the devil. The fun is in trying to figure it out by noticing clues when they are revealed.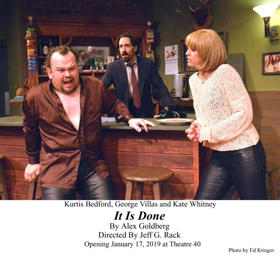 But this mystery is so well written, you will be kept guessing until near the end when the truth is revealed and IT IS DONE. Please note that due to adult content and language, it's best to leave the kids at home!
IT IS DONE written by Alex Goldberg, directed by Jeff G. Rack and produced by David Hunt Stafford continues at Theatre 40 in the Reuben Cordova Theatre, 241 S. Moreno Dr., Beverly Hills, CA 90212. The venue is on the campus of Beverly Hills High School with ample free parking in the lot adjacent to the theatre. Tickets are $35, with performances continuing through February 19, 2019, running in repertory with Rod Serling'S STORIES FROM THE ZONE, adapted by Jeff G. Rack. For reservations and more information, please call (310) 364-0535 or visit www.theatre40.org
IT IS DONE performances take place on:
Monday, February 4, 18 at 8pm
Tuesday, February 19 at 8pm
Wednesday, February 13 at 8pm
Thursday, February 14 at 8pm
Saturday, February 9 at 8pm.
Sunday, February 10 at 2pm and 7pm
Rod Serling'S STORIES FROM THE ZONE performances take place on:
Monday, February 11 at 8pm
Tuesdays, February 5 and February 12 at 8pm
Wednesday, February 6 at 8pm
Thursday, February 7 at 8pm
Fridays, February 8 and February 15 at 8pm
Saturday, February 16 at 8pm
Sunday, February 17 at 2pm and 7pm
Photo credit: Ed Krieger