Review: Bess Wohl's Dissin' Franchise AMERICAN HERO Served Up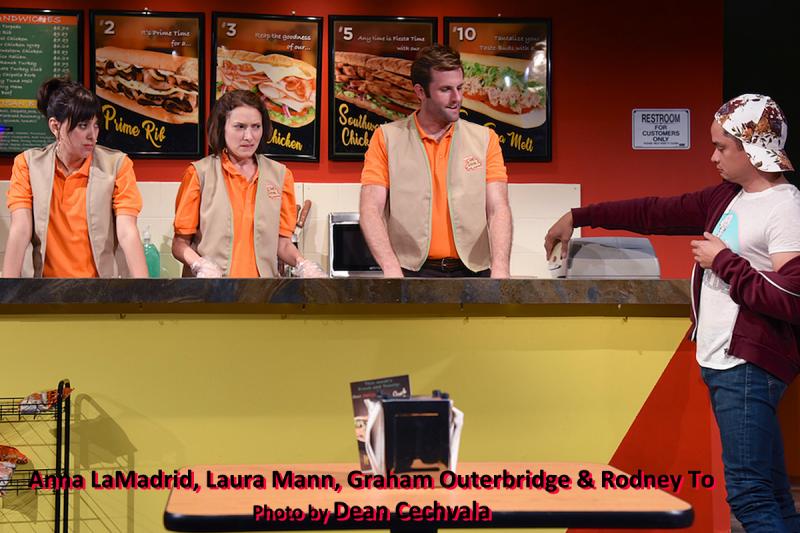 AMERICAN HERO/by Bess Wohl/directed by James Eckhouse/Carrie Hamilton Theatre at The Pasadena Playhouse/thru October 21, 2018
The L.A. premiere of Bess Wohl's AMERICAN HERO doles out a steady stream of screaming conflicts, yet leaves you hungry for more satisfactory resolutions.
James Eckhouse ably directs his committed cast of four in a fast-paced torrent of workplace disagreements.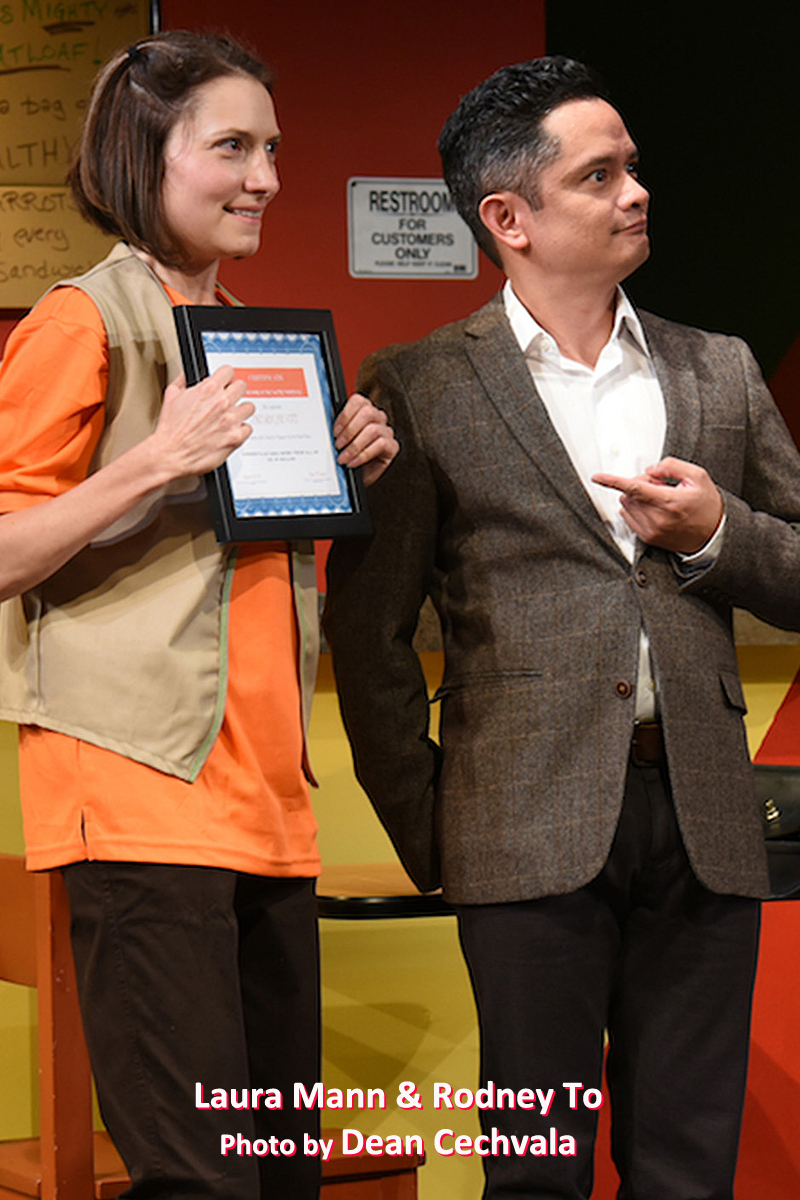 AMERICAN HERO opens with Bob awkwardly interviewing Sheri for one of three positions in his newly acquired Tasty Torpedo sub franchise. Now hired with Jamie and Ted, Bob (with English obviously not his first language) reads to the three of them, the 100+ page franchise manual (in accented, broken English aimed for laughs?). Bob then times them in a sub-making production-line test (nicely choreographed), retesting until they complete a sub in under 20 seconds.
Rodney To totally steals the show with three of his four characters - the quick-with-the-quip, backwards-baseball-cap-wearing kid; the corporate suit who unexpectedly breaks down before the sandwich-makers' eyes; the all-knowing, charismatic, dreamed-up personification of a sandwich. To's portrayal of franchise owner Bob paints Bob as a man anal in details and inexperienced at business with a poor grasp of the English language.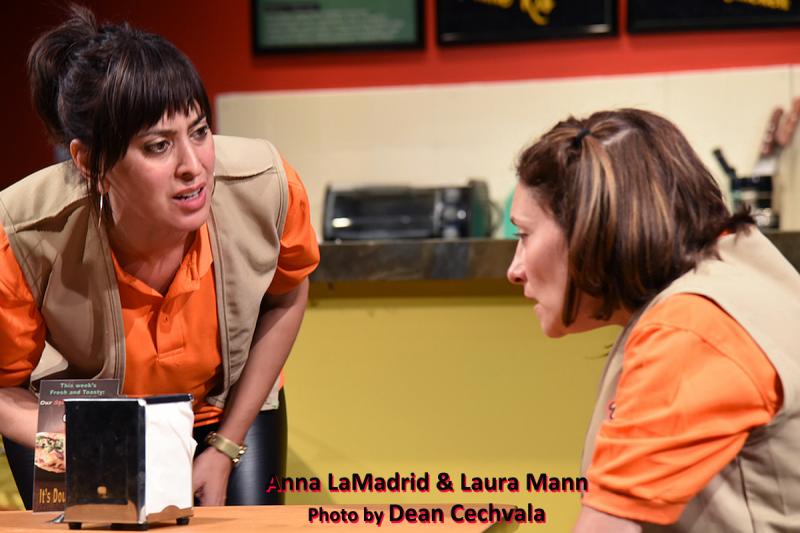 The three Tasty Torpedo 'sandwich artists' perform the three stations of sandwich making - the baser (Sheri), the finisher (Ted), and the wrapper (Jamie). Laura Mann, Graham Outerbridge and Anna Lamadrid remain steadfast to their respective characters, with LaMadrid's comic timing and delivery of double entendres energizing her scenes as Jamie. Outerbridge's sturdy in his role of Ted, the former Bank of America executive with a master's degree reduced to sub-making. Mann maintains her shy, reserved Sheri in the background as LaMadrid's Jamie and Outerbridge's Ted yell and bicker at each other. The scene in which Outerbridge's Ted admits the reasons for his bank ouster to LaMadrid's Jamie is simply stunning in its quieter contrast.
Couple of plot points left unanswered: Why the hostility between Jamie and Ted after their initial tryst? And why Bob never comes back to his franchise?
Set designer Justin Huen and properties designer Michael O'Hara vividly recreate the sandwich shop set from a bygone era, with orange-painted walls, small napkin dispensers, a cordless phone, and an unswipe-able cash register.