BWW Review: A Stunning & Captivating CANDIDE Maestro Bernstein Would Be So Proud of
CANDIDE/book adapted from Voltaire by Hugh Wheeler, in a new version by John Caird/music by Leonard Bernstein/lyrics by Richard Wilbur, Stephen Sondheim, John Latouche, Lillian Hellman, Dorothy Parker & Leonard Bernstein/directed by Francesca Zambello/conducted by James Conlon/Dorothy Chandler Pavilion/thru February 18, 2018
From the moment the amazing James Conlon-conducted orchestra began their crisp, lively "Overture" to "Quartet Finale," the close of Act One; this remarkable production of CANDIDE entranced the Dorothy Chandler audience. Then after a short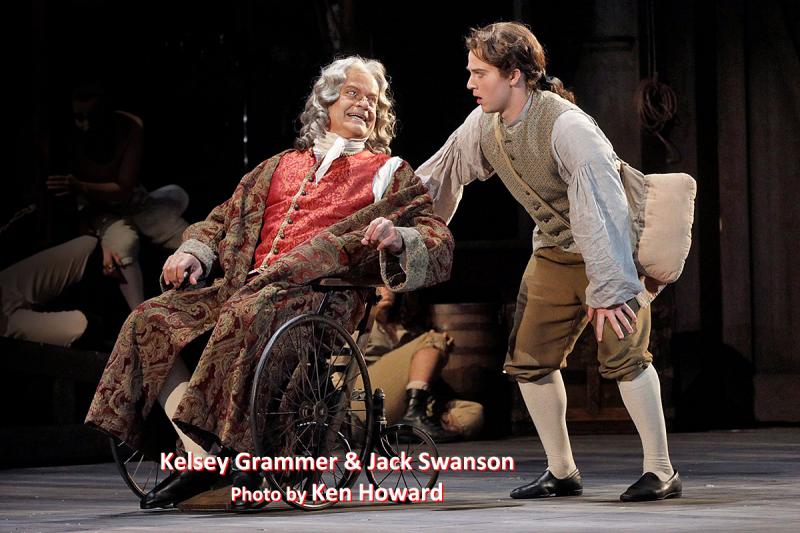 intermission, these talented performers and musicians had the audience right back in the palms of their skilled hands, beyond the tears-inducing finale "Make Our Garden Grow," to the extended and most deserved standing ovation for the cast, orchestra, and creatives. Wow! What a wonderful two-and-a-half hours spent!
Kelsey Grammer as the narrator Voltaire instantly established a familiar rapport with the audience. Grammer's comic timing and gravitas received much effective use in his portrayal of Dr. Pangloss, Candide's tutor and mentor. Grammer's vocals seized their moment to shine in Pangloss' "Dear Boy."
But the focus of this delightful operatic romp sits on the able shoulders and lovely tenor of Jack Swanson in the titular role of Candide. Swanson brings the naivety and charm of a young, out-of-place, illegitimate raised by royalty, the Baron and Baroness of Westphalia. His strong solos include "It Must Be So," "Candide's Lament," and "Nothing More Than This."
Being raised along side of the Baron's son Maximilian and daughter Cunegonde, Candide develops an attraction to Cunegonde. Erin Morley grabs the stage and the rapt attention of the audience as she dazzlingly sings Cunegonde's "Glitter and Be Gay," in a seamless comic routine punctuated by her beautiful high E-flats, high Cs and D flats. Brava Ms. Morley for this showstopper!
Morley and Swanson also combine their sturdy vocals for a gorgeous duet "Oh, Happy We."
Two-time, Tony Award-winner Christine Ebersole effortlessly limns Old Lady, Cunegonde's cohort in street-walking/bed-hopping survival. Ebersole gets her very few minutes to steal the spotlight with her comic and vocal chops in "I Am Easily Assimilated." How disappointing that this production doesn't take better advantage and more use of Ebersole's proven talents. Kept waiting for her eleventh-hour crowd-pleaser. "What's the Use?" not an Ebersole solo, but a strikingly sung number by Ebersole - and everybody else.
The storyline of Francesca Zambello's ably directed CANDIDE's much too complicated, with lots of twists and turns, to repeat in this review. Much easier to hear Grammer narrate it as you witness the events.
Supporting artists in their singular or dual roles making their invaluable contribution to this fantastic piece of entertainment, each receiving this individual moments to shine include: Theo Hoffman as Maximilian, the preening, protective brother of Cunegonde; Joshua Wheeler as Cacambo, a later traveling companion of Candide; Taylor Raven as the rich pirate queen Vanerdendur, Peabody Southwell as Paquette, the Baron's servant with a liking to Candide; Matthew Scollin as the kindly Doctor James and the down on his luck Martin who befriends Candide; and Brian Michael Moore as the not impartial Grand Inquisitor and the slimy Governor of Montecito.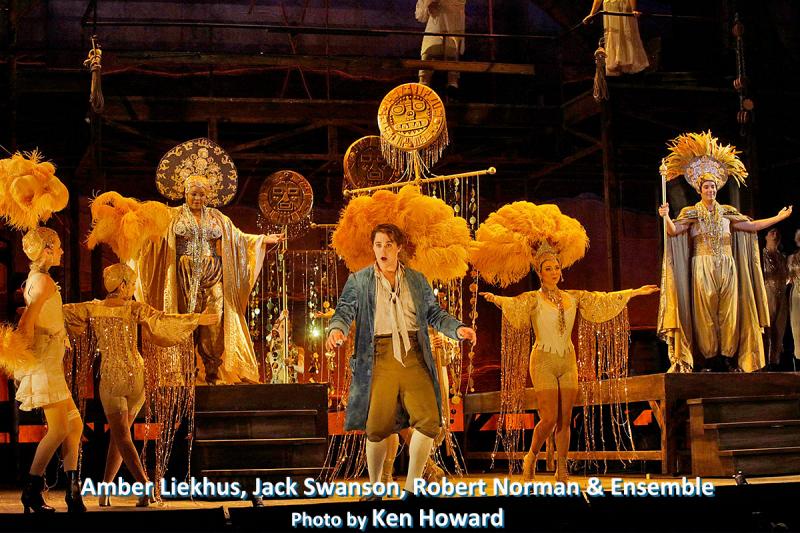 The ensemble scenes, with an average of twenty performers on stage were inventively choreographed and staged by Eric Sean Fogel, making full use of the bare-bones, versatile, two-tier set from James Noone. Set pieces were moved smoothly without ever interrupting the flow from scene-to-scene. A very clever use of a center stage trap door greatly surprised and complemented the flow of stage action. Kudos also to Fogel for keeping his dance moves un-contemporary and period appropriate, except for the intentionally, hysterical, homage to Vegas showgirls in the "Ballad of Eldorado" sequence. Jennifer Moeller's costumes read authentic period (expect, again, for the intentional Vegas feathers and headdresses) while complimenting the actresses wearing them. Right-on-cue lighting, and winning strobe lighting effects for the battle scenes from Mark
McCullough and crystal-clear sound from Kai Harada with the orchestra never overpowering the vocals. English subtitles projected above and on the sides of the stage helped immensely with understanding the operatically sung English.
The hard-working ensemble include Eboni Adams, Andrea Beasom, Tom Berklund, Tucker Reed Breder, Tim Campbell, Katherine Henly, Amber Liekhus, Danny Lindgren, Amanda Compton LoPresti, Robert Norman, Steve Pence and Michelle Siemens.
Hurry! Theatre-loving aficionados need to get your tickets to experience the L.A. Opera's CANDIDE.