Review: A Gripping, Tension-Packed HOSTAGE Completely Captivates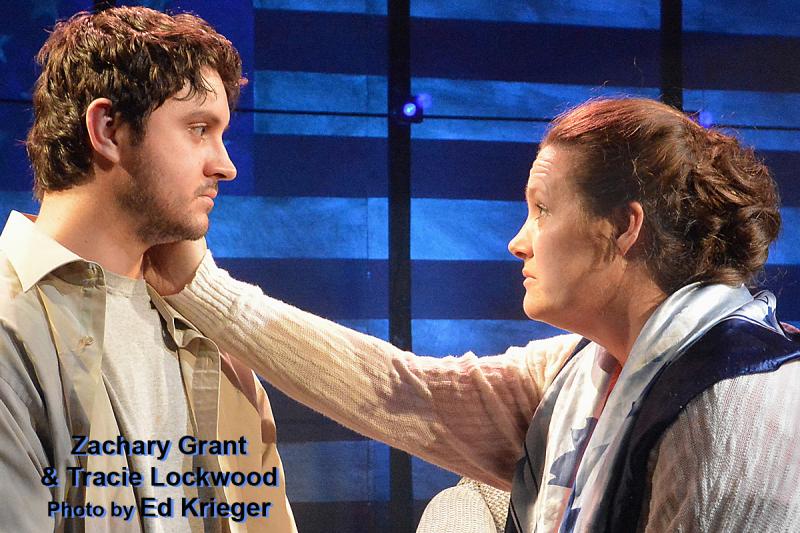 HOSTAGE/by Michelle Kholos Brooks/directed by Elina de Santos/Skylight Theatre/thru June 24, 2018
The world premiere of playwright Michelle Kholos Brooks' HOSTAGE receives an absolutely stunning mounting by the Skylight Theatre Company. Don't be scared off by the politics of what this piece appears to be. Brooks takes the situation of a mother's son held hostage in Iran and vividly, naturalistically, without propagandizing, exposes the insides of this particular mother Barbara. As intricately written with totally believable, everyday dialogue sprinkled loosely with moments of needed levity, HOSTAGE could not be as powerfully effective without a very capable actress in the central role of Barbara, the mother of hostage Kevin. Tracie Lockwood gives a tour de force performance as Barbara, normally an inconspicuous, yet outspoken, mother like most in the Oak Creek, Wisconsin neighborhood; but a real pit bull when matters concern her hostage son. From the very first moment
Lockwood relates a childhood incident involving a mother squirrel saving her baby squirrel, to the final striking moment of her realization in the spotlight eighty minutes later, Lockwood grabs your attention and never lets go, revealing all of Barbara's confusion, her pain, her helplessness, her incredible love of her children.
Based on a true life story, Barbara flies to Iran and actually is allowed to visit with Kevin, a 'guest' in a Tehran prison. Smooth peanut butter, a soiled rug take back-seat importance to Kevin's incarcerated plight. Brooks brings a needed new perspective to what really matters in life. Of course, a simple slip of Barbara's tongue that Kevin's favorite pot pie-serving Wally's Diner has closed sends Kevin into tizzy. Funny how the simple things in life aren't overlooked 'til one's deprived of it. Brooks also most vividly illustrates the consequences of people forming their own conclusions without given all the facts. What would you do in Barbara's shoes?
Director Elina de Santos smoothly guides her talented cast as all characters seamlessly overlap in conversation, even though the characters exist half a world apart - Oak Creek and an American embassy in Tehran.
Like a good tennis match, opponents of matched abilities make for involving watchable events. In HOSTAGE, all actors equal in their game in their respective give-and-takes with Lockwood's Barbara. In Oak Creek, as Barbara's husband Kenny, Jack Clinton gives strong moral and sensible support to his very troubled wife. Christopher Hoffman makes his volatile presence very known as Richard, Barbara's ex and birth father of Kevin. When Clinton's Kenny and Hoffman's Richard start getting into an escalating yelling argument over their different involvements in Kevin's upbringing, you (the audience) hold your breath for the first physical blow to come.
In Tehran, Zachary Grant modulates effortlessly between the realism of Kevin's situation and the intermittent efforts of making light in the presence of his mother. Grant even masters the body language of a prisoner in his broken-down carriage and his inward pointing bare feet. Satiar Pouvasei and Vaneh Assadourian ably provide three-dimensional portrayals as, respectively, Kevin's rifle-toting handler Ebrahim, and Tehran Mary, the oft-televised face of the Iranian Revolution.
The Skylight Theatre has re-set their usual audience seating for seating on three sides, bringing the action much closer to all. Producers Gary Grossman and Tony Abatemarco, as always, use top notch technical talents including: scenic designer Stephanie Kerley Schwartz, lighting designer Brian Gale, sound designer, Christopher Moscatiello and costume designer Naila Aladdin Sanders.
Go see HOSTAGE prepared with something to dry your eyes. You will need it.