BWW Review: A 60's TRILOGY Recounts Three Iconic Moments in an Era That Changed the World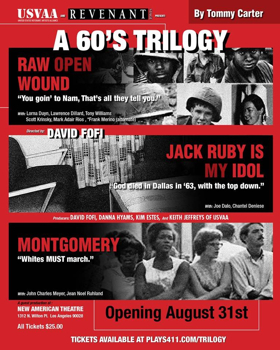 Those of us who can remember the tumultuous 1960s will certainly see moments of our own lives in the World Premiere of A 60's TRILOGY by Tommy Carter which connects race relations and the Vietnam War to present day. And on this 50th Anniversary of the Tet Offensive and the assassinations of Martin Luther King Jr and Robert F. Kennedy, this first project between USVAA Vets Repertory and Revenant Stage (formerly The Elephant Theatre), directed by David Fofi, is sure to add fire to the flame of social revolution in the air today.

Produced by Danna Hyams and veterans Kim Estes and Keith Jeffreys of USVAA, A 60's TRILOGY features three short plays, each of which bring back memories of a time when differing opinions about war and racial unrest brought about the overwhelming desire by everyday people to set things right by speaking their truth against all odds. And just as today's #MeToo movement is encouraging a new generation to speak up to change society for the better, this play speaks to those who first took matters into their own hands and often faced violent opposition to the truth they spoke. I know. I was there. And as mentioned during the play, I was one of those college students who defied the police by placing daisies in the barrel of their rifles pointed at us for peacefully demonstrating against the Vietnam War.
No doubt many of you reading this review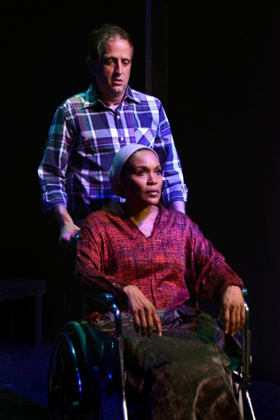 remember the shocking death of President Kennedy on November 22, 1963, the date when the world as we knew it came crashing down and our innocence as a society was lost and distrust of the government was set in motion. In the first of the three plays, Jack Ruby is my Idol, a black woman in a wheelchair and a white man who were raised together as children but were torn apart after the Kennedy assassination, reunite in Memphis for the first time since those shining moments known as "Camelot." But now they are miles apart, not just because she moved to New York, but in their political views as well.
For while the two share many fond memories spent together years ago, she (Chantel Deniese) has become a noted activist for equal rights who is out for revenge against the "cracker" who threw a bomb under her black Baptist Church as a child, killing everyone inside but her. And though he (Joe Dalo, a charmer with his lilting Southern accent and demeanor) keeps insisting he still loves her and wants to marry her despite their racial differences and is willing to move North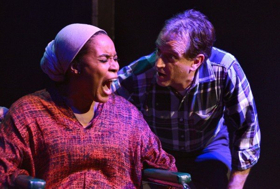 with her where their interracial relationship will be safer, eventually his revelation that he was the culprit who threw the bomb, though never realizing anything more than a firecracker would be set off and feeling tremendous guilt ever since, she cannot forgive him and rebuffs his advances. What makes the racial issue even more a part of the tale is that she is the first person to stay in this particular hotel room, the one in which Martin Luther King, Jr. was assassinated by a white man just months ago.

Next we visit a crowded Montgomery hospital emergency room, crowded with black and white marchers who were beaten mercilessly by law enforcement during a march led by Dr. Martin Luther King Jr. Inspired by white marchers, who like so many countless blacks, lost their lives tragically during the civil rights struggle, here we meet a gravely injured white couple repeatedly begging for medical attention in an over-crowded emergency room as life drains from each of them.
As they wait, each remembers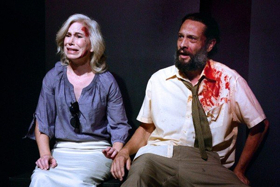 what led them to march for equal rights that day, rising from the shame they now feel about earlier racial injustices in which they participated. In harrowing detail, John Charles Meyer recounts assisting his father with a tar and feather lynching. During Meyer's overwhelmingly emotional recounting of the incident, you could have heard a pin drop in the theater.
Jean Noel Ruhland, her head bloody and throbbing, shares the guilt she feels over being jealous of a much-smarter black girl's departure for college at a train station, during which her racial epithet aimed at her former friend incited a crowd of Southern rednecks to defile the poor black girl's mind, body and spirit. Eventually it seems the truth shall set them free as the two take a few steps forward while telling of their remorse for past deeds, seeking forgiveness by taking part in the Montgomery march, finally greeting the person wronged with a friendly plea for forgiveness as they meet at the pearly gates.

In Raw Open Wound, we are taken to the 1982 opening of the Vietnam War Memorial in Washington, D.C.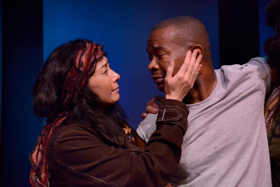 where five strangers, each scarred deeply while serving there, attempt to come to terms with their individual grief, loss, and the 58,000 names on The Wall as they converge there at the same time. Soldiers who served proudly in three different branches of the military (Lawrence Dillard, Mark Adair Rios, Tony Williams), a mentally-damaged triage nurse (Lorna Duyn) who saw more blood and death than any of them, are soon joined by an anti-war protester (Scott Krinsky) there to honor his fallen best friend whose name he has located on the Wall.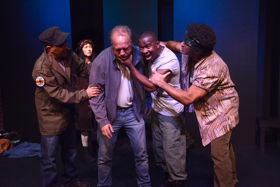 With all displaying symptoms of PTSD causing each experience violent emotional outbursts, we soon see this microcosm of society fall apart over racial and political differences before realizing they are all there for the same thing - to heal.
The intensity with which all the actors portray their characters makes this entire production one not to miss, no matter on which side of the political divide you sit. And as a way of encouraging everyone to speak up this November, a dedicated volunteer was seated at a table in front of the theater registering patrons and passersby to vote.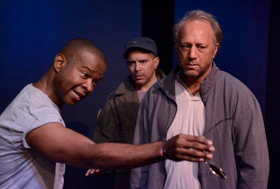 A perfect beginning to this play about the time in which speaking up for yourself in public and at the ballot box was born.

A 60's TRILOGY closes with a 3pm performance on September 29 as a guest production at The New American Theatre in Hollywood at 1312 N. Wilton Place. For reservations and information, visit Plays411.com/trilogy. I do hope director David Fofi, the Artistic Director of the new USVAA Vets Repertory, brings this compelling new play to another venue soon where it can continue to empower veteran artists to flourish and the rest of us learn the power of speaking up from those tumultuous years.
Photo credit: Joel Daavid
Shari Barrett, a Los Angeles native, has been active in the theater world since the age of six - acting, singing, and dancing her way (read more about this author...)