Interview: Ricardo Chavira's TRANSLATABLE SECRETS of His Life in the Theatre
The prolific playwright José Rivera's THE UNTRANSLATABLE SECRETS OF NIKKI CORONA world premieres at The Geffen Playhouse. With previews already begun, opening night's set for September 12, 2018.
When Nikki's twin sister Abril dies, Nikki wishes she had communicated all she should have said to her. UNTRANSLATABLE SECRETS presents the possibility of post-life communication. Ricardo Chavira plays the pivotal role of Orlando, Nikki's conduit to Abril. We had the opportunity to unveil some various SECRETS of Ricardo's theatrical career.
Thank you for taking the time for this interview, Ricardo!
What initially sparked your interest in being involved in NIKKI?
The opportunity to work with José on his new material definitely sparked my interest. And when I learned Jo Bonney was directing, I was even more curious to learn more about the role.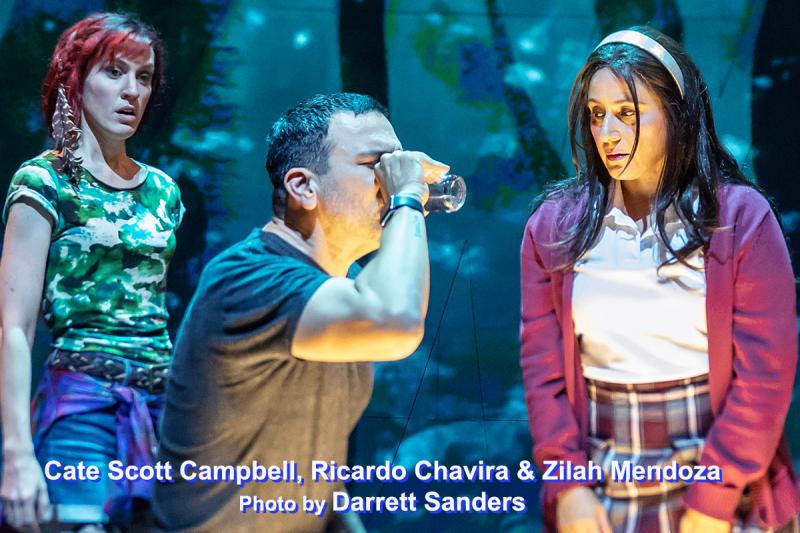 Which of José Rivera's many, many plays are you familiar with?
I'm most familiar with CLOUD TECTONICS, MARISOL and REFERENCES TO SALVADOR DALI MAKE ME HOT. I actually directed scenes from MARISOL in undergrad at Incarnate Word College in San Antonio. After that, I met José when I was in grad school at UCSD. He was teaching and I was in my first or second year. We played basketball together with others from the program. I think I bashfully managed a hello. Having been raised in San Antonio, I digested all things Latino theatre that I could get my hands on, so I was familiar with him and his writing.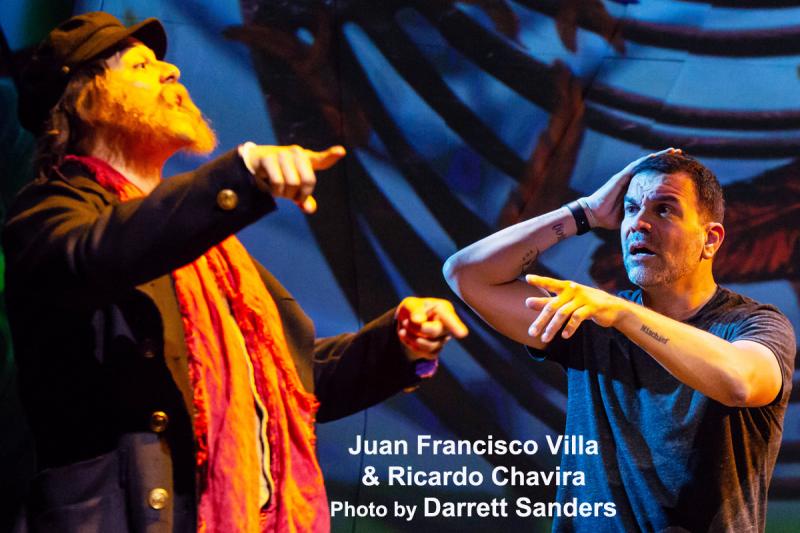 How would you best describe your character Orlando?
Orlando is the charismatic underachiever, the Everyman who could have been so much more.
Your acting career began in repertory theatres across the country. If you were to close your eyes during a moment you're in a theatre space, could you distinguish which city you're in by the audience reactions? Do you find any audience responses unique to any city?
Not really, no. I could probably only distinguish a San Antonio audience, because that's my hometown. My focus is on my work onstage.
What hypothetical situation would you plausibly find some of your theatrical characters (NIKKI's Orlando, Valdez from JESUS HOPPED THE 'A' TRAIN, Doc from TRACERS, and THE MOTHERF**KER WITH THE HAT's Jackie) inter-acting? (A neighborhood bar? A shooting range? An evening adult education class? An AA meeting? In a grocery store line?)
I can definitely see them a cruise ship. Probably Disney. Or a roadside rest area. Or in line at Comic Con for an autograph from a Star Trek Next Generation actor.
Who would break the ice and take the lead of this imagined group?
I see Orlando taking that lead. Maybe Doc.
After many years acting both in theatre and on television, you must find making the technical adjustments between them second nature, right?
It took me longer to adjust from TV back to the theatre than it did for me to adjust from stage to TV. The mental and physical rigors of the theatre, from script analysis to performance, far surpass anything one would face in the TV world, especially network TV. A TV script's words, the language, just can't hold up to the likes of Williams, Miller, Gurgis, Rivera or Churchill.
What was the very first theatrical role you auditioned for and booked? And how old were you then?
It was for PASSION OF THE CHRIST and I was in seventh grade. I was cast as Pontius Pilate, Judas Iscariot, and Satan. All the bad guys!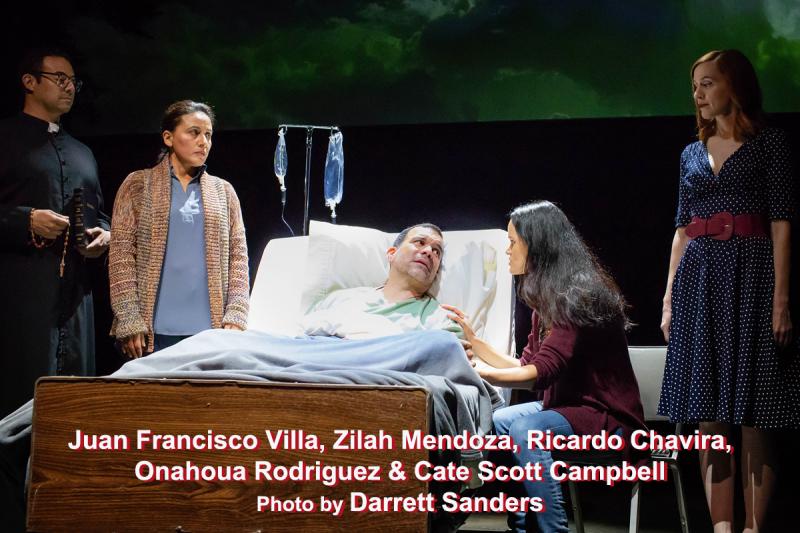 In various credits, you are listed as either Ricardo Chavira or Ricardo Antonio Chavira. When do you choose to use your full birth name?
Well, I always choose to use my full name, but it usually always get screwed up for some reason. I think there are some places where I'm credited 'Ricardo A.', and I think there's even one where it's 'Ricardo S.' My name's been butchered my whole life, so I'm used to it. It's ok, I know who I am. And so does my family. And that's all that matters.
Is there a dream role you would love to mount the theatrical boards in?
I definitely have more than just one. Iago. Coriolanus. KISS OF THE SPIDERWOMAN. Lucius in JESUS HOPPED THE 'A' TRAIN. Piñero's SHORT EYES - but it would have to be adapted.
What's in the near future for Ricardo Chavira?
In the past three years, I've performed on stage everywhere from the National Theatre to The Geffen Playhouse. I'd love to do series TV again, although it would have to be the right project. More theatre is always great with me, as it's the most challenging and rewarding. But time at home, with my family, is always priority number one for me these days.
What would the ideal Geffen audience reaction to NIKKI be for you?
One that listens, goes on the journey, and is willing to take the fearless leap that is imagination.
Thank you again for doing this, Ricardo! I look forward to seeing you work magic with NIKKI.
For ticket availability and show schedule through October 7, 2018; log onto www.geffenplayhouse.org
From This Author - Gil Kaan
      Gil Kaan, a former Managing Editor of the now-defunct Genre magazine, has had the privilege of photographing and interviewing some major divas of film, television, and stage in... (read more about this author)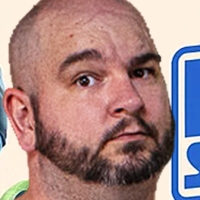 Interview: Chatting With Russall S. Beattie On THE EMPIRE STRIPS BACK At Montalban Theatre

November 28, 2022

The U.S. tour of the hit Star Wars burlesque parody The Empire Strips Back has begun previews at the Montalban theatre, with opening night on November 30, 2022. This unique show is best described by its creator Russall S. Beattie who let me beam into his creative brain a little.
---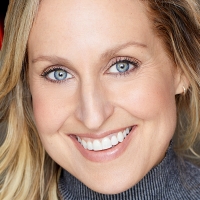 Interview: Annie Sertich Finds A NIGHT OF FAMILY & A Creative Home At The Groundlings

November 23, 2022

Adding to their already extensive line-up of impro shows, The Groundlings will be presenting A Night of Family for one-night only December 5, 2022. This show features Main Company member Annie Sertich with three Groundlings alumni Tim Bagley, Michael Hitchcock and Mindy Sterling. I got a chance to pick Annie's creative mind, a long-time Groundling.
---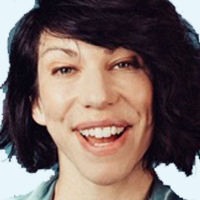 Interview: Jessica Pohly's Always Dancin' & Improv-vin' In & Out of A COZY WINTER CABIN

November 23, 2022

The Groundlings brand new Friday/Saturday holiday show Groundlings Cozy Winter Cabin opens December 2, 2022. Chris Eckert directs Main Company members Sam Desurra, Chris Kleckner, Laird Macintosh, Karen Maruyama, Jessica Pohly, Jay Renshaw and Annie Sertich. Jessica very pleasantly surprised me with her quick responses to my queries.
---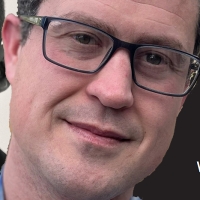 Interview: Director Andrew Neisler Making Sense In The Story Of MINDPLAY

November 21, 2022

The Geffen Playhouse is world premiering mentalist Vinny DePonto's latest show Mindplay. The run (already started) plays through December 18, 2022. I got the chance to chat with Vinny's long-time collaborator director Andrew Neisler.
---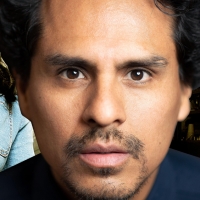 Interview: Making Great Sandwiches Makes for a Great Life for CLYDE'S Reza Salazar

November 15, 2022

Clyde's, the latest work of two-time Pulitzer Prize winner Lynn Nottage, just opened at the Mark Taper Forum November 15, 2022. Clyde's centers around a truck stop (Clyde's) staffed by rehabilitating ex-cons. Kate Whoriskey directs the cast of Kevin Kenerly, Tamberla Perry, Reza Salazar, Nedra Snipes and Garrett Young. Reza managed to squeeze out some time in between rehearsals to answer a few of my queries.
---