BWW Interview: Jane Kaczmarek Stage Managing Her Future With Open & Always Entertaining Communications
The last time Jane Kaczmarek acted on the Los Angeles stage, she transformed into the morphine-addicted Mary Tyrone in Eugene O'Neill's LONG DAY'S JOURNEY INTO NIGHT at the Geffen Playhouse. Jane returns to the L.A. boards, this time in the traditionally-male role of Stage Manager in Thornton Wilder's OUR TOWN, just opened at The Pasadena Playhouse, in a co-production with Deaf West Theatre.
Jane has had a long history with OUR TOWN. Back in 1974; Jane, with Mark Anderson (now co-artistic director of Theatre Gigante in Milwaukee), went to see her very first professional theatrical production - OUR TOWN at Milwaukee Rep.
"I had no idea what it was and I was crying so hard by the end of that play. Someone should have thrown a bucket of cold water on me. I was hysterical and I didn't have a handkerchief, or my kleenex was soaked. I just remember using my hand, my sleeve and my program to mop up all the mucus that was flying out. It had an amazing impact on me. Oh, my God! You can make people feel something like this? You can make people think the way I'm feeling and thinking right now? The theatre is capable of doing that to an audience? A very memorable milestone in my life."
So familiar with Thornton Wilder's 1938 script of OUT TOWN, Jane picked up on the some subtle (some not) differences to what she was reading for the present production at Pasadena Playhouse.
"We really have had our hands tied in a lot of ways with this edition, which has a few things missing in it that I remember so fondly from the version we all did a long time ago. It seems Thornton Wilder wrote 'the definitive edition' in 1957, in which he cut out a lot of things he felt that Jed Harris (who had directed and produced it) made him put in. I would assume it must have been when Jed Harris died, or was no longer able to fight him on it. If you know the play well, and I'm obsessed with this play. I was very aware of what things were being changed. So this was 1957 and the word went out that everyone needed to do this edition. However, Samuel French never paid attention. Most people getting the play from Samuel French know and are familiar with the edition that was done in 1938. It wasn't until 2011 that the Wilder estate really came after Samuel French and said, 'You cannot use that edition anymore. You have to use the definitive edition.' There are some things missing that I am sorry to see gone.
"We're going to do a night called "Wilder on Wilder" with Tappy Wilder, the nephew of Thornton Wilder who handles the estate now and will not allow you to say certain things that everybody remembers being said in high school."
Aside from her ugly crying, Jane's other most vivid memory of the Milwaukee Rep production involves a present industry colleague.
"I remember looking at the program and the girl playing Emily, who I thought was just sent from heaven, was a girl named Judith Light. I always remembered that. The first Emily I saw and still the best."
Initially whenever Jane ran into Judith at the various award shows they would be attending, they had this loving, running joke of Jane saying, "I remember seeing you at..." "But I don't want to bug her about it anymore."
As for any tweaks being made to adapt the role of Stage Manager for Jane, "Not particularly for me. However, we did make some tweaks because I'm never alone on stage. I always have a deaf actor as the Stage Manager with me. There are three actors from Deaf West who take turns playing the Stage Manager (Russell Harvard, Alexandria Wailes and Troy Kotsur). They each leave at a point in the play and become Simon Stimson or become Mr. Webb, and the other one comes in beside me. So I change some of the pronouns from 'I' to 'we.'"
For this current production, Jane needed to learn American Sign Language as OUR TOWN features bilingual staging in ASL and English.
"I didn't realize ASL is a language that is not English. I thought it would be word-for-word translation and it's not. It's concept. It's metaphors It's some finger-spelling. The task of this was huge in that we had to translate the entire play (I can speak to only the Stage Manager's lines). We had to translate the English language spoken word into sentence-by-sentence ASL translation. Every sentence had to be in the same length. The paragraphs had to end at the same time. We needed to be so synchronized, the deaf actor and I. We practiced days, weeks, I'm not kidding,
getting in front of big mirrors. I would speak and we would count to three, and the deaf actor would do his translation. We would stop after every sentence to make sure it was the same length, had the same emotion in it. We spent so much time doing it, because when you're on stage, you're not looking at each other. You have to trust that. You breathe together. We would assign points where you would look at each other to make sure you were together. Two people trying to act like one. I suppose it must have been much like what SIDESHOW was like, except we weren't physically joined. It was much, much more technically demanding than I thought it was going be. And once we would get the idea of how were going do a certain page, you had to stick with it. Because if I suddenly found out - I'm feeling a little this, shade this a little bit more, your timing would get off. They wouldn't hear that you were doing something different. It really made me change how to think. 'Jane, it's not how you're feeling tonight and how you want to play this. It had to do with the two of you on stage and this is how you're doing it.'
"Also, Troy (Kotsur), who I'm on stage with quite a bit as my ASL actor, can't hear laughter. Opening night, we had this unexpected laugh, we had never gotten before. Any actor knows to pause 'til the laughter dies down. Of course, he didn't. I put my hand on Troy's arm and he looked at me like 'What did I do? What did I do? What? What?' I just soothed him - slower, slower. He had no idea, but afterwards I told him what was happening. The awareness of what these ASL actors are experiencing, because they don't hear applause. They don't hear laughter. Performing for them is totally different. Actors are always, 'Why didn't I get that laugh tonight? Or the applause? You're so aware in judging how well you did in a particular night. They never had that immediate acknowledgement. They do what they do.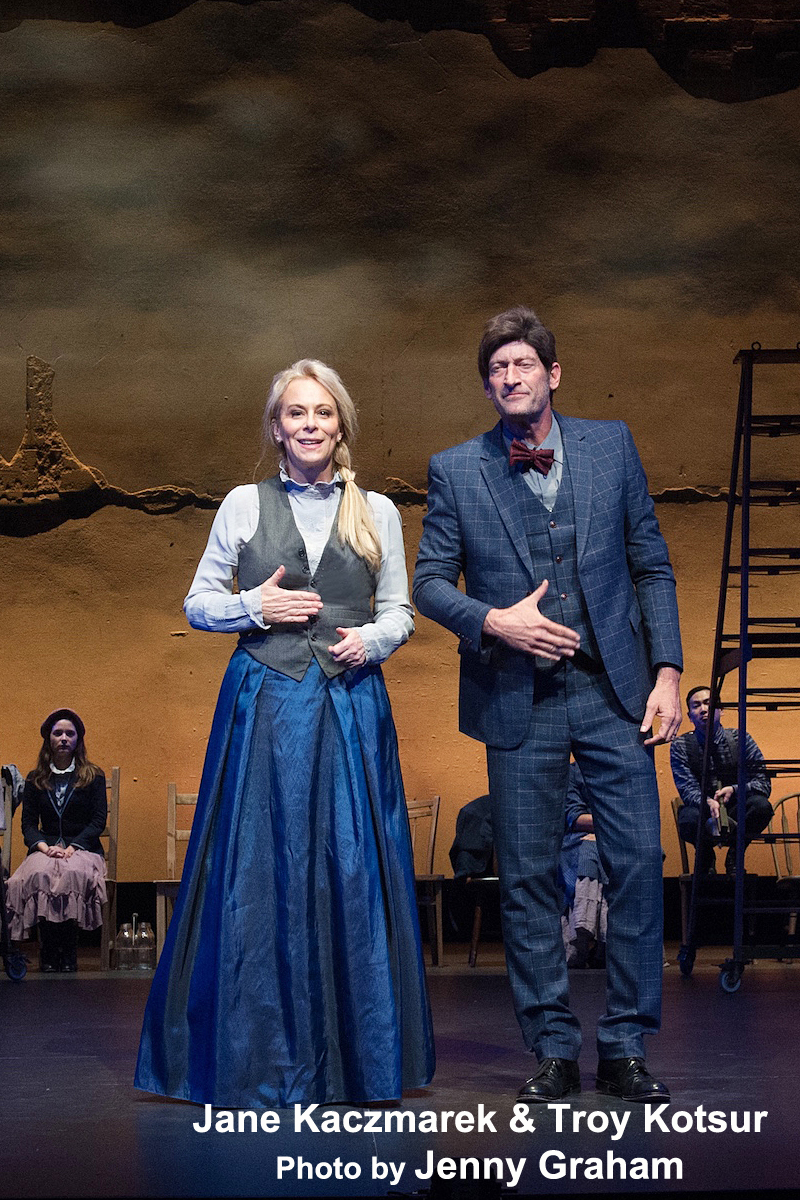 "It's been such amazing experience working with these guys. Part of working that way in front of that mirror and talking through an interpreter or talking through my little sign language, we bond so much. He and I were so naughty in rehearsal. We were yelled at, the more that we did. You're working so intimately. He's never heard a word I said, and I never heard anything he said. He doesn't speak. It's been a remarkable thing, the bond you feel with these actors. I feel really blessed having this experience for that alone, other than the play. You know, I love this play."
Jane certainly has figured out her priorities. Though offered roles out of town, she turns down the lengthy away-from-home commitments to remain in her Pasadena home with her kids. "My kids are growing up. One's has already left. My son George has his senior year in high school. Mary Louise has just started high school. Emily (in OUR TOWN) says, 'Life goes so fast.' I love being a mother. I love being here when they come home after school. I love being here in the morning when they wake up. Time of filming things is so much and it's usually out of town. Pasadena Playhouse, I can walk home like an half hour away. This is a dream come true. I'm looking forward to doing as much as I can in Pasadena until they're gone and then I'm moving back to New York. Pasadena has been wonderful. Pasadena's a great community, but I miss the seasons changing."
Jane easily segued to the shows she's seen at her neighborhood theatre - The Pasadena Playhouse, excitedly listing - right off the top of her head: "KISS ME, KATE with Wayne Brady who I just adore with a wonderful all-black cast. CAMELOT - a very sparse bare-bone CAMELOT that was really about the relationship between those three. THE HEIRESS - it was really, very good. FLY - that was fantastic about African-American pilots. And just this year, HOLD THESE TRUTHS - fabulous one-man show about a man in the Japanese internment camp. He was great."
As for another television series? "I have bid adieu to my sitcom days. If there's something interesting in television that comes along in a few episodes, I would do it. But I would never do a television series again. It's not how I choose to spend my time that's what I realize. Working twelve hours a day rehearsing OUR TOWN (which we have) is so intellectually stimulating and emotionally stimulating. Sitting on a set of a television series for twelve hours a day is a very different experience. I just feel more me. I feel more content. I feel poorer. (laughs) I don't mean to turn my nose up at television. It's been very, very, very, very good to me and if I hadn't done it, I wouldn't be able to be doing what I want to do now, for the rest of my life."
Looking back at when both Jane and her then husband Bradley Whitford 'hit' on television: "I think about how happy I was and how good my marriage was. Life was just wonderful. Brad had the pilot for West Wing and I got cast in Malcolm, which I did not want to do. I didn't want to work anymore. I just wanted to have another baby. My agent said, 'You gotta do,' and I did. I remember it was a week in May or so, 1999. West Wing called and West Wing had been picked up. Then Fox called and Malcolm had been picked up, and the next day the doctor called and I was pregnant again. I remember turning to Brad and saying, 'Wow! I wonder if our lives are going to change?' We started two nominally successful TV shows. I had three babies in five years and started having my hips replaced."
Jane remembers the first time meeting her TV husband Hal played by Bryan Cranston. "That guy, the first day I met him, they were gluing yak hair all over his naked body to shave off in the opening of Malcolm in that pilot episode. He came onto the set with this tiny little g-string covering his business The children were looking at him like...???
"That guy hasn't changed much. He is a truly good person. You can't find anybody to say anything bad about him. He loves what he does. He loves his wife. He loves his daughter. He's a really happy guy and has maintained the 'Guy from the Valley' sense of priority."
Since essaying the traditionally male role of Stage Manager, I quized Jane on what other male role she would like to try her theatrical talents at. "Atticus Finch in TO KILL A MOCKINGBIRD. I wanna wear that white linen suit. I've always been attracted to that kind of clothes, that kind of linen, kind of Brideshead Revisited linen and men's shoes. I would be the Polish, hysterical Atticus Finch."
As for any particular female leads on stage? "I thought of this recently. I'd really like to do Annie Sullivan in THE MIRACLE WORKER, but I can't get up anymore."
"Excuse me?" I remarked.
"I can't get up. There's the sitting position on the floor in the dining room. Now after four hip replacements, I can't get up unless I hoist myself on a piece of furniture. I just can't really spring into action the way it would be called for. I realize that time not only takes certain characters away because you look older, but also, orthopedically it takes some choice roles away.
"I loved doing Mary Tyrone in LONG DAY'S JOURNEY. I would actually like to do that again. I've done it twice already. I feel like, once you get all those lines memorized, plug it into different productions. I did it with Alfred Molina. We would be interested in doing it in a different place, different director.
"I had a real epiphany right before turning 60. I went back to Williamstown to do a play. It was such an amazing experience working on a new play (Tom Holloway's AND NO MORE SHALL WE PART) with Alfred Molina, and Anne Kauffman was directing it. Like being in drama school again. I was so happy and I thought, 'Why don't I do this more?' I fired my manager who had been my agent for 25 years. 'Your idea of my career is different from my idea of my career.' Did LONG DAY'S JOURNEY, then went back to Williamstown and did Jen Silverman's play (THE ROOMMATE) and now I'm doing this."
Ironic that Jane and OUR TOWN director Sheryl Kaller never crossed paths before."But we know a million people in common. Not surprising in the theatre."
In the final minutes of our phoner, I asked Jane to imagine a situation in which four of the characters she has inhabited (Margie Walsh from GOOD PEOPLE, Mary Tyrone from LONG DAY'S JOURNEY, Lois Wilkerson from Malcolm and OUR TOWN'S Stage Manager) come together.
"I don't how you'd get everybody there, but I would love them to all engage in a conversation about whether or not God exist and how they see God manifested in their lives. Where they are right now in their lives. What they have gone through. How that has affected their idea of God and if they believe in god and how they would define God in their lives now.
"Maybe Stage Manager could ask if we could go to Doc Gibbs' in Grover's Corner. Stage Manager would take charge. He's meant to do that kind of thing. Margie and Lois would become friends. They're from very similar backgrounds. They have adversity and plow on. They would swap coupons together. If there is any Jesus on earth, it's probably these guys'.
"I always believed Mary Tyrone swapped her belief in God wanting to be a nun, all her childhood saints, that ecstasy you got as a girl. I went to Catholic school, I remember that. You could talk yourself into feeling on fire with your love of God. You can do that. And you can talk yourself into your love of God. Mary Tyrone swapped her ecstasy of saints for the ecstasy of sex when she married James Tyrone. She was eighteen She was a young girl. To have a man kiss you and touch you... When that didn't pan out through sex with him, she had a baby and became addicted to morphine. Her guilt of turning away from the ecstasy of holiness to the ecstasy of carnal knowledge with her husband. I think she and Margie would get along. Lois wouldn't have any patience for her.
Capping off our most delightful interview, Jane ended on a most positive note:
"One of the things we wanted to do in doing this with Deaf West. We thought communication is so bad in the country and in the world, everybody. How do we listen? How do we communicate? And for me to find that communicating with somebody who doesn't hear... It takes a lot of hard work. You are diligent and you are after the same goal to understand what each other is saying and that's a big part of what we wanted to say in this play. However hard this is, communicate with someone you don't think you have something in common with. I have to say, the first time the Deaf West actors walked in (and I had seen some of them in previous productions), I was really intimated. They're tight. They're successful. ASL, their community is very proud and self-sufficient And I thought, 'Oh my God! How is this going to work?' I think the same thing. When you see people, you might see a Muslim or you might see somebody who's covered in tattoos or see somebody and say 'I can't possibly have anything in common with that person. I don't want to, I can't...' And I think of my intimidation seeing them on the first day of rehearsal and how I feel about them now as my friends and as my soulmates onstage It's been an amazing opportunity for me and one that I hope comes across to the audience, the importance of communication."
Go see Jane in OUR TOWN, and then take her advice on opening up your communications.
For ticket availability and performance schedule through October 22, 2017; log onto www.pasadenaplayhouse.org