BWW Interview: A Happy, Healthy Michael Kearns Purposely Hustling His Way Through Life
It's been too long since Los Angeles has had a world premiere of a Michael Kearns' creation. On January 13, 2018; Michael will open his latest dramatic composition, BLOODBOUND at Highways Performance Center. Only a little over two years ago, Michael world premiered his BANG BANG at Highways. Michael has since been keeping busy with his theatrical commitments at Skylight Theatre, QueerWise, Michael Kearns & Other Outies, and Housing Works; while always doing what he does best in his HIV/AIDS activism, and raising his now grown-up daughter Katherine. Michael juggled some of his spare moments to chat with us.
Thank you for taking time out of your crazy, busy schedule for this interview, Michael!
Where did the creative embryo/seed of BLOODBOUND come from?
Embryo/seed, huh? You must be intuitive because I believe that BLOODBOUND has had an extremely long gestation period. The-soil (sorta thing) is emotional terrain from childhood to traversing the overt excavation of where I came from, roots-in-present page novel, but perhaps, what vitalized these characters (and they are characters). And when I really began to write this piece (after gathering like a seasoned hunter mountains of research), I not only confirmed what I write best, but how I write it. That thing we call "voice" that seems to take so long to really find, and then hold on to.
What would your three-line pitch of BLOODBOUND be?
No one knows what goes on between two people, not even the two people. And no one remembers the external details, let alone all the internal muck. And how do we interpret certain incidents in our lives, that aren't yet resolved? Maybe the theater?
Are you already in rehearsals for your January 13, 2018 opening? Or is your casting not yet completed?
In rehearsals. Casting complete.
Will this be Gordon Thomson's first gay theatrical role since his coming out in September?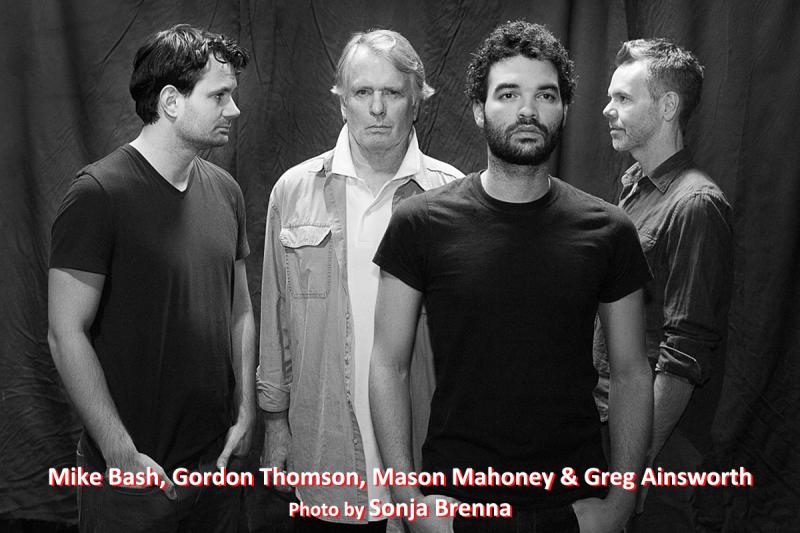 I believe it is. And whether or not that is significant - you'd have to ask Gordon. But it feels that he's landed in the right place and his immense talent will be appreciated.
You are using Indiegogo to fund your world premiere of BLOODBOUND. You must find Indiegogo effective since you used it to fund your show BANG BANG in 2015. What initially led you to use Indiegogo?
I didn't think I could raise seven dollars, let alone $7,000 (previously, that is. Our goal for BLOODBOUND is $9K), so I didn't want there to be any danger of not getting every cent we raised. I think that's what distinguished Indiegogo. They seem fair to me.
So, which came first, Moon Mile Run (your production company with Mark Bringelson and Ryland Shelton) or your show BANG BANG?
Hmmm? I believe-and I should probably check, but we live in an era of fake news, so who cares? The production company came as a result of having BANG BANG plus a few other projects that interested us.
You have a long working history with Skylight Theatre and are also the current Artistic Associate there. What factors determine whether your creations land at Skylight or at Highways (as BANG BANG did)?
I consider both places my artistic homes. We workshopped BLOODBOUND at Skylight over a two-year period; so their interest, love and support cannot be denied. But at the end of the day, it feels a bit more like a Highways piece in tenor. There's that renegade thing that I've been cashing in on since Highways opened; that's a stripe that is indelible. And while Skylight has certainly broadened its menu, it is still more genuinely mainstream than Highways. I've heard that I'm not mainstream.
I interviewed you for S.T.A.G.E. (Southland Theatre Artists Goodwill Event) in 2009 prior to you being awarded their Producers Award. S.T.A.G.E. was your brainchild you help birthed in 1984. Is it bittersweet for the May 13, 2017 IDOLS & ICONS benefit being the final show?
I certainly consider S.T.A.G.E. to be an enormous contribution and am saddened, but proud, that it survived so many years. I had not contributed to the machinery that produced the shows (in recent years) so my response may have been less than one would imagine. The landscape of HIV/AIDS is so drastically different that I think it's probably time to shake up the theatricality of S.T.A.G.E. (if it were to continue), so that it somehow reels in the audience/donors that need to be there on multiple levels. S.T.A.G.E., especially in its nascent years, was more than a fundraiser; it was a consciousness raiser, a catharsis raiser, a community raiser. Yes, financial help was, and is, needed. But the power of the event was how it functioned on so many levels for so many people for so many years.
You have always been on the frontlines for sustaining awareness of HIV/AIDS. Any plans for a S.T.A.G.E., Part 2? Or is Moon Mile Run now your 'S.T.A.G.E.' vehicle?
I recently had a conversation with Curtis Hill, the master designer who worked with S.T.A.G.E. on their posters and programs for many years, about an event that was greatly distilled, but nonetheless ignited the theater community to look at issues still swirling in HIV/AIDS' orbit: ostracism still exists as do so many tangential issues including, but not limited to, racism and classism. There continues to be a huge volume of information that comes our way but putting solutions into action seems elusive. I am not answering your question. Maybe we could do something. It's a great suggestion and one that I will certainly entertain.
I know you wrote your memoir The Truth is Bad Enough in 2012, but I always remembered reading your first non-fiction (I thought) The Happy Hustler. That was very racy in 1975. Do you remember what spark of an idea initiated The Happy Hustler?
The idea is to read The Truth Is Bad Enough (and then you'll find out all you need to know about what idea initiated THH.
I'll give you a hint: those three initials, THH.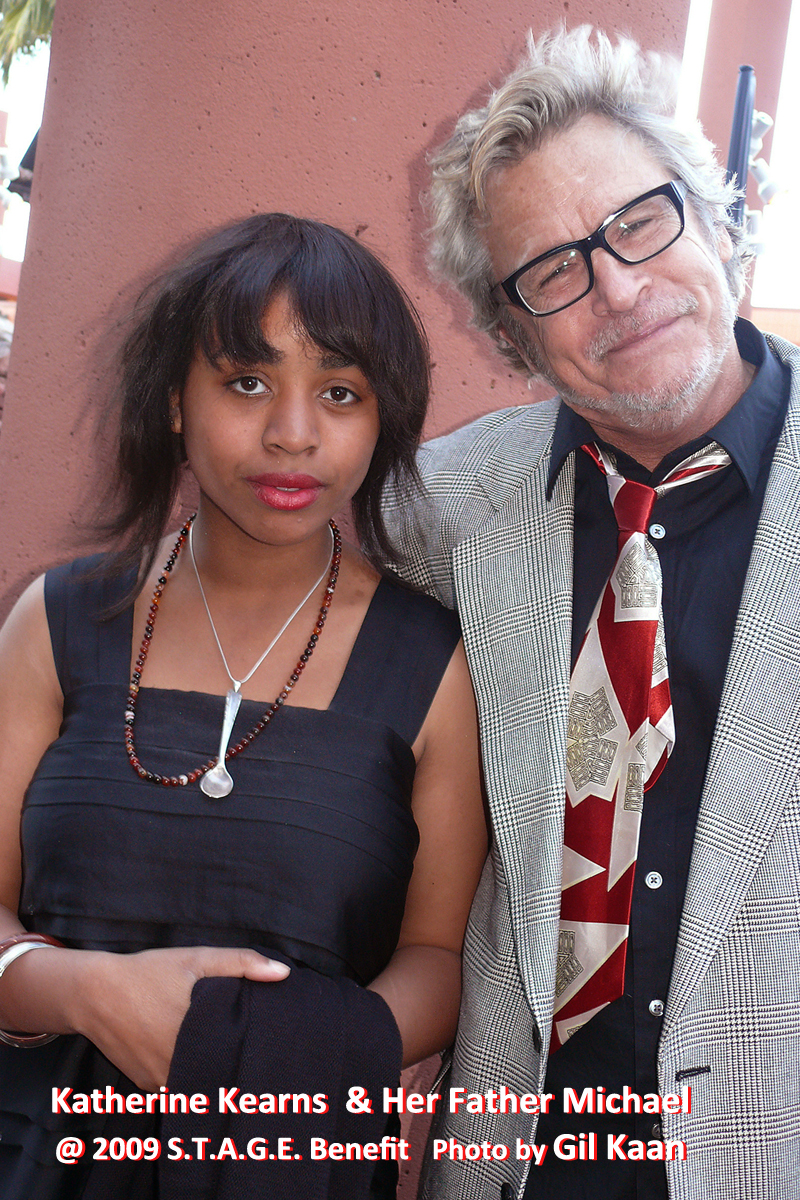 How has being the first HIV-positive, single, gay man to adopt (as well as, currently being a parent to a now grown-up daughter) changed your perspective on your outlook on life?
Katherine Kearns is the most formidable human being I have ever been lucky enough to know, let alone be her parent. Where my perspective has shifted, dramatically and almost daily, is in trying to understand the plight of being a black woman in America and the treachery that it entails. Along with that, I have learned repeatedly that I may be gay (and suffered from that fact, especially as a child) but I carry white privilege with the best of them. And I've attempted to check myself and watch for my privilege to inform decisions or the way I treat someone. These are huge lessons that I doubt I would have learned so specifically. She has also taught be about love, my imperfections, my strength, letting go.
Thank you again, Michael! I look forward to experiencing your latest creation BLOODBOUND.
For BLOODBOUND ticket availability and scheduling through February 18, 2018; log onto www.highwaysperformance.org