BRILLIANT TRACES Opens Today At The Lounge Theatre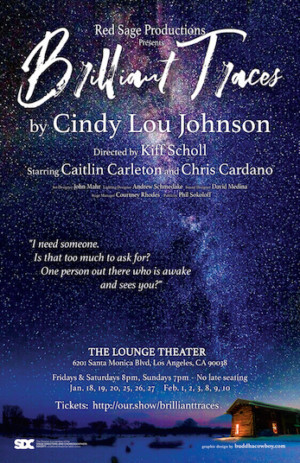 WHAT: Brilliant Traces. A play.
WHO: Written by Cindy Lou Johnson. Directed by Kiff Scholl. Presented by Red Sage Productions, Starring Caitlin Carleton and Chris Cardano.
WHERE: Lounge Theatre, 6201 Ssanta Monica Blvd., Hollywood, CA 90038.
WHEN: Opens Friday, January 18, 2019, runs through Sunday, February 10. Show times: Fri. & Sat. at 8:00, Sun. at 7:00.
ADMISSION: $20.
RESERVATIONS: (440) 465-8878.
ONLINE TICKETING; http://our.show/brillianttraces
Rosannah Deluce has been driving for days. Her car dies in a snowbound corner of Alaska. In distress, she seeks shelter in the only nearby structure, an old barn that is the home of Henry Harry, a man she does not know. She is attired in a wedding gown. She is a runaway bride.
Henry Harry is an oil rig worker who lives a hermit's existence during the periods he is not working. His solitude is a refuge from the pain and trauma of events past. The last thing he wants is company, but a beautiful woman has landed literally at his doorstep.
Both have run away from circumstances too difficult to endure. Over the next few days, alternately repulsed by and attracted to each other, they might discover that they are kindred spirits.
Cindy Lou Johnson is the playwright. Her other works for the stage include Blesse; The Years; The Person I Once Was; The New Americans; and Moonya. Her writing for television includes The Days and Nights of Molly Dodd; The Electic Company; Santa Barbara; Vietnam War Story; and more.
Kiff Scholl directs Brilliant Traces. A prolific helmer, his recent directing credits include West Bollywood; The Last Schwartz; Fuchou with Bourbon; Wicked Pagan Gays; The Red Dress; Siamese Sex Show & Future Sex Inc.; and more. He is the recipient of multiple awards.
"Director Kiff Scholl has few peers at keeping us intrigued."---Los Angeles Times
Caitlin Carleton portrays Rosannah. Her previous stage credits include Rosemary with Ginger; Eastern Standard; and A Midsummer Night's Dream.
Chris Cardano plays Henry Harry. His previous stage appearances include roles in The Big Knife and Long Day's Journey into Night. His face may be familiar from multiple appearances in TV commercials and films.
Stage manager: Courtney Rhodes. Sound design: David Medina. Set design: John Mahr. Lighting design: Andrew Schmedake.Costume design: Kathryn Juday.
The title of the play, Brilliant Traces, has its origin in a line in a poem by Avah Pevlor Johnson, the playwright's mother and a published poet : "Let my scars leave brilliant traces /For my highborn soul seeks its hell---in high places."
Cindy Lou Johnson says, " What this play is about is that we have to connect with other people. We're here. We're not isolated. Through loving, we can grow and heal and change. And as strong as our urge might be to fight it because of the pain it might cause, it's absolutely imperative that we connect.''
Related Articles View More Los Angeles

Stories

Shows
More Hot Stories For You