Ancient Tragedy Of Blood - HERCULES INSANE Debuts At The Hollywood Fringe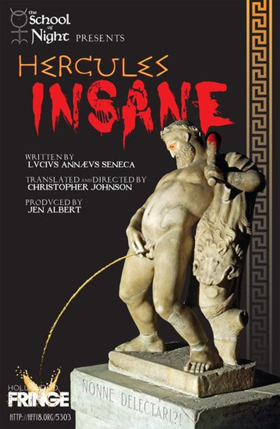 The School of Night returns to Fringe with a new translation of a seldom produced play by the largely forgotten Roman tragedian who's influence extended across two millennia to furnish the thematic, structural and poetic blueprint for all of European Renaissance drama.
Experience the rarely seen work of the playwright Kyd, Marlowe, Shakespeare, Jonson and Webster considered the all-time master of tragedy ... Lucius Annaeus Seneca.
Juno, Queen of the Gods, is pissed. It's bad enough her husband Jove has a habit of seducing mortals. But it's intolerable such an infidelity has spawned the semi-divine hero Hercules. By dispatching countless monsters to eliminate Jove's bastard, Juno has inadvertently furnished him serial triumphs to cement his fame. And now Hercules has invaded the underworld to conquer death itself.
But Juno has one last trick to try. Employing darkest magic she curses her hated stepson to go insane.
When Hercules returns from the underworld to discover Greece conquered by a tyrannical warlord, he leaps into martial action in his homeland's defense. His certain triumph may prove short lived, however. For when Juno's curse takes hold Greece will face the unstoppable wrath and violent rage of a demi-God gone murderously insane.
The School of Night is proud to present a Neronean spectacle of poetic bombast, gut-wrenching tragedy, mythic adventure, mask melodrama, gladiatorial combat, classical Indian dance, live human sacrifice, toxic masculinity, feminine wrath, murderous insanity and bloody horror.
Are you not entertained?!
Lucius Annaeus Seneca (Playwright) was born a Roman citizen about 4 B.C. in Cordoba, then a Roman outpost in the recently conquered Province of Hispania. Around age 10 he was brought to Rome where he received a patrician education steeped in rhetoric and philosophy. He entered Roman public life in his thirties, campaigning for civic office and composing the earliest of his stoic philosophical works. He soon came under what would prove the fateful patronage of Agrippina, sister to then-Emperor Caligula. In 49 A.D. Seneca was hired as tutor to Agrippina's son Lucius Domitius Ahenobarbus. When only five years later young Ahenobarbus become the Emperor known to history as Nero, Seneca was appointed his speechwriter and chief advisor. As Nero degenerated into murderous megalomania over the next decade, Seneca composed numerous works of moral philosophy (and perhaps plays) intended to curb the Emperor's worst instincts. In 65 A.D. Seneca was implicated in a conspiracy to assassinate Nero and forced to commit suicide. In addition to Hercules Insane, Seneca is the confirmed author of the plays Thyestes, Medea, Oedipus, Phaedra, Trojan Woman, Agamemnon and a fragmentary Phoenician Women.
Christopher Johnson (Translator/Director) is a co-founder of The School of Night for whom he has directed Punch and Judy, The Final Girl and The Faggot King or The Troublesome Reign and Lamentable Death of Edward II. Other Los Angeles directing credits include Entropy (Theatre of NOTE), The Pity of Things - Desert Aria (also Theatre of NOTE) and Henry VI, Part I (The Production Company). Before LA Christopher was the founding artistic director of Chicago's historic Defiant Theatre for whom he served as producer on dozens of projects including the U.S. premieres of Sarah Kane's Cleansed and Phaedra's Love and multiple iterations of the cult-classic Action Movie: The Play. Defiant directing credits include Macbeth, Titus Andronicus, Hamlet, A Clockwork Orange and Dope. Chris also penned and directed Defiant's world-premiere adaptations of Stephen King's Apt Pupil and Thomas Harris's Red Dragon (Joseph Jefferson Citation for Best New Adaptation). Other Chicago directing credits include Balacarita: The Adventures of Young Krishna (Silk Road Theatre Project), Cave Dwellers (North Avenue Productions) and Dulcitius (The School of Night, pre-LA). Christopher has appeared as an actor at The Goodman Theatre, Chicago Shakespeare Theater, Lyric Opera, Chicago Opera Theatre, Redmoon Theater, The Building Stage, A Crew of Patches and Defiant Theatre.
Jen Albert(Producer/Fight Choreographer) Jen is an actor, producer and an award winning fight choreographer. She earned a BA in theatre from Columbia College Chicago where she became SAFD certified in all manner of stage combat before going on to get her Blue Belt in Kenpo. She is an emeritus company member of Babes with Blades, Chicago's first all-female stage combat theatre company, with whom she traveled to Scotland to perform at the Edinburgh Fringe Festival. She is currently a faculty member of Art of Acting - the Conservatory of Stella Adler in Hollywood where she teaches stage combat. Some Los Angeles fight choreography credits include: Romeo and Juliet (The Vagrancy), Year of the Rooster (Theatre of NOTE), The Final Girl, Punch and Judy (School of Night)(2016 LADCC award for Fight Choreography, Stage Raw Nominee), Entropy (Theatre of NOTE), Fifty Shades of Shrew (Broads' Word Ensemble), The Noir Series (Heretick Theatre Lab), Conduct of Life and Down in the Face of God (The Vagrancy), Henry VI, Part I, Very Still and Hard to See, and The Beauty Queen of Leenane (The Production Company). Favorite roles as an actor include: Kate in Fifty Shades of Shrew, Inez in Women w/o Walls (Broads' Word Ensemble), Poison Inniman in Action Movie the Play (Defiant Theatre), Gwen in Fifth of July (The Production Company) and Yvonne in War (Theatre Banshee). Jen teaches a weekly group stage combat class, one on one private training and occasional self-defense classes.
The cast: Jen Albert, Dawn Sam Alden, Jason Britt, Tiffany Cole, Alex Elliot-Funk, Andre Ing and Christopher Neiman. Production staff: Esther Mira (Dance Choreographer), Linda Muggeridge (Costume Designer), Ryan Beveridge (Sound Designer) and Andrew Leman (Graphic Design).
There will be one preview performance on Monday 6/4 - 8:30pm. Regular performances are Saturday 6/9 - 9:15pm, Sunday June 10 - 9:15pm, Thursday June 14 - 9:15pm, Friday June 15 - 10:45pm, Sunday June 17 - 12:30pm, Friday June 22 - 7:45pm and Saturday June 23 - 9:30pm.
Tickets are $7.50 for the preview (6/4) and $15 for regular performances. Tickets may be purchased online at www.hollywoodfringe.org/projects/5303
All performances are at The Complex Theatres (Ruby Theatre), 6476 Santa Monica Blvd., Los Angeles, CA 90038.
The School of Night is a not-for-profit theatre company dedicated to the textual preservation and live presentation of the dramatic works of the European renaissance and their antecedents: the folk and religious dramas of the middle ages, the tragedies, comedies and spectacle entertainments of pagan Rome and the ancestral dramatic forms from which these derived.
The School of Night strives to employ a combination of the finest theatrical artistry and dramaturgical scholarship to create performances that evoke for a contemporary audience the same emotional immediacy, linguistic power, charged spirituality and theatrical vitality that these entertaining, artistically influential and culturally significant gems of world theatre provided audiences in their own times.
More Hot Stories For You