Bay Street Theater to Honor Joel Grey at Annual Gala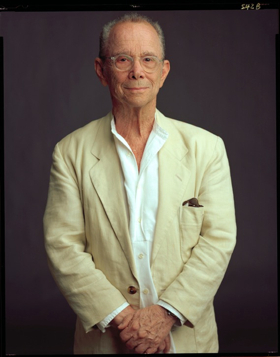 Bay Street Theater & Sag Harbor Center for the Arts announces that Joel Grey will receive the first Joel Grey Lifetime Achievement Award at this year's 28th Annual Summer Gala to be held at the new location of Wölffer Estate Vineyard on Saturday, July 6. The Award will be given out each year at future Bay Street Galas to honor someone in the theater and entertainment industry who has made a major impact in the world of the performing arts. The evening will be hosted by Isaac Mizrahi and proceeds from the evening support Bay Street's educational and theatrical programs. The evening includes a silent auction, cocktail party, live auction with celebrity auctioneer Richard Kind, dinner and dancing as well as special performances.

The Gala Chairs this year are Board of Trustee member Mala Sander along with her husband Jeff Sander. In addition to Joel Grey, the evening will also honorAndrea K. Wahlquist, a Bay Street Theater Trustee. Peconic Landing will be honored as a dedicated Community Partner. In addition, Bay Street Theater will announce the formation of the Michael Downing Acting Apprenticeship Program, in memory of the young actor who appeared in Bay Street's very first production of Men's Lives and who served as an inspiration to all who knew him.

"This year's gala is titled 'If Your Friends Could See You Now,' and it will celebrate the Broadway musicals of the 1960s," according to Scott Schwartz, Bay Street Theater's Artistic Director. "It's going to be so exciting to put together a dazzling dinner and performance, and to celebrate the legendary Joel Grey and our other honorees at the beautiful new Gala location at Wölffer Estate Vineyard."

The evening's show will be written by Kellen Blair and Joe Kinosian (Murder for Two) and includes choreography by Shannon Lewis (The Secret Silk, Stuck) who also starred as "Ursula" opposite Christina Applegate in the Broadway revival of Sweet Charity. The show features a concert with songs from many of the most beloved 1960s Broadway musicals of all time, such as Cabaret, Fiddler on the Roof, Hair, Man of La Mancha, Sweet Charity, and more.

Performers will include Mauricio Martinez, an Actor & Recording Artist from Mexico, who recently starred as 'Emilio Estefan' in the Broadway Musical On Your Feet! The Story Of Emilio & Gloria Estefan and can currently be seen in the Emmy winning NBC Universo's original TV series "El Vato" on Netflix. Also performing is Samantha Massell, a New York based actress and singer who has appeared on Broadway, TV, movies, on the cabaret scene, and in a variety of commercials. She was last seen on Broadway as Hodel in the acclaimed 2015 revival of Fiddler on the Roof. Jon Peterson Broadway & Off-Broadway credits include Midnight at the Never Get, Cabaret, George M. Cohan Tonight and Half a Sixpence. London West End credits include The Sound of Music, A Chorus Line, Dames at Sea and more.

The evening's live auction items include a week at the beach in St. Barth's for 4 at a luxury 2- bedroom house, provided by WIMCO VILLAS, complete with unparalleled concierge service, and roundtrip flights to the island from San Juan on the high end Tradewind Aviation carrier. Other items include an 8-day cruise on Viking Cruise Lines for 2, a walk on role in the Romeo & Juliet Project featuring the music of Pat Benatar and Neil Giraldo with dinner for 8 guests in Mashashimuet Park. This year's auction will be facilitated by GiveSmart, a third-party platform that will allow guests to bid and pay for items and receive auction updates in real time. Registration with GiveSmart is required to participated in the evening's festivities, so guests are encouraged to do so beforehand with their preferred payment method (and avoid long lines at check in!) by visiting BSTgala.givesmart.com, or texting BSTgala to 52182.

Past attendees at Bay Street's Gala include Broadway and film luminaries, business leaders and some of the most influential people in the theater and local communities: Arlene & Alan Alda, Julie Andrews, Alec Baldwin, Chris Bauer, Joy Behar, Bob Balaban, Mel Brooks, Kim Cattrall, Chevy Chase, Blythe Danner, Edie Falco, Jules Feiffer, Dan Gasby, Kelsey Grammer, Billy Joel, Star Jones, Richard Kind, Nathan Lane, Susan Lucci, Terrence McNally, Rosie O'Donnell, Mercedes Ruehl, Liev Schreiber, Stephen Schwartz, Susan Stroman, B. Smith, Aida Turturro, Naomi Watts and Robert Zimmerman, to name a few.

This year's sponsors (list in progress) include: Age Focus, Air Hamptons, BNB, Corcoran Group, JillLynn Jewelry, Peconic Landing, Searles Graphics, Sag Harbor Florist, Sterling Affair, The Carpetman, Tradewind Aviation, Unlimited Earth Care, Viking River Cruises, WIMCO Villas in St. Barth's, and Yave Tequila. Media sponsors include Hamptons Magazine, Dan's Papers, Beach Magazine, WBAZ, WEHM and WLNG.

Tickets and tables are available with special pricing for younger attendees. Visit baystreet.org, email Development Manager Emma Ruben, emma@baystreet.org or call the Development Office at 631-725-0818. Tickets range from $450 and up, with additional special pricing for Peconic Landing residents. Others interested in sponsorship opportunities should contact Paul Anthony at paul.anthony@baystreet.org.

Joel Grey: Broadway: Chekhov's The Cherry Orchard (Roundabout Theatre Company), Anything Goes, Wicked, Chicago, George M! (Tony Award nom.), Cabaret (Tony Award). Off-Broadway: The Normal Heart, in 1986, co-directed the Tony Award-winning Broadway premiere in 2011. Film: Cabaret (Academy Award), Buffalo Bill and the Indians, Remo Williams: The Adventure Begins, Dancer in the Dark, The Seven Percent Solution, Man on a Swing. Joel is an internationally exhibited photographer with four published books, Pictures I Had to Take (2003), Looking Hard at Unexamined Things (2006), 1.3-Images From My Phone (2009) and The Billboard Papers (2013). His memoir, Master of Ceremonies, was released in 2016 (Flatiron Press).

Isaac Mizrahi is an actor, host, writer, designer and producer and is the subject and co-creator of Unzipped, a documentary following the making of his Fall 1994 collection which received an award at the Sundance Film Festival. He hosted his own television talk show The Isaac Mizrahi Show for seven years, has written three books, and has made countless appearances in movies and on television. He served as a judge on Project Runway: All-Stars for the series' entire seven-season run. Mizrahi has directed productions of A Little Night Music and The Magic Flute for the Opera Theatre of St. Louis. Annually, he directs and narrates his production of the children's classic Peter and The Wolf at The Guggenheim Museum in New York. He has performed cabaret at Café Carlyle, Joe's Pub, Bay Street Theater and City Winery and recently toured throughout the US and Canada in Spring 2019. He will return to Music Mondays at Bay Street Theater on August 27 with an all new show. His New York Times bestselling memoir, I.M., was published in February 2019.

Richard Kind is an actor and voice actor, known for his roles in sitcoms such as Mad About You and Spin City and recently Amazon's Red Oaks. His Broadway credits include The Producers, The Big Knife (Tony nomination) and The Tale of the Allergist's Wife. Films include A Bug's Life, Cars, Inside Out. Audiences raved about his performances in Bay Street Theater's productions of Enter Laughing, Romance, Travesties, and The Lady in Question. Richard has been the celebrity auctioneer for many years at the Bay Street Theater Gala and he is also a long-standing member of the Bay Street Theater Board of Trustees.

Bay Street Theater & Sag Harbor Center for the Arts is a year-round, not-for-profit professional theater and community cultural center which endeavors to innovate, educate, and entertain a diverse community through the practice of the performing arts. It serves as a social and cultural gathering place, an educational resource, and a home for a community of artists.
Photo Credit: Timothy Greenfield Sanders
More Hot Stories For You