BWW Review: 'We Think You're Gonna Like It Here' - CM Performing Arts Center's ANNIE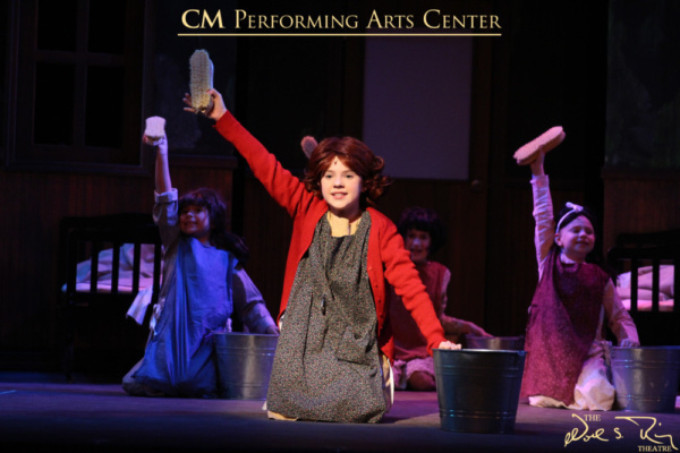 "It's beginning to look like Christmas" across the Island. This weekend was full of celebrations ranging from Port Jefferson's annual Dicken's Festival to various tree lightings. However, if you're looking to enjoy some holiday cheer in the comfort of a toasty theater look no further than the Noel S. Ruiz Theatre at CM Performing Arts Center's production of the family favorite "Annie."
Lavish sets by the masterful Patrick Grossman, a spacious house with a majority of plush red seats and some of the best talent on the island - this production is nothing less than you would expect from this company. Although there are multiple other companies also producing "Annie" this season I must say this would be quite difficult to top.
The show begins with entrance applause for young Dori Ahlgrim, Annie, as she kicks off the scene that leads into the lullaby "Maybe," executed perfectly by the actress with a balance of fiest and childlike awe at the idea of someday finding her family. This only marks the beginning of a star-in-the-making performance by Ms. Ahlgrim. Note, she is a member of the productions "Red Cast" as opposed to the "Green Cast," which is made up of a different Annie and ensemble of orphans.
Perfectly squashing the melodic tune, CM regular Jessica Ader-Ferretti practically pummels through the door with the drunk incoherence of the villainous Miss Hannigan. Her small frame adds to the comedy, as she faces off against the "Little Girls" she later agonizes over in song, since she is only a few inches taller than her nemeses.
In all honesty you can tell what kind of production of "Annie" you're in for purely based on its rednition of "It's a Hard Knock Life" - and CM's does not disappoint. While the choreography, created by Ashley Nicastro, does satisfy audience expectation with the pop culture snapshot of slamming buckets, she also adds dynamic gymnastics and possibly a nod to the 2013 Broadway revival in which the orphans are literally used as mops as other orphans drag them by their feet. From "Hard Knock Life" to "You're Never Fully Dressed Without a Smile," the orphans prove they were the cream of the crop and have many shows ahead of them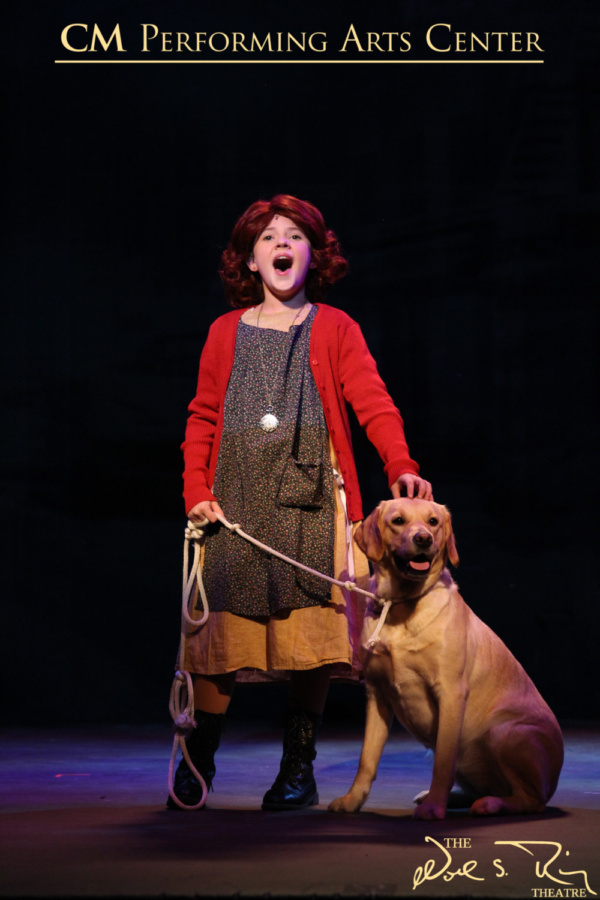 Ms. Ahlgrim embraces the spotlight once more a few scenes later with the big number "Tomorrow." Her voice is exceedingly mature for her age, which has always been part of the appeal of Annie. She is tough and mature beyond her years, but she still embraces the wonders of being a child despite her circumstances.
While this is a show most audiences feel comfortable reciting number after number, they often forget about the less memorable songs like "Hooverville" - an often subpar ensemble song Annie witnesses after running into a corner of town where the victims of the Depression dwell. Although it would be the first song to cut if it were in my hands, I have to say that CM did the best rendition of it I have seen to date. The ensemble embraced its absurdity and established characters within the ensemble that were as fleshed as as possible in a 3-minute number.
Additionally, this strong ensemble make even the forgettable "You Won't Be an Orphan for Long" and the subpar finale song choice, "A New Deal for Christmas" enjoyable. However, I wish the licensing company would release a version that concludes with the far superior "I Don't Need Anything But You" - which might be the only thing the 1982 film got right.
There are countless ensemble numbers in "Annie," but NYC will always be an audience favorite - especially in New York! Ensemble member Noelle Eichenlaub wows the audience with a sudden solo as the "star-to-be" with a killer belt and eyes that gleam with the passion to follow her dreams.
I could go on for pages about the memorable performance in this production, but I will try to be concise. CM's ingenue Katie Ferretti, who once again proves why she's earned a reputation as one of Long Island's finest performers, plays Oliver Warbucks' secretary Grace Farrell. While many actresses play the role with all the personality of a Stepford Wife, Ms. Ferretti adds a tone of cheekiness and self-awareness that set her apart from most Graces. It's also amusing to see her face off against her real-life wife Ms. Ader-Ferretti in their scenes together.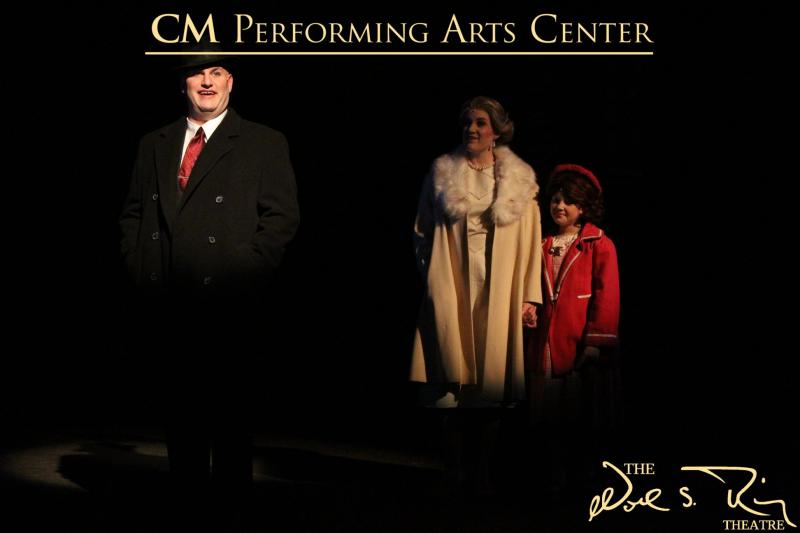 Timothy J. Conway provides a both formidable and eventually tender Daddy Warbucks. After last seeing him in "Priscilla Queen of the Desert" I was truly in awe of his versatility as an actor. Again, I wish the licensing company would find a way to improve the score because Warbucks' big number "Something Was Missing" is literally missing something. I feel a character of his pop culture status deserves a better song, especially since his character experiences the greatest evolution. However, Mr. Conway delivered it with the right amount of tenderness to break hearts.
Now, whenever anyone brings up "Annie" to me I am compelled to say one thing: "It's only as good as its villains." "Easy Street" is personally my favorite villain song in musical theatre and CM's rendition blew me away easily earning the title of best number.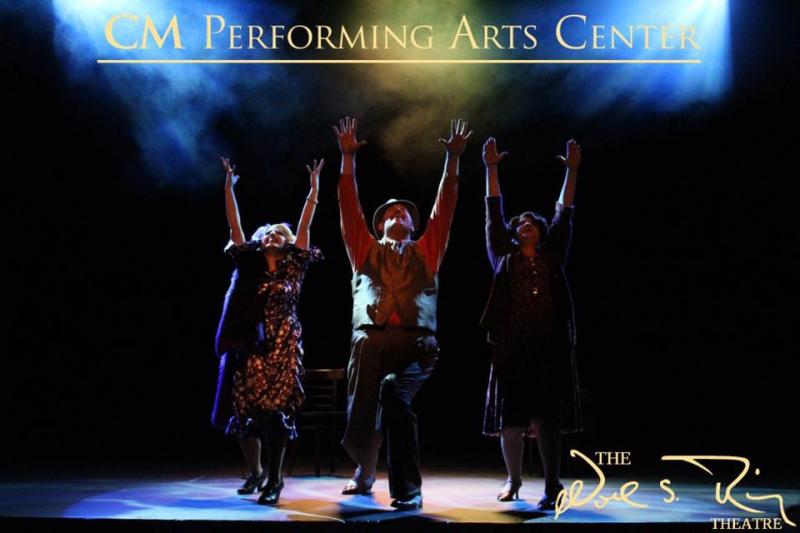 Ryan Nolin is perfectly cast as Miss Hannigan's mischievous, but deadly, Rooster Hannigan - and Jaclyn Ruggero pulls off Lily St. Regis, worthy of the title "dumb hotel" she receives from the female Hannigan. The jazzy, borderline sexy choreography mixed with the stellar vocals from the three villains makes you want to root for these scoundrels as they conclude the showstopper.
One costume choice that caught my eye was the absence of Annie's signature curly perm at the conclusion of the show. Although most audiences except this, I respect costumer Ronald Green III's choice to go for a more subtle look. Annie is a child and throughout the show it is made clear that Mr. Warbucks and Grace accept her choices so it makes sense that she would only need a smile to be fully dressed.
"Annie" can get a bad rap since it is the go-to musical for many mediocre middle school productions and has never really had a successful film adaptation. However, CM's production of "Annie" will surely remind the child in all of us why we fell in love with the songs, the story and its heartfelt message to begin with. If there's one show to see this season - this is it.
Related Articles View More Long Island

Stories

Shows