BWW Review: SWEENEY TODD: THE DEMON BARBER OF FLEET STREET at Merrick Theatre & Center For The Arts
Long Island theatre patrons have the opportunity to attend the tale of a "killer" production of Stephen Sondheim and Hugh Wheeler's horror musical "Sweeney Todd: The Demon Barber of Fleet Street" at the Merrick Theatre & Center For the Arts until August 20.
Inspired by a Victorian penny dreadful, the macabre musical tells the tale of a barber who seeks revenge on those who wrongfully imprisoned him and took his family away in London.
Leading this intimate cast of just nine performers is Bob Butterley. The veteran Long Island and regional theatre actor gives a master class in acting and vocals as the titular Todd with his goosebump-inducing performance - perfectly balancing dramatic anguish with dark - very dark - humor.
Joining him is his real-life wife Joy Butterley as the devious Mrs. Lovett - a pie-shop owner who assists Todd in his murder streak by baking the flesh of his victims into meat pies. With legends like Angela Lansbury and Patti LuPone known for their portrayals of Lovett it can be a challenge to keep the role original, however, Ms. Butterley carves herself a place among the greats with her comic timing, flawless vocals and manic energy.
Adam Brett and Amanda Geraci step into the romantic leads of Anthony and Johanna - Todd's daughter - respectively, and create a true on-stage eruption of love blooming at first sight. Brett's performance of "Johanna" is subdued, but powerful as he unfolds his plan to save her from the clutches of the vicious Judge Turpin - played by the talented John J. Steele Jr. in a sinister turn from his usual comedic roles - who plans to marry the young woman he has kept as his ward since Todd's arrest and removal to Australia. Meanwhile Geraci is truly gifted with a soaring soprano that not only compliments her key number "Green Finch and Linnet Bird," but throughout the many choruses of the "Ballad of Sweeney Todd."
Each actor that graces the stage brings their own talent to the production. Cai Radleigh as The Beadle - a role normally played by a male actor - is perfectly menacing as they assist Judge Turpin in his evil plans. Meanwhile, John Hudson is delightfully cunning as Pirelli - a competitor barber who attempts to blackmail Todd - with flawless tenor vibrato and an unwavering Italian accent. And in his second mainstage role this summer, Jimmy Schumacher melts hearts as the simple minded youth Tobias who remains ignorant of Mrs. Lovett's true malice and swears his allegiance to her in a tear-inducing rendition of "Not While I'm Around." Meanwhile Cathy Chimenti shrills and shrieks as the tragic beggar woman, masking her skilled soprano in psychotic ramblings.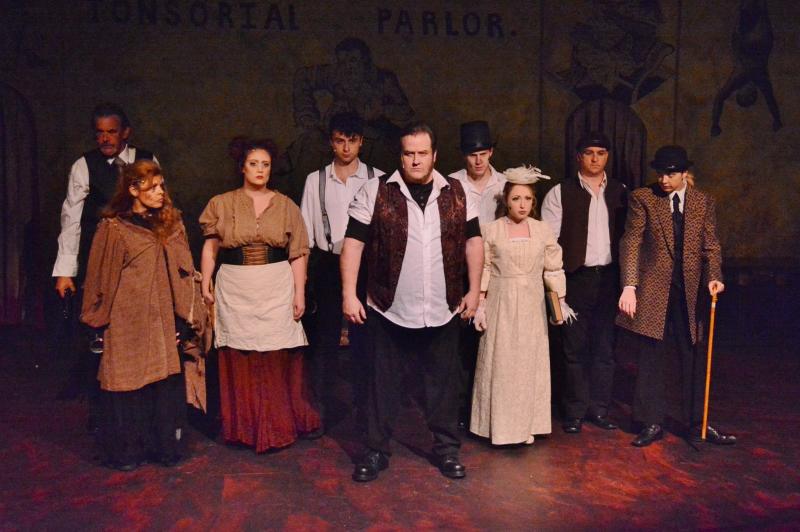 While this might be one of the most talented casts performing on Long Island right now, they wouldn't be quite as strong without the craftsmanship supporting them. Once again Tommy Ranieri has created community theatre gold with his inspired choices and unique perspective as a young director. Meanwhile, Zach Mandernach expertly directs a large orchestra to create all the creaks and tremors of the atmospheric world of Sweeney Todd. Bobby Montaniz also plays a role in completing the picture with his subtle yet rhythmic choreography that gives each player a purpose while moving across the stage. And Meagan Materazo cements the feeling of the Victorian age with her beautifully grim costumes.
And I cannot complete this review with raving about the beautiful set complete with paintings from the actual penny dreadful the musical is based upon by Colin O'Leary. Any company would be extremely lucky to have him in their corner when it comes to scenic design.
Once again, the Merrick Theatre has proved they are a force to be reckoned with in the Long Island theatre community.
-------------
"Sweeney Todd: The Demon Barber of Fleet Street" is presented by the Merrick Theatre & Center for the Arts through August 20. For more information and to purchase tickets, please call 516-868-6400 or visit www.merrick-theatre.com/home
Music and lyrics by
Stephen Sondheim
. Book by
Hugh Wheeler
. Directed by Thomas Ranieri, Musical Direction by Zach Mandernach, Choreography by
Bobby Montaniz
, Costume Design by Meagan Materazo, Lighting Design by Nicholas Cariello, Sound Design by Jessie Barenzano, Stage Management by Julia Bregy, Assistant Stage Management by
James Gorman
, Graphic Design by
Kevin Burns
, Produced by Joe Mauro. Starring: Bob Butterley as Sweeney Todd, Joy Butterley as Mrs. Lovett,
Adam Brett
as
Anthony Hope
,
Amanda Geraci
as Johanna, Jimmy Schumacher as Tobias Ragg,
John Steel
e as Judge Turpin, Cathy Chimenti as the Beggar Woman, Cai Radleigh as The Beadle,
John Hudson
as Pirelli
#merrickmeatpies
Related Articles View More Long Island

Stories

Shows