BWW Review: HAIR at Merrick Theatre & Center For The Arts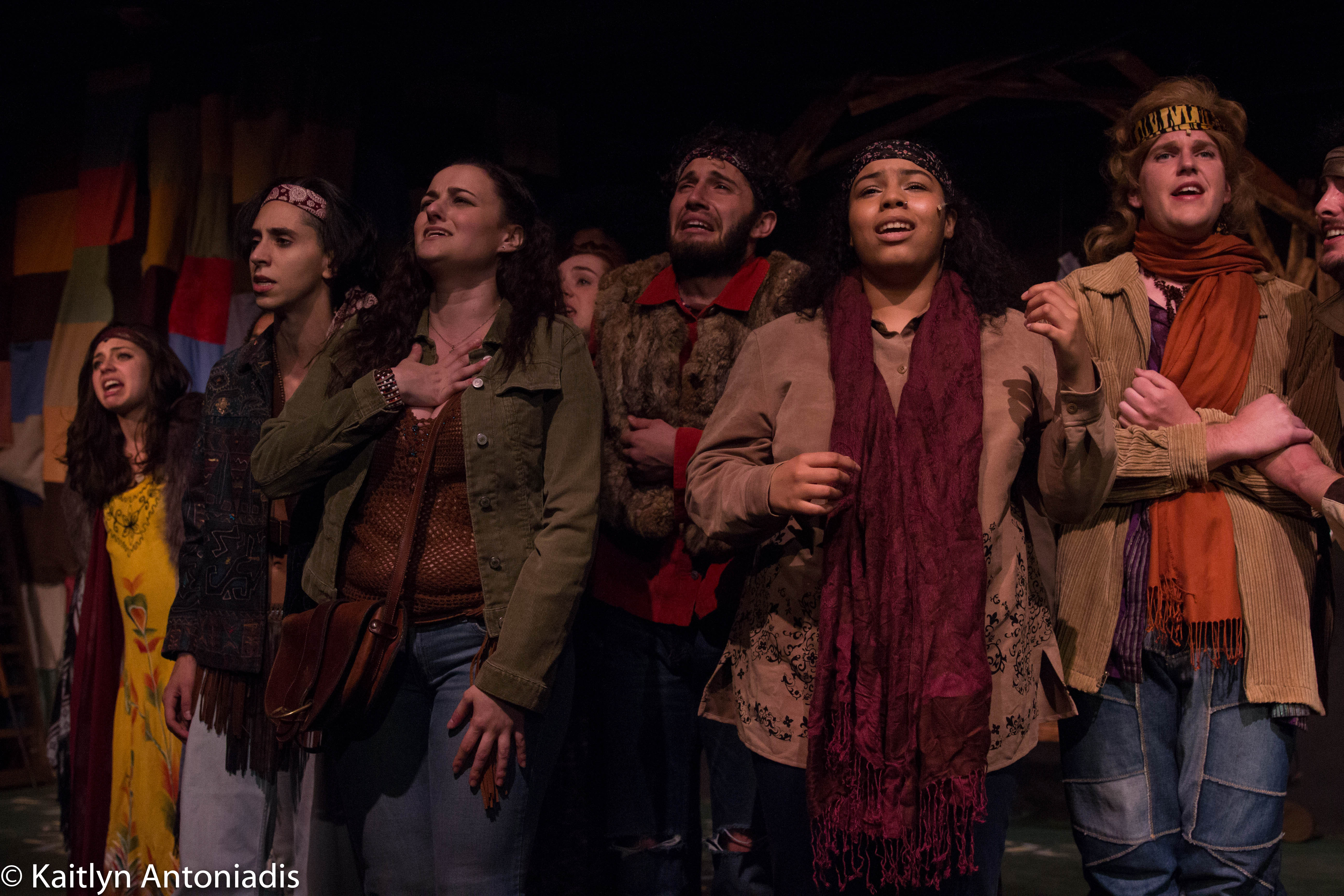 The "summer of love" has officially dawned at The Merrick Theatre as an energetic and inspired production of the tribal rock musical "Hair" plays until July 16.
Director Thomas Ranieri breathes new life into what could have been a dated production with the help of a truly diverse and gifted cast. His choices are fresh and push the boundaries of what the piece can mean for today's audiences.
The tribe opens the show by breaking the fourth wall - something they do quite often throughout the show - and giving the audience some background knowledge about the show before breaking into the hypnotic number "Aquarius," led by Savannah Beckford and her killer vocals.
Gradually, we are introduced to the rest of the tribe. My main qualm with this show has always been the weak characterization of the players - save for a few identifying characteristics - however, this particular cast lends a deeply personal approach to their characters resulting in a much stronger production than most.
The talented Jacqueline Hughes leads the pack as the eccentric Berger. Her stage presence is undeniable as she guides the tribe through their trips and hijinks. She has the ability to switch from comic relief to a dramatic lead in a beat.
Also in the forefront is Jimmy Schumacher as Claude. His charismatic renditions of "Manchester England" and the titular "Hair" are a few of the standout numbers in the show thanks to strong vocals and exuberant spirit.
Ashley Nicastro also makes an impression as NYU student and activist Sheila. Her rendition of "Easy to Be Hard" - made famous by Three Dog Night's recording - is both poignant and galvanizing as she questions the motivations of her fellow tribe members.
While the leads all provide a backbone, the ensemble defines the true spirit of the musical. Both Gabrielle Kalomiris and Juliana Chimenti as the very pregnant Jeanie and the very dreamy Chrissy, respectively, give spirited performances. Meanwhile, Niko Touros' Woof - who often declares his shameless love for Mick Jagger - entertains with the cheekily amusing "Sodomy." Robins Prophete is also a fierce presence with his hypnotic baritone.
And in one of the show's standout moments, John Wixted steals the spotlight in drag as Margaret Mead - a middle-aged tourist who stumbles across the tribe and declares that they should be free to do as they like.
Overall, it is undeniable how well cast this production is.
Scenes are also enhanced by vibrant choreography by Bobby Montaniz and impressive musical direction by Jeremy Kaplan, who leads a talented pit that proves once again that live music can bring a show to a different level than with tracks.
Without a doubt this is not a production to be missed.
---------------------------------------------------------------------------
"Hair" is presented by the Merrick Theatre & Center for the Arts through July 16. For more information and to purchase tickets, please call 516-868-6400 or visit www.merrick-theatre.com/home
Music by
Galt MacDermot
. Book and lyrics by
James Rado
and
Gerome Ragni
. Directed by Thomas Ranieri, Musical Direction by Jeremy Kaplan, Choreography by
Bobby Montaniz
, Scenic Design by Thomas Ranieri, Costume Design by Meagan Materazo, Lighting Design by Nicholas Cariello, Sound Design by Jessie Barenzano, Stage Management by Julia Bregy.

Starring: Jacqueline Hughes as Berger, Niko Touros as Woof, Robins Prophete as Hud, Jimmy Schumacher as Claude, Gabrielle Kalomiris as Jeanie, Savannah Beckford as Dionne, Juliana Chimenti as Crissy, Ashley Nicastro as Sheila, John Wixted as Margaret Mead, John Dunphy as Hubert, and Elizabeth Earle, Annie Fitzgerald, Steffy Jolin, James Merchant, Justin Steele and Shaina Stroh as others in the tribe.
Related Articles View More Long Island

Stories

Shows