Review: GUYS AND DOLLS at The Argyle Theatre
Another opening, another show, but this time it's at a brand new theater in Babylon Village. No longer will we have to deal with the unpredictable LIRR to see a hit musical, we can see a big Broadway show with big Broadway names both on and offstage right here on Long Island. The radiant and comfy-cozy Argyle Theatre just opened it's doors for the first time with a dazzling production of Frank Loesser's "Guys and Dolls."
Artistic Director and Broadway star Evan Pappas brought the best and brightest in show business together to make the Argyle's debut production an outstanding one. Lovable characters, fabulous dancing, and memorable melodies that you sing all the way home make this Broadway chestnut everlasting. Gamblers Nathan Detroit and Sky Masterson, Sneezy Hot Box dancer Miss Adelaide, and Save-A-Soul Sarah Brown are all here in fine form.
Todd Buonopane of Broadway's "Chicago" and "Cinderella" is a sensational Nathan and is paired perfectly with the hysterical Elizabeth Broadhurst as Miss Adelaide. Broadway's "Romeo and Juliet" star Spencer Plachy is a suave and debonair Sky Masterson who is after the young and angelic Sarah Brown, played by the enchanting Melissa Maricich who graces the stage with her gorgeous soprano voice. All four leads blend beautifully together and execute great chemistry- yeah, chemistry.
Ru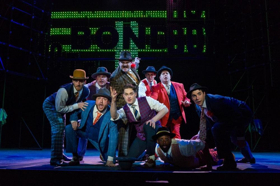 nyonland is inhabited by many over the top and colorful characters who define musical comedy. Robert Anthony Jones as Nicely Nicely Johnson and Gerard Lanzerotti as Benny Southstreet are simply marvelous. They certainly have Nathan's back and everyone should have friends like them! Datus Puryear as Rusty Charlie/Master of Ceremonies, Connor Cook as Harry The Horse, and Cody Marcukaitis as Joey Biltmore/Big Jule are all wonderful and have magical musical moments. The high energy ensemble, especially dynamite duo David A. Ferguson and Tom Giron, is filled with swell singers and dancers who glide across the new stage with ease. Let's not forget Nancy Evans who makes General Cartwright a real hoot!
Kudos to choreographer Tara Jeanne Vallee for keeping the cast on their fabulous feet and to the entire expert creative team for delivering such a bright and twinkly atmosphere. Finally, special thanks to multitalented actor and Argyle's Director of Communications Jojo Minasi for welcoming us and being such a gracious host. Long Island is blessed that Mr. Pappas brought his Broadway expertise to the Argyle. He gave us a new, fresh and invigorating "Guys and Dolls," raising the bar for Long Island theater and definitely setting the Argyle stage for future smash productions to come!
----------------------------------------------------------
For more information and tickets please visit their website at: www.argyletheatre.com or call: 844-631-5483
Starring: Elizabeth Broadhurst as Miss Adelaide, Todd Buonopane as Nathan Detroit, Piera Calabro as Vernon, Connor Cook as Harry the Horse, Nancy Evans as General Cartwright, David A. Ferguson as Society Max, Tom Giron as Liver Lips Louie, Whitney Renee Hickman as Agatha and Allison, Robert Anthony Joes as Nicely Nicely Johnson, Danielle Sue Jordan as Mimi, Gerard Lanzerotti as Benny Southstreet, Kyra Leeds as Ferguson, Cody Marcukaitis as Big Jule and Juey Biltmore, Melissa Maricich as Sarah Brown, Spencer Plachy as Sky Masterson, Datus Puryear as Rusty Charlie, Stephen Valenti as Arvide and Abernathy, Shelley Valfer as Lt. Brannigan
Artistic Director Evan Pappas, Executive Producers Mark & Dylan Perlman, Music and Lyrics by Frank Loesser, Book by Jo Swerling and Abe Burrows, Scenic Design David L. Arsenault, Sound Design Don Hanna, Production Stage Manager Katherine Shelton, Costume Design Debbi Hobson, Casting Director Michael Cassara, CSA, Conductor Isaac Harlan, Musical Director/Supervisor Jeffrey Lodin Choreographer Tara Jeanne Vallee, Director Evan Pappas, Lighting Design Paige Seber, Associate Choreographer Danielle Sue Jordan and Additional Arrangements by Sinai Tabak