MANHATTAN MELODIES AND NEW YORK CITY SONGS to Play The Stirling Club This Month
David James Robinson and Tom Michel create another time at Spirits Supper Club.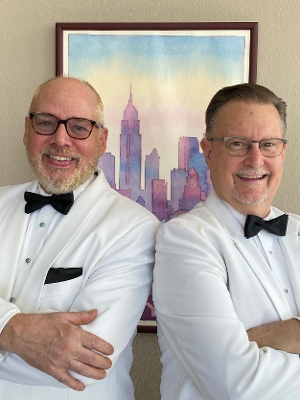 Travel back to the 1950s to Manhattan's famous Algonquin Hotel when women dressed in evening gowns and men wore tuxedos to go out on a night on the town. David James Robinson and Tom Michel will bring the vibe of those evenings when they perform Manhattan Melodies and New York City Songs at The Stirling Club on Oct. 13.
New York City songs, Broadway favorites, and selections from the Great American Songbook will be brought to life by cabaret performer David with Tom at the piano.
Audiences will be treated to favorite songs of celebrated composers. George Gershwin, Cole Porter, Rodgers & Hart, Stephen Sondheim, Lerner & Loewe, Irving Berlin, and Dave Frishberg timeless music will fill the room.
Many fans will recognize David James Robinson and Tom Michel as the former proprietors of The Vegas Nevada Rooms, which offered a gourmet meal and all genres of entertainment.
"When David and I performed our cabaret before the Vegas Nevada Rooms closed, there was such an outpouring of love and support for us. We had always been in the background even though we both have a background in performing," explains Tom. "I am a pianist, and David built cabaret shows in New York for a long time. We had a lot of fun putting it together and were really honored when Kelly [Clinton] asked us to bring a show to the Stirling Club."
While the core of the show will be similar to the performance at the Vegas Nevada Rooms, it has been expanded to create the fantasy of attending the Algonguin Hotel in the 1940s and 1950s. Along with delicious food and delightful beverages, the music will transport audiences back to that special time for entertainment.
David is also an executive chef, and "he can't believe that he does not have to cook dinner before the show," Tom laughs. "We can get to go there as performers, and we are both looking forward to entertaining our audience and friends. It is fun to be on the other side of the footlights."
Manhattan Melodies and New York City Songs will be performed in the Spirits Supper Club at the Stirling Club on Oct. 13. Doors open at 7 p.m. for dinner and drinks, and showtime is at 8 p.m. Valet parking is available.
| | |
| --- | --- |
| Vote Now for the 2022 BroadwayWorld Las Vegas Awards | |
| voting ends in | |
Debbie Hall is a long-time resident of Las Vegas (43 years and counting) and has always loved the entertainment. Whether attending touring Broadway shows or high school productions, she enjoys... (read more about this author)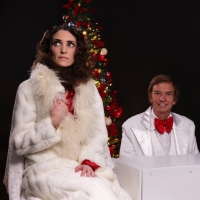 Feature: CARPENTERS LEGACY: A CHRISTMAS PORTRAIT celebrates with official debut at The Modern Showrooms At Alexis Park Resort Hotel

December 8, 2022

It is time to enjoy an old-fashioned Christmas with Sally Olson as Karen Carpenter and Ned Mills as Richard Carpenter starring in the debut of Carpenters Legacy: A Christmas Portrait recreating the nostalgia and joy of the Carpenters' 1977 and 1978 Christmas television specials. The holiday show will be performed at The Modern Showrooms at Alexis Park Resort Hotel through Jan. 1, 2023.
---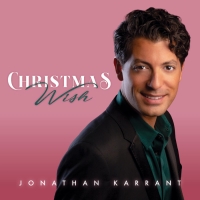 Feature: CHRISTMAS WISH WITH JONATHAN KARRANT continues holiday tour at Myron's At The Smith Center

December 7, 2022

Jonathan Karrant, one of the leading jazz vocalists, has released his holiday album, Christmas Wish, and will be performing his holiday show at Myron's at The Smith Center on Dec. 9.
---
Feature: Sleighbells Ring To A CHRISTMAS MUSIC FORUM Starring E'Stefano DiSanto

November 28, 2022

"Sleighbells ring, are you listening" to A Christmas Music Forum starring E'Stefano DiSanto with special guest performer Mark Maynard? The holiday celebration will be presented at the Firelight Barn Dinner Theater on Nov. 29.
---
Feature: Nevada Ballet Theatre Presents Its Annual Holiday Favorite, The Nutcracker, at The Smith Center

November 28, 2022

Nevada Ballet Theatre presents The Nutcracker, an annual holiday tradition celebrating cheer, to be performed at The Smith Center for the Performing Arts December 9-24.
---
Feature: Enjoy a holiday twist in CHRISTMAS IN HELL performed At Notoriety Las Vegas

November 27, 2022

The holidays have arrived, with images of decorating a tree, shopping, parties, dinners with family, and all of the joy the season brings. Then there is Bah Humbug, but Christmas in Hell takes it one step further as an irreverent musical comedy performing in the Notoriety Renkus Heinz Theater at Notoriety Las Vegas through Jan. 15, 2023.
---