BWW Review: Players By The Sea's AMERICAN IDIOT Is Needed and Important
Theatre inspires. Incorporated as a viral hashtag during the 2017 Tony season, complete with a Facebook frame that many in the theatre industry have made their permanent statement, the arts community has touted the power of theatre to inspire everyone, if we allow it. But what does it inspire? Theatre inspires change. Theatre inspires growth. Theatre inspires community. Theatre inspires conversation. The list goes on. When a community comes together to tell a story about the entangled lives of three young friends who choose three different paths through the lens of an iconic rock album, theatre inspires understanding. To understand, though, you have to see it. Forget whatever plans you have this weekend or next: if you seek to understand those around you, specifically a younger generation, you must, MUST, get tickets right now to AMERICAN IDIOT at Players By The Sea.
It will make you uncomfortable. You may want to look away at moments. You will cry. You might (and should) be angry. But if you can swallow the plethora of middle fingers and extensive use of profanity, AMERICAN IDIOT will reveal to you a generation's frustration and reaction to a country and an era that has never felt truly theirs.
AMERICAN IDIOT is a musical stage adaptation of Green Day's best selling early 2000's album of the same title. With book by Green Day's Billy Joe Armstrong, the concept involves three young men, Johnny, Tuny, and Will, friends whose lives take considerably different paths. Johnny leaves suburbia for the city life, Tuny enlists in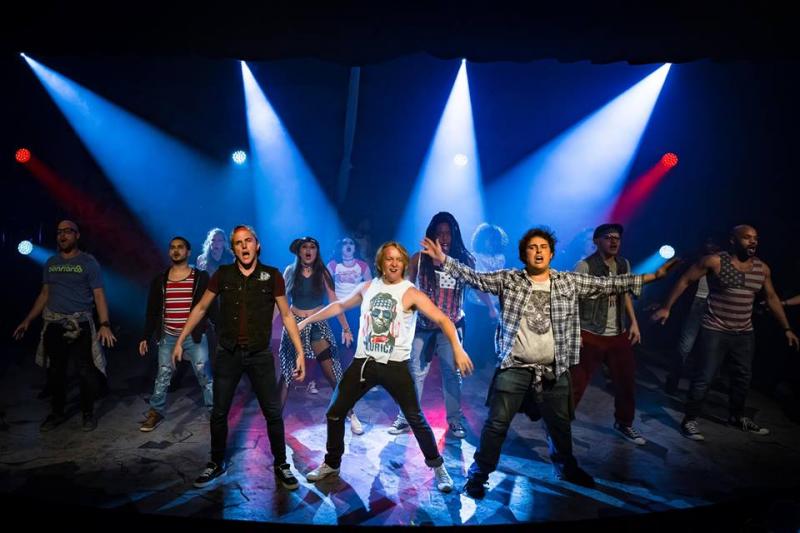 the military, and Will stays home, an unmotivated youth who is working through his own dilemma: a pregnant girlfriend. The grungy, emotional tale spares no expense exposing the different choices America's youth has made in an effort to seek relevance and a place in a society they desperately despise and want to change. Though written as a backlash to the administration on 2004 and being a younger person in a country that has not been handed off by the older generation, AMERICAN IDIOT remains relevant in today's political cyclone - there is much to learn about this passionate and diverse generation, and the story being told by Players is flawless in execution. It's important.
The lead role of Johnny is played by Lucas Kish, a student at Baker County High School. In his debut role at Players, Lucas is non-stop, always giving, always hurting, telling his story without ever missing a note or a reaction. I did not see a high school student playing a lead role. Lucas simply is Johnny. His attention to the character's needs and wants translates perfectly, and he will absolutely break your heart.
Isabella Martinez, a music theatre major at Jacksonville University, plays the enigmatic Whatsername, a scarred and searching woman who falls for Johnny.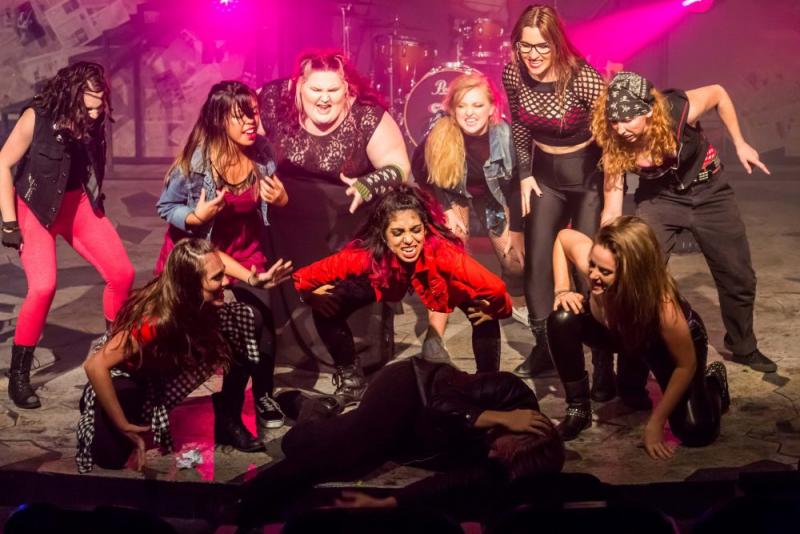 Isabella is the total package. Her voice soars, fills your soul, and explodes in vibrant melody. An emotive dancer, her lead in "Letterbomb", a standoff between Whatsername and Johnny, backed by a fantastically femme ensemble, is letter perfect. It follows Martinez's lead in "21 Guns", a song often attributed to the realities of what we lose in war, yet Martinez reveals what we lose in any war, not just those fought with artillery. Bring tissues.
Tuny, played by Rodney Holmes, and Will, played by Bryce Cofield, round out the lead characters with beautiful harmonies and opposing motivations. Tuny's experience in war is at one point paralleled with Will's struggle at home in suburbia, and Geronimo perfectly painted a picture for the audience of the striking similarities at home and abroad. There is a raw reality to Tuny's process on stage: we are invited into his dreams, his vision, his translation of masculinity.
The cast is completed by Jimmy Alexander's haunting role of Jimmy and Meredith Da Silva's honest and relatable Heather (Will's girlfriend), as well as an award-deserving ensemble. The ensemble is well-rounded, featuring Jessica Alexander, Andrew Sardoni, David Medina, Clayton Riddley, Brandon Hines, Jamil Abdur-Rahman, Caitie
Casey, Assata Davis, Haley Sweat, Maya Pinfield, Kylie Giliberto, Rachel Jones, and Jillian Poland. Hines is a spectacular communicator, Riddley is captivating, and Medina is heartbreaking, specifically in his moment of inspiration in "Are We The Waiting" (It should be mentioned that this song is incredibly staged and interpreted by the cast).
I could write a paragraph on each role, from leads to ensemble to on-stage band. Absolutely everyone gave 110% percent, never breaking character in moments that would have allowed for it. As is with every live theatrical performance, things go wrong. Some mics were not functioning at critical times. A violin tumbled from music stand to the stairs at one point, only to later come crashing to the ground in a scene change moment. Later, when the violinist came to play at a heightened moment, she found her violin grounded, out of tune, and not ready for a pivotal solo in her performance. Rather than distracting from the scene, she discreetly left the stage, tuned her instrument, and returned literally within a second of playing her essential final, breathtaking solo. Hats off, Assata Davis, you're a true professional. The band also features Greg Hersey on drums, David Ott on guitar, Sean Tillis on bass guitar, and Chelsea Chacon on piano. All phenomenal musicians, they add a layer of appeal to a stellar production.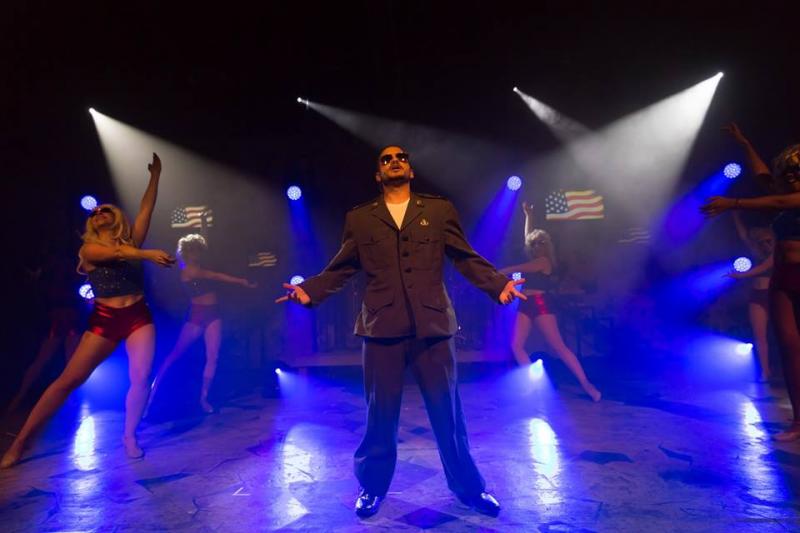 Daniel Dungan's lighting design is stellar. He accurately and delightfully interprets the blend of a rock concert and a stage play in a valiant accompaniment to an already emotional production. The show truly is improved and better because of his attention and skill.
Director Jocelyn Geronimo, who doubles as choreographer, has outdone herself and changed the standard for community theatre in Jacksonville. She does not miss a single nuance. Her intentional choices are reflective of a director who has poured over a script, studying every line and action, resulting in breathtaking character moments and heart-wrenching choreography. Geronimo's style spares no heartstring. She walks an extremely fine line- never asking for the audience to imagine something worse while simultaneously never stepping over the line into gratuitous depravity. Her cast gave her everything they had, and their commitment to her vision results in a show you absolutely cannot miss. I'll be going back, at least once more, for this incredibly relevant and necessary piece of art.
AMERICAN IDIOT is only running through August 12. This means you have three weekends left to catch this incredible production, and it should absolutely be your "cannot miss" show of the summer. Be sure to linger in the foyer and lobby: The Best Photo winner of FSCJ's Student Artist Series, Jarrod Rigby, is featured to accompany this show. His work inspires communication and encourages reflection, and are also available for purchase. Tickets for AMERICAN IDIOT are available here, and are selling fast, so click now and make sure you see this one-of-a-kind show.
Photos by Cathy Jones
Related Articles View More Jacksonville

Stories

Shows
HEATHER VOLLMAN has roots that run deep in Northeast Florida theatre. A graduate of Douglas Anderson School of the Arts, with continued education in theatre (read more...)