BWW Review: HOW TO SUCCEED IN BUSINESS WITHOUT REALLY TRYING at Alhambra Theatre And Dining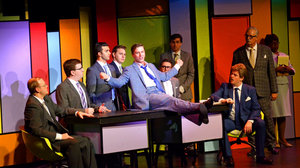 How to Succeed at Business Without Really Trying is at the Alhambra in Jacksonville, FL. The witty musical follows the story of J. Pierrepont Finch as he works his way up in a company through distinct steps, such as staying late at the office to look like an ambitious employee. The show was incredibly entertaining for the audience, and a little relatable for anyone who has worked in a corporate office.
The lead, J.Pierrepont Finch (Christopher Lewis), was incredibly entertaining. The audience was completely engaged to see exactly how high he would climb on the corporate ladder. One of his greatest numbers was "I Believe in You" in which he reassures himself that he can do well at his pitch to the executives. Lewis's voice and acting skills were captivating. His love interest, Rosemary (Lindsay Nantz), was phenomenal in her role. I loved her number "Happy to Keep His Dinner Warm" in which she has fallen for Finch incredibly quickly and is dreaming of their life together. Nantz's voice was beautiful and endearing, making the audience feel her hopefulness for this future.
The comedic characters Bud Frump (Ricky Cona) and Hedy LaRue (Maddie Bryan) were amazing! One of the most entertaining characters was definitely Bud Frump. Every time Cona was on stage, the audience laughed. Both his physical comedy and acting skills were astounding. The new secretary, used very loosely, Hedy LaRue was the perfect dumb blonde mistress. Bryan was so over the top that it truly made the audience observe exactly who this character was and why she was important to the story.
The entire ensemble was incredible! I loved every single one of the ensemble numbers. Some of my favorites were "Brotherhood of Man", "Paris Original, and "Coffee Break." The audience truly loved "Coffee Break", as I am sure that they all have had a moment in their work where if they did not have a coffee break, they would not make it through the day. I am always amazed at how great the show is choreographed with such limited space, and this show was no different.
How to Succeed in Business Without Really Trying is incredibly entertaining, funny, and captivating. The musical will be at the Alhambra now through March 22.