Review: CENSTACOM's LITTLE WOMEN Showcased the Community's Heart and Talent
The community theatre's first-ever licensed production was a heartwarming affair.
CENSTACOM (Center Stage Community) is a relatively new performing arts community, having started in 2019. Even so, their output is striking: six shows in three years featuring up-and-coming performers and a variety of show tunes. On January 20-21, 2023, CENSTACOM hit another milestone with their first full-length production of LITTLE WOMEN, licensed through Music Theatre International.
Based on Louisa May Alcott's 1868 classic of the same name, LITTLE WOMEN tells the story of the March sisters - Meg, Jo, Beth, and May - as they navigate life in the 19th century United States. The central figure in the story is Jo, who dreams of becoming a published author, a seemingly unlikely dream for a woman then.


This production is co-directed by Kita Pritasari and Robertus Darren Radyan, the latter of whom also served as the choreographer. Geovanni Audrey Suhartono is the music director (with Mariella Diani as the assistant music director); Claudya Hutasoit is the vocal director; while Bobby Widjaja is the technical director.
While LITTLE WOMEN is a very well-known story, the musical adaptation (music by Jason Howland, book by Allan Knee, and lyrics by Mindi Dickstein) provides a new lens to this tale of family, grief, and ambition. The 759-page novel is condensed into a 2,5 hours that hit most of the major beats of the story, while streamlining other elements.
I consider choosing LITTLE WOMEN as their first licensed production as a great move by CENSTACOM. LITTLE WOMEN is a modestly small-scale story that concerns itself mostly on the personal lives of the sisters and the people around them. This allows the production to focus on conveying this tight-knit sense of community, struggle, and love.
As mentioned, the plot mainly revolves around Josephine, or Jo, the second oldest sister of the family. In a turn of fate, the role is played by another Josephine - Josephine Angelica, the founder of CENSTACOM and a prominent part of previous productions.
Jo March is a great part, with many emotional twists and turns as she interacts with the people in her life. Josephine Angelica understood the opportunity the role offered and took it; she was full of vigor and brimming with character. Thankfully, the black box theater of Salihara allowed the audience to see the full range of emotions she conveyed. It was a joy witnessing her expressions in every scene, and, notably, she was always on-character, even when she was not the focus of the scene - this dedication made it easy for us to empathize with Jo's plight throughout the show.
Vocally, Josephine is just as strong. Her considerable talent particularly shined in Jo March's solo "Astonishing", where her belt brought down the house. Unfortunately, minor mic problems hindered her a little bit; her voice came out a bit faint at parts. Additionally, while she was charming and easy to like, some comedic timing could've been delivered better. Allan Knee's book was full of great punchlines delivered by Jo, but some landed better than others.
Claudya Christina Hutasoit played Margaret a.k.a. Meg March, the eldest of the sisters. As Meg, Claudya was a practically perfect picture of elegance (bringing to mind her turn as Rapunzel in TEMAN's Into the Woods). She and her on-stage couple John Brooke (played smoothly by Raymundus Leonardo, after making his theatrical debut in Journey Through Time 6: Home) had great chemistry on stage. Their romantic duet in "More Than I Am" surely stole many hearts.
Meanwhile, the third March sister, the sweet and angelic Beth is played by Regina Tanugrah in her biggest stage role yet. She shared a significant amount of stagetime with the cantankerous Mr. Laurence (played by Mitch Hadju, who played both the harsher and softer sides of the character well). The unlikely friends bonded over their love for playing the piano. It was a delight seeing the grumpy Mr. Laurence's icy facade melting as he sang a lovely little duet with Beth.
Regina's performance, in particular, was revelatory; she was thoroughly convincing and charming, making it all the more heartbreaking when the show's saddest moment happened in "Some Things Are Meant To Be" (it should also be noted that the beautifully sophisticated direction made this scene poignant, when it could have been overdone).
Amy March, the youngest of the sisters, is played by Amabel Odelia (a recent graduate of Australian Institute of Music's Musical Theatre major). She started as a petulant sister who fought with Jo like cat and dog. In Act 2, she returned as a posh debutante. The thorough transformation was jaw-dropping and a truly magical moment of theater. This role showcased her considerable acting range and I'm looking forward to seeing her in other roles.
Of course, people familiar with the original book or its many adaptations would know that the matriarch of the March family, known as Marmee, also played a significant role. In CENSTACOM's production, the role fell to Clarissa Theosophila, who's currently in her final year at Universitas Pelita Harapan, majoring in Classical Vocal Performance.
Clarissa was absolutely wonderful as Marmee. She was such a strong, reassuring figure amongst the titular little women. A clever bit of casting and costuming also helped in selling this effect, as Clarissa stood a head taller from her on-stage daughters. Yet her vulnerable moment in the number "Here Alone", where she was writing a letter to her husband, stuck in a war, was just as striking. Her maternal acting was top-notch, although a more stern admonishing when a fight broke out between Amy and Jo would have made the character even more well-rounded.
There was one more March lady playing a role in the musical: Aunt March, the rich, elderly, and slightly eccentric aunt to the March sisters. The mezzo-soprano Windy Liem played this role to great effect. She was fantastically kooky and funny, while still being an inspiring and supportive figure to the sisters, Jo and Amy in particular. One particular line she yelped in surprise got the biggest laugh of the evening.
Finally, there are two male characters who become Jo's love interest (despite her insistence that she was not looking for marriage): the youthful and excitable Laurie (played by Afkar Malik) and the gentlemanly, well-educated Professor Fritz Bauer (played by Mumu Harmoun).
Afkar Malik's Laurie was immediately endearing. He's sprightly and slightly dorky and just a bundle of sheepish energy who was impossible to dislike. However, it felt to me that he was always more suited as an honorary March sibling than a love interest. Still, the actor's (who goes by they/them) presence was exuberant, making every scene they were simply brighter.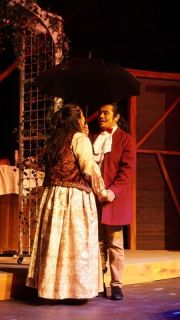 As for Harmoun's Bauer, he was definitely more than meets the eye. At first, he seems dignified, and perhaps too dignified for Jo. But as we spent more time with the character, especially in Act 2, it was made apparent that Harmoun injected a lot of personality into the professor. He was full of highly amusing quirks. The actor confirmed that he improvised several moments in the show, which made his scenes full of delightful surprises. And although his romance with Jo still felt a bit sudden, it was captivating enough that the audience let out 'oohs' and 'aahs' during his moments of courting.
But the actors didn't only play their main roles; they also played the characters inside Jo's 'Operatic Tragedy', a fiery tale of love and vengeance. These parts were staged very interestingly, making use of the venue's visible rafters to stunning dramatic effect. The characters in Jo's story chased after each other in the rafters, above both Jo and the audience, as they acted out the lines in Jo's script. The actors disappeared into these roles just as well as they did into their roles proper, making for thrilling entertainment.
The score is played live beautifully by a 7-piece orchestra led by music director Audrey. I was not familiar with the musical's score prior, but Jason Howland's music is definitely a great addition to the script. It should be noted that LITTLE WOMEN avoided sound balancing problems that tend to plague many Indonesian productions - the mixing between the instruments and the vocals was just right, without the one overtaking the other.
In terms of production design, LITTLE WOMEN had a most surprisingly exquisite centerpiece, in the form of a wooden internal facade of the March's house, with a faux-fireplace in the center (the creation of the set team Suryanto Tanjung, Didik Hartono, and Ichtiar Iskandar). This backdrop, however, was not wholly solid; it was made of wooden beams arranged radially from the fireplace, with the orchestra visible throughout the gaps in the beams.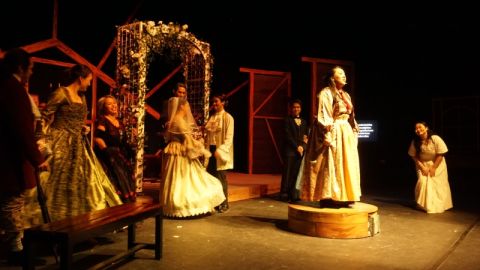 The set and props were largely conducive to the storytelling. The lighting (design by Aimee Hadikrisno) was likewise good, with the stand-out moment being the aforementioned "Some Things Are Meant To Be". However, the down-stage area sometimes served as the attic of the residence, which was not intuitive as it was physically lower (and closer to the audience) than the main stage. This made for a few rather confusing moments in terms of staging, but this is a minor gripe.
The costume and make-up (designed by Divanka Larasteyya, with Eda Arthaputri serving as head of wardrobe alongside the team of Jane Elena, Charin Christa, Alix Tifara, Eln Paath, and Jennifer Olivia) was more great than not. The team knew when to spend their resources, resulting in pretty dresses and gowns during the big moments. But some wardrobe pieces were less impressive and the cheaper fabric used made them stand out noticeably. Still, it's wise to keep in mind that this was a community production, with limited resources. Additionally, the make-up, and especially the aging make-up used for the character of Mr. Laurence and Aunt March, helped make the characters feel real.
As a side note, the production had screens displaying Indonesian subtitles to the whole script, making the show more accessible to the local audience. Regrettably, the subtitles were peppered with errors and mistranslations. Though there was nothing major that might misconstrued the story, they were disruptive enough for those who could notice the discrepancy.
All in all, CENSTACOM definitely punched above their weight with LITTLE WOMEN. The actors were great, performing at a professional level or very close to it. The whole team delivered the story lovingly, with both effective heartbreaking moments and laugh-out-loud humor. Although there were understandable imperfections that came with the limitations of a community theater, it didn't detract from the heart at the center of the script. And nowhere was this as palpable as during the scenes where the sisters just gathered, enjoying each other's presence despite their own hardships. It was like we were there, a part of the simple but loving March family.