Review: Musical Short Film LENTERA DI TEPIAN Serves a Flickering, Old-Fashioned Romance
ArtSwara's latest outing plays all tragic romance tropes too straight for its own good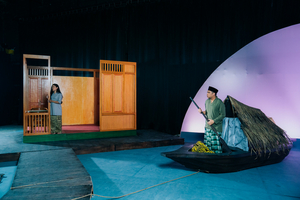 Lentera di Tepian (Lantern by the Riverside) is the latest production by ArtSwara Foundation, a production house based in Jakarta. ArtSwara is known for their theatrical productions based heavily in traditional Indonesian arts and culture, such as Tresna (2014) and Srintil (2019).
Lentera di Tepian is written by Titien Wattimena and directed by Maera Panigoro, who also serves as the executive producer for ArtSwara. The music is composed by Dian HP, while Tahta Ginting takes the helm on the visual side.
The film, which ran just under one hour, stars Bima Zeno and ex-Cokelat singer Kikan Namara as the young star-crossed lovers Yahya and Cindur. The cast also includes Chandra Satria, Simhala Avadana, Sita Nursanti, Taufan Purbo, and Ubiet Raseuki.
The story tells of Cindur, the daughter of a rich businessman. She is in love with a poor merchant from the next village over, Yahya, who visits Cindur's town by boat to peddle his wares. Yahya, in turn, loves her back.
However, all is not well. Cindur's parents seek to marry him to Harun, a rich heir, in the hopes of further bolstering their family's wealth. Despite Yahya's efforts, the marriage went through. The two secret lovers met once more to bid their goodbyes and the proverbial curtain closes.
Lentera di Tepian is a filmed theatrical production. The 'stage' is a corner of a studio set with several platforms and set pieces. Though this can, in theory, work, as with other filmed productions - it does require a certain eye (and experience) to translate the theatrical on-goings for the screen. Unfortunately, the resulting shots are mostly perfunctory, with the long shots especially suffering from awkward framing.
The story itself is indeed a 'tale as old as time', reminiscent of many older romances, particularly Marah Rusli's novel Sitti Nurbaya. Unfortunately, rather than evoking a profound sense of nostalgia or giving a fresh and relevant twist on it, the show played its premise straight, much to its detriment; every story beat felt expected, if not tiresome.
Every character fits nearly into boxes: the ingenue virginal maiden wed for money; the tragic, poor, good looking lover; the disapproving father; the sympathetic but powerless mother; and, of course, the deceitful and unabashedly evil villain/groom clad in black. You've probably seen it before and, more likely than not, seen it done better.
Yahya and Cindur's woeful tale culminated in an ending that left a bitter aftertaste, as nothing was accomplished, in-story or out. It was a brave decision to make the lovers not get their way in the end, but it was also quite depressing.
Considering Titien Wattimena's track record, this was a rare dud, or perhaps an unfortunate moment of the script and the direction failing to spark chemistry. The story could use rounds of revisions and the show itself would benefit from more time in the workshop.
Dian HP's songs were beautiful, drawing inspiration from Malay ballads and keroncong. Unfortunately, many of the songs sound too similar to one another, sometimes making them blend into a homogenous mix of prolonged melodies.
The actors, on the whole, did a satisfactory job. Considering their background, the vocal performances were pleasing as expected. Their acting was, likewise, decent, with Kikan Namara getting the heaviest emotional moments and executing them admirably enough.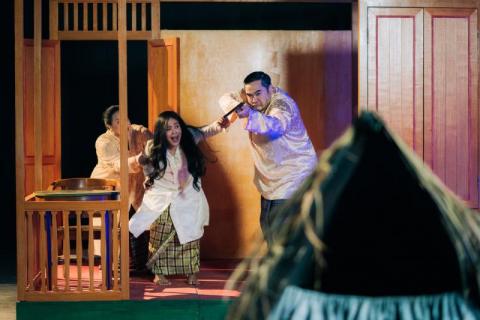 Overall, Lentera di Tepian is a moderately enjoyable, conventional affair. It is another original musical work in the steadily growing Indonesian repertoire. However, with little to set it apart, it is likely to be lost with time, like Yahya and Cindur's fleeting romance. Nevertheless, for the asking price of merely Rp50.000 (~$3.5), LENTERA DI TEPIAN might still be worth your time.
For more information on Lentera di Tepian, including how to watch it, visit Indonesia Kaya's website.