BWW Review: JAKARTA PERFORMING ARTS COMMUNITY's Wondrous Take on DREAMGIRLS
The date was May 25th 2018. On the Friday evening blessed with clear skies, Graha Bhakti Budaya was filling out with people coming to watch the 9th musical drama production by Jakarta Performing Arts Community (JPAC) - DREAMGIRLS. It was the opening night and the anticipation coming from everyone was palpable. The event had 7 months of preparation and promises of being bigger and better than before. Following last year's WEST SIDE STORY, JPAC once again bought the performance license for DREAMGIRLS, this time through Tams-Witmark Music Library.
DREAMGIRLS is directed by Hans de Waal, choreographed by Elhaq Latief, and produced by Gunawan Wibisono. It is also Hans' directorial debut for a full-length musical production, after previously directing several musical numbers in previous JPAC productions. Elhaq is an already accomplished choreographer and dancer even at his young age; he also choreographed JPAC'S WEST SIDE STORY in 2017 to great acclaim. Gunawan is a celebrated producer, previously leading the production of multiple Indonesian TV programs. Gunawan and Hans are also joined by a production team totaling more than 100-man strong. All cast and crew are volunteers, as JPAC is a non-commercial community. Parts of the proceeds go to Red Nose Foundation, an organization helping underprivileged youths living in the slums of Jakarta through formal education and training in performance skills.
At 7 PM, the show opened with the upbeat song 'I'm Looking for Something Baby' by the ensemble playing the Stepp Sisters at a talent contest, setting the energy for the whole show. Before long, the main casts walk into the scene: Effie White (Ade Rianom), Deena Jones (Desmonda Cathabel Christie), and Lorrell Robinson (Wenny Kumalasari), three friends known as the vocal group Dreamettes. They dream of making it big as in the 1960's cutthroat music industry, the heyday of the Motown sound. C.C. White (Gilang Wiguna), Effie's sister and the Dreamettes' songwriter also comes along, looking to make a name for himself and the girls by winning the talent contets.
After losing the contest, the dejected girls are approached by Curtis Taylor Jr. (Albertus Raynaldi), an ex-car-dealer with the ambition of becoming a showbiz agent. He offers them the chance to be backup singers for the popular and sensational Jimmy Early (Bran Sawamoto Vargas). Despite Effie's initial reluctance, the Dreamettes team up with the infamously flirty Jimmy, and make their first foray into the music industry.
Curtis' bold moves and sly plots in pushing Jimmy and the Dreamettes into the mainstream (then dominated by mellow songs by white artists) paid out as they achieve greater and greater success. Rifts eventually begin to appear as Curtis' vision compromise the artists' identities and even, eventually, their friendship. Moreover, love problems are abound; Effie is smitten by Curtis, who has his sights set at Deena; while Lorrell enters an affair with the married Jimmy Early.
DREAMGIRLS is an emotionally and vocally taxing show; its ups were triumphant and its downs despair-inducing; tremendous power and polish are needed to deliver on the iconic songs such as 'And I'm Telling You I'm Not Going', 'Listen', 'The Rap', and more. Underprepared or incompetent cast would not do justice to neither the book nor libretto and leaving the audience flat and disappointed.
Thankfully, JPAC's DREAMGIRLS filled each role with such immense talent and dedication that each story beat and each song note were delivered impressively.
Vargas had not only the charming flair and charisma of Jimmy Early down to a T (he had previously portrayed the role in a production by Jakarta Broadway Team), but more importantly also a very powerful voice that can be both emotionally raw yet still very precise in its delivery. Bran was therefore a natural crowd pleaser and a scene stealer, leading many of the show's early songs. At a later point in the story, Jimmy turns desperate as he struggles to retain his popularity in the 70's under the management of Curtis who forces him to sing slow ballads instead of rambunctious, soulful songs he was known for. In a very dramatic scene Jimmy sang a line of a dying yet prideful star from a foregone era. It was this moment that would forever etch Bran's turn as Jimmy as one of the greatest take of the character. His scream was so full of grief and desperation yet still perfectly in tune, a fitting farewell for the star.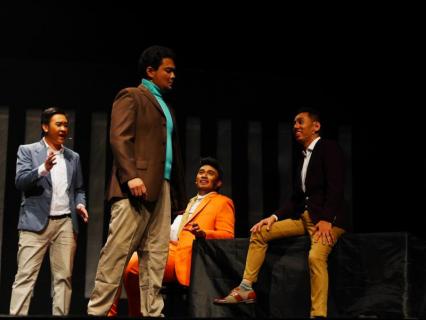 Gilang as C.C. played the role with a charming conviction. Though the character did not have a solo, he played off each character beautifully, serving as an emotional buffer for everyone. C.C. was the rock who brought the Dreamettes together, being the first person to believe in their potential. His turn to shine was in 'I Miss You Old Friend' which showed his emotional relationship with Effie and his undying spunk even after years in the harsh music industry, renewing hope for Effie and the audience alike. It should be noted that Gilang was also the vocal coach of DREAMGIRLS; his role in arranging the vocal parts and harmonies and drawing the potential of the cast - from the leads to the ensemble - cannot be understated.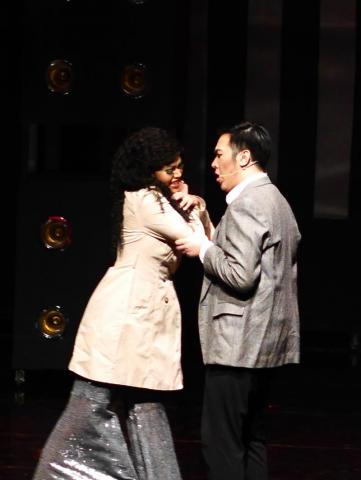 DREAMGIRLS was Albertus Raynaldi's - or Ray as he's commonly known - JPAC debut. He had expected to be cast in an ensemble role due to his relative inexperience, but the casting board was instantly taken by his golden voice. Despite his reservations, his portrayal of Curtis Taylor Jr. proved more than satisfactory; his acting was particularly efficient exposing the cunning side of the man. With more productions under his belt in the future, Ray is sure to be a powerhouse in the Indonesian musical theatre scene.
The titular Dreamgirls themselves are also some of JPAC's finest. All three are veterans to the stage with multiple productions on JPAC and elsewhere. And their turn in DREAMGIRLS might just be their finest yet.
Wenny Kumalasari who plays Lorrell Robinson had a tough challenge ahead of her; Lorrell is simply not be as central to the Dreams' rise to fame (hence, the main conflict of the story) as Deena and Effie, but she is tasked with bringing much-needed levity to the scene. Wenny's impeccable comedic delivery and timing is second to none. Her ability to use everything from body language, expression, intonation, to the most miniscule details is masterclass. Thus it follows that her more dramatic scenes (especially played with great chemistry with Bran's Jimmy Early) were just as successful; there is integrity in her character that makes her character always believable no matter the tone of the scene. It was great joy seeing her on stage and worth the price of admission alone.
Desmonda was the only choice to play Deena Jones since day one. Her poise, grace, acting chops, and sweet yet strong voice were most fitting for the simple-girl-turned-superstar character. But she wasn't content to let her natural affinity carry it and worked to really embody the essence of the character. It was no surprise therefore when in Act 2, as Deena is basking in adoration from the masses she still retains the same vulnerability and sweetness underneath. Yet she has also grown from her experience and the bonds she made, as shown in her duet with Effie in 'Listen', a very powerful moment made more momentous thanks to Desmonda finally allowed to show the full force of her voice. The moment where Deena finally stands up to Curtis is glorious and deserved; all the members of the audience rooted for her, thanks in big part to Desmonda's acting.
And the most iconic role of the show, Effie White, is played by Ade Rianom who made the role her own and somehow made it look effortless. She had the sass, the heart, and the voice. Ade is a very committed actress who never for a moment let us doubt the authenticity of her character. Her performance really tied the already superb show together, particularly during climactic songs like 'And I'm Telling You I'm Not Going', 'I'm Changing', and 'Listen'. Those were moments were music and bare emotion join to present the very best of musical theater has to offer: we were drawn in to Effie's turmoil and determination; both her pain and her salvation were ours. Ade is an actress born once a generation.
The show, of course, is more than each member of the cast; the superb main cast was completed by the just as stellar supporting cast and ensemble. And they were all directed by Hans, who coordinated the many, many parts of the show together to create an altogether unforgettable experience. It goes without saying that we can expect more greatness from him in the future.
DREAMGIRLS is a show about showbiz, and no showbiz is complete without its stage. The stage and lighting design (led by Winson Chaivin; set design by Reigina Tjahaya and Cahaya Lituhayu) were dazzling and atmospheric. It was a step up from last year's WEST SIDE STORY. The main part of the set design consists of four pillars with rows of lights that can be toggled as well as a back wall that can be lit up and opened at the middle to create another entrance. They were employed very well; several scenes made use of the central wall opening up to reveal the Dreams or Jimmy Early bombastically entering the scene. An early favorite is during the number 'Steppin' to the Bad Side' where after an intense and furious dance break, the wall opened up to the Dreamettes and Jimmy Early entering the scene with a mirthful change in nuance, keeping the number fresh.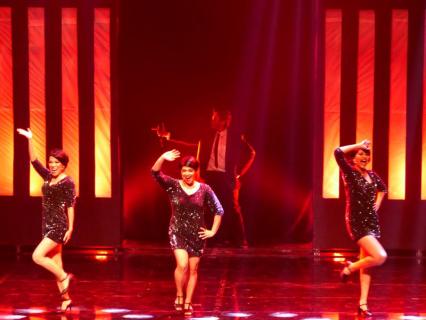 It would also be remiss not to mention the costume design (by Kevin Aldrian), a department with a very noticeable step up from WEST SIDE STORY. The cast were clad in gorgeous, period-accurate outfits that highlighted their character and even their progress in climbing the ladder of the music industry; many of the dresses for the Dreamgirls were custom-made. The golden dresses worn by the Dreams in the number 'Dreamgirls' were breathtakingly glamorous and instantly iconic. The way they were repurposed in a simpler, more refined look in 'Finale' was nothing short of genius. There were also several dresses made specifically for stage magic; the trio's outfit in 'Heavy´ transformed from short purple numbers to long shimmering dresses. And in a wondrous moment in 'I'm Changing', a blackout occurred in the middle of the song and when the lights came back on, Effie's bulky silver getup became a flowing sparkling purple dress in the span of seconds.
An oft-mentioned flaw in JPAC shows and Indonesian theatrical shows in general is the audio. Too often, the sound equipment and/or set up does not do the music and singing justice. Thankfully DREAMGIRLS did not have such problem; the sound was clear throughout the show (barring several microphone mishaps which never go on for too long) to the point that after the show some audience members are still left asking if the singing was live.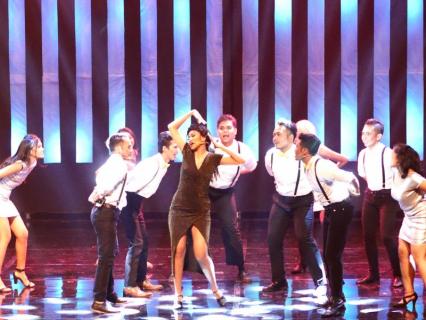 At the end of the day, what made DREAMGIRLS a well-beloved show for more than 30 years is its ability to depict the bittersweet human experience of struggle, defeat, and victory in all aspects of life. Just like the mantra of 'Showbiz, it's just showbiz' oft-repeated during the show, all the drama and spectacle experienced by the Dreamgirls were just showbiz; what kept them going after the lights turned off and the music stopped are the unbreakable bond between people and the courage to stand up against oppression. And thus, JPAC'S DREAMGIRLS was a roaring success in that the radiant production design and stunning talents did not overpower the humanity of the characters and story. Instead, they worked together to create of the best musical shows ever seen on stage.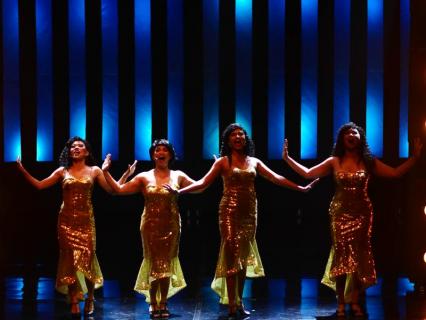 It will be a challenge for JPAC to outdo themselves in their next production. But no matter what happens, we will always have DREAMGIRLS, just like they sang:
We're your Dreamgirls
Dreamgirls will never leave you (no, no)
And all you have to do is dream, baby,
We'll be there!
Photos: Dreamgirls Media Team and @ejafunfactory'
Disclaimer: This review was written by Broadwayworld Indonesia's regional contributor, Rakaputra Paputungan, who was involved in the production as a co-producer and cast manager.